Matthew Morrison - Matthew Morrison
| | | | |
| --- | --- | --- | --- |
| Written by Nicholas Jennings | | | |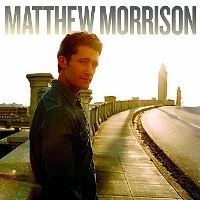 To Gleeks everywhere, he's Will Schuester, the super-positive director of McKinley High's glee club. But Matthew Morrison, star of TV's wildly popular Glee, is also an accomplished singer with Broadway and off-Broadway experience. Previously, Morrison has been heard singing on several best-selling Glee soundtrack albums, including his cover of John Denver's "Leaving on a Jet Plane." Now the singer-actor is stepping out with his self-titled debut album, featuring duets with Sting, Sir Elton John and Gwyneth Paltrow, who plays his recurring flame Holly Holliday on Glee.

Morrison first honed his vocal chops in productions of Footloose, The Rocky Horror Show and Hairspray, in which he starred as Link Larkin. The theatrical experience comes in handy on Matthew Morrison, where he joins Paltrow to sing a charming version of Judy Garland's Wizard of Oz standard "Somewhere Over the Rainbow." That song and several others, including "My Name," one of four that Morrison co-wrote for the album, also feature him on ukulele.

Sting guests on his bluesy piano ballad "Let Your Soul Be Your Pilot," from his Mercury Rising album, while Sir Elton shows up on a medley of his classics "Mona Lisas and Mad Matters" and "Rocket Man." Morrison acquits himself admirably alongside both superstars, offering a tender compliment to Sting and adding a robust, soaring counterpoint to Sir Elton. Of his own compositions, "Summer Rain" is the standout. A joyous number about a rooftop romance, full of sunny falsetto and ukulele, it hails the arrival of a gleeful pop talent.