Arctic Monkeys - Humbug
Written by Nicholas Jennings

Sunday, 13 December 2009 01:00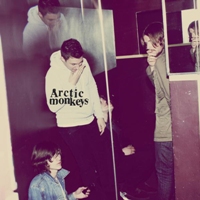 Hailing from the northern steeltown of Sheffield, England's Arctic Monkeys quickly became the darlings of the alternative rock scene, although its members are just in their early 20s. In fact, the quartet has received the kind of praise reserved for rock gods. One English publication called them "Our Generation's Most Important Band" and declared the Monkeys' debut, Whatever People Say I Am, That's What I'm Not, "the fifth-greatest Brit album ever"—the same week it was released.
Much of the hyperbole is due to singer-guitarist Alex Turner, whose literate lyrics offer a sardonic view of working-class nightlife in songs like "A Certain Romance," "When the Sun Goes Down" and the Monkeys' propulsive mega hit "I Bet You Look Good on the Dancefloor." No wonder Alex and his bandmates were awarded England's prestigious Mercury Prize in 2006 and have since attracted such high-profile fans as David Bowie and Mick Jagger. Still, much of the Monkeys' popularity and renown has been in their native England.
Now, with their third album, Humbug, the band has released a dark, compelling collection of songs that could bring them far wider acclaim. The album opens with such eerie, sinister numbers as "My Propeller" and "Dangerous Animals." Once again, the grooves are fat and funky and Alex offers such witty lyrics as "Puffed your chest out like you've never lost a war," on "Crying Lightning," and "I smelt your scent on the seatbelt," on "Cornerstone." For memorable, streetwise rock songs, it doesn't get much better these days.
August 2009

Last Updated ( Monday, 14 December 2009 16:17 )