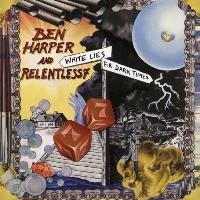 There have always been two sides to Ben Harper. At times, he's the mellow folkie, a spiritual cousin to singing surfer dude Jack Johnson. On other occasions, he's the high-powered rocker, a freewheeling soul brother with shades of Lenny Kravitz. Ben's eclecticism has sometimes made the California native hard to categorize. He further confounded followers when he collaborated with the Blind Boys of Alabama on a gospel album, for which he won a Grammy in 2005.
At the heart of Ben's sound is his love of roots music, especially blues songs that allow him to play slide guitar. White Lies for Dark Times, his latest album features plenty of slide sounds. But many of the new songs, recorded with his new band, Relentless 7, are fast, full-throttle rockers that owe more of their influence to Rolling Stone riffs than Robert Johnson drones. It's as if Ben, who has two children with his actress-wife Laura Dern, has found the perfect bandmates with whom to kick out the jams.
Ben's bluesy slide is central to the raunchy opener "Number With No Name." Over fuzzed-out riffs, Ben roars "the very thing that drives you can drive you insane." On "Shimmer and Shine," another standout rocker, he sings "it takes a hundred miles of love to heal a mile of pain." But White Lies for Dark Times also includes such gentler numbers as "Skin Thin" and "Faithfully Remain," which feature equally thoughtful lyrics. Once again proving his eclectic strengths, Ben has crafted another winner.
April 2009