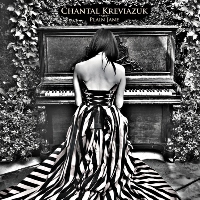 Despite the title of her latest album, there's nothing plain about Chantal Kreviazuk. A stunning brunette, in-demand songwriter, active mother to three boys with her rock-star husband Raine Maida, with homes in Los Angeles and Toronto, Chantal, in many ways, has it all. So why call her new album Plain Jane? "It's very hard for me to put on," she says, of her image as half of Canadian rock's most glamorous power couple. "I think I'm incredibly boring."
We're not convinced, Chantal. The Winnipeg-born artist has been wowing audiences ever since making her recording debut in 1996 with Under These Rocks. Since then, the classically trained pianist has sold millions of albums and twice won Juno Awards. She's also become a go-to pop composer who has collaborated with the likes of Kelly Clarkson, Avril Lavigne, Gwen Stefani, Hilary Duff and Mandy Moore. Of all of her collaborators, Raine remains her most trusted partner and greatest muse.
Chantal's hubby is everywhere on Plain Jane, having produced all 11 tracks and co-written three of them. "There's a comfort zone that I have working with my husband that I hadn't been able to find before," she explains. With Raine at the helm, Chantal was able to take some refreshing musical chances on the diverse new album, especially on the jazzy title track and the almost trip-hoppy "Half of Me." Meanwhile, fans of her signature, piano-driven ballads can feast on stirring love songs like "Invincible" and "5000 Miles," both written about her darling Raine.
October 2009