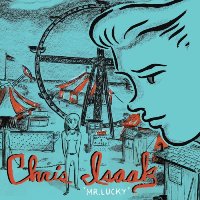 His latest album is called Mr. Lucky, and Chris Isaak has certainly had his share of good fortune. Born to working-class parents in California, Chris was a surfer and amateur boxer before turning to a career in music. His rugged good looks were an obvious asset, but Chris' sexy croon and his rockabilly style also attracted filmmakers like David Lynch and Herb Ritts. The former featured Chris' song "Wicked Game" in his movie Wild at Heart, while the latter directed a steamy video for the song, in which the singer rolled on a beach with topless Danish supermodel Helena Christensen. The song went Top 10.
Chris' luck continued when Nicole Kidman suggested his bluesy rocker "Baby Did a Bad, Bad Thing" for Stanley Kubrick's 1999 film Eyes Wide Shut, in which she starred with Tom Cruise. A popular Herb Ritts-directed video for the song featured the singer and French supermodel Laetitia Casta in a motel room. Two years later, he starred in The Chris Isaak Show, a critically acclaimed TV series that ran for three seasons in the U.S. and Canada.
Now, with Mr. Lucky, Chris is again on a roll. The album features his characteristic Roy Orbison croon, tremolo-style guitar and smoldering songs like "I Lose My Heart," sung with Michelle Branch, and "Breaking Apart," a duet with Trisha Yearwood. This month also sees the debut of his latest TV series, The Chris Isaak Hour, on the Biography Channel. Once more, lucky Chris has it made in the shade.
February 2009