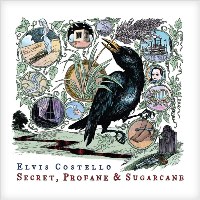 Elvis Costello is a pop music encyclopedia, having written and recorded in many styles. One of Elvis' favorite genres is country music. The legendary artist first ventured to Nashville in 1981 to record Almost Blue, which carried this label: "Warning – this album contains country & western music and may cause offence to narrow minded listeners." One of his best recordings was 1986's country-flavored King of America, produced by T-Bone Burnett, best known for the Oscar-winning soundtrack to O Brother, Where Art Thou? and the Grammy-winning Robert Plant and Alison Krauss album Raising Sand, both of which popularized traditional country sounds.
Now Elvis has teamed up again with T-Bone for another musical venture into America's heartland with Secret, Profane and Sugarcane. Recorded in Nashville, the album features nine songs by Elvis, two co-written with T-Bone, one co-written with Loretta Lynn and a charming cover of "Changing Partners." With T-Bone as his collaborator, Elvis has delivered another fine homage to American roots music.
On "Hidden Shame," originally written for Johnny Cash, Elvis pumps up the song's tempo and adds some driving fiddle. And his composition with Loretta, "I Felt the Chill," is palpable hurtin' music. Highlights are the songs on which Elvis shares songwriting with T-Bone. "Sulfur to Sugarcane" is a rollicking, lusty hoot, while "The Crooked Line," featuring vocals from Emmylou Harris, is a tender, heartfelt song of hope. With Secret, Profane and Sugarcane, Elvis has once again shown his deep love of country music—and offered open-minded listeners a treat.
June 2009