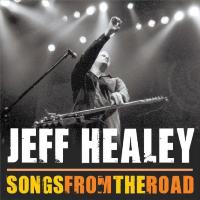 When Canada's Jeff Healey succumbed to cancer last year, the music world lost one of its most unique talents. Blind from shortly after birth, due to a rare form of cancer called retinoblastoma, Jeff taught himself to play guitar with the instrument lying flat on his lap while still an adolescent. By the time he was in his teens, he was hailed as a virtuoso electric guitarist with fans like bluesman Albert Collins and Stevie Ray Vaughan.
With his band, Jeff made a series of blues-rock albums, including his Grammy-nominated, million-selling debut See the Light, which included the Top 5 single "Angel Eyes." He also made a cameo performance in the Hollywood movie Road House, starring Patrick Swayze, and recorded with Mark Knopfler and George Harrison on his second album, Hell to Pay. But Jeff, who also mastered the trumpet, was equally drawn to early jazz, and he recorded several albums with his group the Jazz Wizards while hosting the popular CBC Radio show My Kinda Jazz.
Songs from the Road captures the energy and passion that Jeff continued to exhibit during the last two years of his life—even when he was seriously ill. Recorded in Norway, England and at his Toronto club Roadhouse, it features Jeff's wide-ranging, blues-based repertoire and includes many of his most beloved classics. The album, says Jeff's widow, Cristie Healey, "is the way we all want to remember him: smiling, laughing and playing and singing from his heart." There could be no better tribute.
August 2009