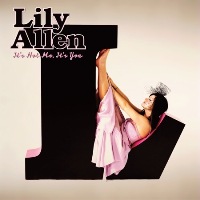 Bless Lily Allen. The pint-sized Brit remains the most refreshing thing in pop music, injecting cheeky observations about modern life into undeniably catchy songs. The daughter of divorced parents, film producer Alison Owen and actor-comedian Keith Allen, Lily, now 23, took the world by storm with her 2007 debut, Alright, Still, and its summery hits "Smile" and "LDN." In the process, she sold 2.6 million albums and became an instant celebrity, with a TV talk show and her own fashion line, Lily Loves.
For a while, it appeared that Lily was going to self-destruct amid drinking binges, paparazzi clashes and feuds with pop stars like Amy Winehouse. Luckily for us, her second album finds her in fine form, offering a more mature take on life without sacrificing her infectious—if still potty-mouthed—sense of fun. Overall, It's Not Me, It's You exchanges the retro ska sound of Alright, Still for a more flashy, electro-pop sheen. But there are exceptions: the banjo-fuelled "It's Not Fair," about a boyfriend who's a letdown in bed, is set to galloping bluegrass, while "He Wasn't There," about forgiving her absentee father, is all classic swing jazz.
It's Not Me, It's You's best songs are "The Fear," an ironic look at celebrity and consumerism that features witty lines like "I am a weapon of mass consumption," and "22," about a party girl who hits 30 with only one-night stands to show for her life. She may be all grown up, but darling Lily is still delightful.
February 2009