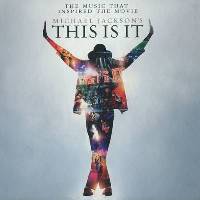 Michael Jackson is dead, but his commercial afterlife is already going strong. Since his shocking death on June 25 at 50, more than nine million copies of his albums have been sold worldwide. Now, with the much-anticipated release this week of This Is It, both the concert rehearsal film and a companion two-disc CD, the marketplace is about to experience a massive, Thriller–style increase in Jackson action.
The film, which features video footage from rehearsals for Michael's 50 sold-out concerts at London's O2 Arena, reportedly captures him in fine creative form, both in his voice and dance moves—no trace of the frail, fragile and doped-up individual some might have expected. The Jackson camp knew it was sitting on a potential bonanza. "I knew that some people would beg, borrow or steal to get their hands on this footage and put it on the internet," said Randy Phillips, of concert promoter AEG Live. "It has been under Fort Knox-style security ever since he died."
The CD set This Is It has been equally well guarded, although much of it features previously issued hits. The exceptions are early demo versions of classics like "Beat It" and "Wanna Be Startin' Somethin'" and a spoken word poem called "Plant Earth." The title track, a finger-snapping piano ballad, was hyped as brand new—until Paul Anka revealed earlier this month that he and Michael had co-written and recorded it back in 1983. Still, it's a welcome, posthumous return of the King of Pop.
October 2009