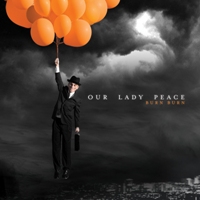 Canada's Our Lady Peace has been admired for its grungy, Pearl Jam-style guitars and epic, U2-like songs. The band's passionate stance even earned kudos from rock bible Rolling Stone, which cited its "likable earnestness," calling Our Lady Peace "the sincerest modern rockers unleashed yet by our northern neighbors." At home the group, led by singer Raine Maida, has long enjoyed superstar status, selling five million copies of its six studio albums—including one million for Clumsy alone—and winning four Juno Awards.
But trouble erupted in paradise while OLP was making its last album, 2005's Healthy in Paranoid Times, in Hawaii with producer Bob Rock. The band very nearly broke up, recalled Maida. "I fired Bob Rock at one point and I think he quit at another," he says. "It was a very emotional process because we were fighting to not compromise our artistic vision and bring as much artistry as possible back into our music." Following the release of Healthy, the band took an extended break during which Raine released a solo album, The Hunter's Lullaby, and produced the forthcoming album of his wife, singer-songwriter Chantal Kreviazuk.
Now, with Burn Burn, OLP is back in business. The band's new CD, self-produced in Raine's Los Angeles home studio, recalls the fresh, earnest sound of its early classics, especially on the driving first single, "All You Did Was Save My Life" and the soaring rock ballad "Dreamland." Having survived their earlier crisis, Raine and his bandmates have emerged energized and rejuvenated.
July 2009