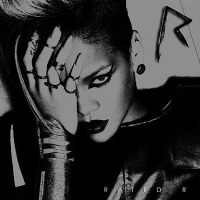 It's easy to interpret Rihanna's new album as a stark confession about her experience as a domestic violence victim. The CD's cover depicts her covering her right eye, as if she's just been struck in the face. Any number of the songs could be about her ex-boyfriend, singer Chris Brown, charged with felony assault and now serving a five-year probationary sentence. Rihanna's cleverly titled Rated R stands as a raw, expletive-filled statement from the 21-year-old pop princess and one of the fall's most hotly anticipated releases.
Born in Barbados, Rihanna shot to fame in 2005 when her debut single "Pon de Replay" topped the charts. Since then, the Caribbean queen has scored a string of hits, including "S.O.S." and her ubiquitous "Umbrella," the Grammy-winning single from her Good Girl Gone Bad album, which entered the pop culture zeitgeist with its "ella, ella" catch phrase. But everything soured with the revelations about her harrowing assault last February, which forced her to cancel her Grammy performance.
Now, with Rated R, Rihanna gets her chance to bare her soul and get even. Edgier and understandably angrier than her previous releases, the album features tough-girl songs like "Wait Your Turn, "Hard" and "Rock Star," featuring former Guns N' Roses guitarist Slash. On the ballad "Stupid in Love," she admits "I may be dumb, but I'm not stupid." The album's most chilling number is "Cold Case Love," in which Rihanna sings, hauntingly, "what you did to me was a crime." Call it Rihanna's sweet revenge.
November 2009