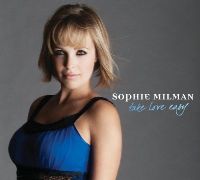 She's still in her 20s, but Sophie Milman displays the poise and polish of a jazz veteran. Blessed with a warm alto voice, Sophie has taken the jazz world by storm ever since embarking on a career five years ago with her self-titled debut. Her second album, 2007's Make Someone Happy, won a Juno Award for Top Jazz Vocal Album. All the while, the hard-working Sophie was juggling her business studies at the University of Toronto.
Born in Russia to an engineer father and a graduate student mother, Sophie has always been ambitious. She and her family escaped from behind the Iron Curtain and moved to Israel before eventually settling in Canada. Fluent in four languages—Russian, Hebrew, French and English, Sophie pursued her mother's love of literature and her father's taste for jazz while studying commerce. And she credits her parents with her becoming a "Balzac-reading jazz freak."
Sophie's third CD, Take Love Easy, is a major step forward for the young Canadian diva. The album finds her tackling jazz standards, including a gorgeous rendition of the Duke Ellington title track, two Cole Porter numbers and an Antonio Carlos Jobim bossa nova. But, showing her more adventurous side, Sophie also turns several pop standards into something fresh. She reinvents Bruce Springsteen's "I'm on Fire" as a slow 'n' sultry jazz ballad and transforms Paul Simon's "50 Ways to Leave Your Lover" into a cheeky salsa scorcher. Taking chances with pop classics is risky but admirable. Call it Sophie's choice.
May 2009