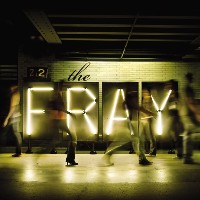 They've been called America's answer to Coldplay—with good reason. Like Chris Martin's band, the Fray is a quartet, led by a piano-playing singer, which produces soaring, feel-good pop. The Denver band's debut album, How to Save a Life, featured two hits: the title song, about frontman Isaac Slade's work mentoring a crack-addicted teen, and "Cable Car (Over My Head)," about Isaac's rift with his brother, former bandmate Caleb Slade. The album sold more than three million copies and Isaac was embraced by female fans as a sensitive heartthrob. "Isaac represents the emotional side of our band," says the Fray's drummer, Ben Wysocki. "He's a softie at the core."
    The Fray benefited hugely from exposure on TV shows like Grey's Anatomy. To launch "You Found Me," the first single from its self-titled second album, the group once again turned to prime-time television: the song, with Isaac confessing to be "lost and insecure," appeared in a promotional clip for the upcoming season of the series Lost. Isaac says "You Found Me," which asks why bad things happen to good people, was inspired by difficulties experienced by some of his family and friends. It is now the Fray's third Top 20 hit.
    A similar sensitivity pervades other songs on the album, including "Say When," on which Isaac offers to console someone else who's "lost and broken." Over a melancholic piano, he sings "My own two arms will carry you tonight." Like Coldplay, the Fray offers some welcome comfort in these troubled times.
January 2009