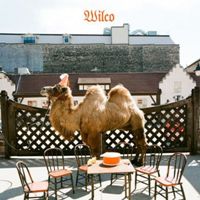 They've been called America's Radiohead and its "foremost rock impressionists." Certainly Wilco, the popular Chicago band led by Jeff Tweedy, has been bravely experimental—to the delight and consternation of fans. Like Neil Young, one of Jeff's biggest influences and with whom the group recently toured, Wilco has swung freely between genres. The band's release Being There was classic alternative-country, while the Grammy-winning A Ghost is Born was pure indie rock. Its most adventurous effort to date was 2002's Yankee Hotel Foxtrot, which remains the group's best-selling album.
The band's latest CD, Wilco (the album), is a mix of both familiar alt-country sounds and edgy rock experimentation, highlighted by an appearance from Canada's indie-pop darling Feist. The album kicks off with "Wilco (the song)," a jaunty number in which Jeff promises, like a reassuring hug to fans, that "Wilco will love you." Similarly, the buoyant "You Never Know" is a stirring anthem with a bouncy piano riff and a catchy chorus. And there's no shortage of Tweedy confessionals, including "You and I," his touching duet with Feist about lovers seeking solace.
But the new album also has darker moments. "Bull Black Nova," with its nagging piano, features sinister references to blood spilled in a house and the trunk of a car. And "Country Disappeared," which mixes a sunny melody with dire lyrics about "trees bleeding" and "cities crushed," is a deceptively pretty cautionary tale about the state of the world. Bitter or sweet, the latest Wilco has something for everyone.
June 2009