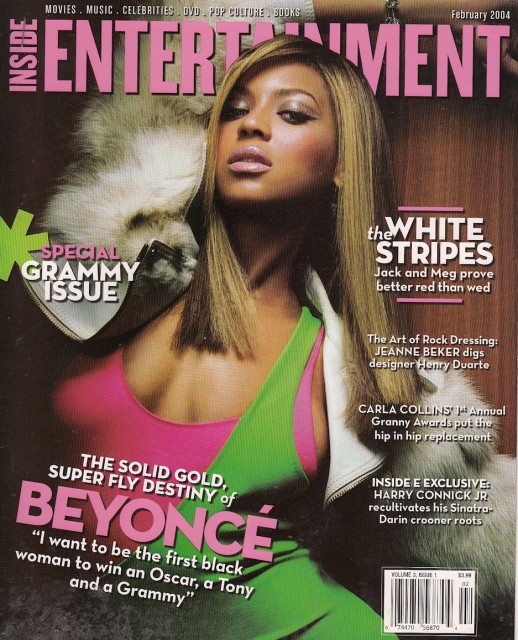 She's young, gifted and black. She's also devout, hard-working and extremely fly. As Destiny's Child's frontwoman and solo singer-turned actress, Knowles boasts a wealth of attributes (including bootylicious, a term she popularized and now defines) that have helped to place the Houston native well on the road to one-name multimedia stardom. Already, she's a fast-rising screen actress, thanks to her credible work in Austin Powers in Goldmember and The Fighting Temptations, and a multiple Grammy winner as a member of Destiny's Child. But her ambitions go much further. "I want to be the first black woman to win an Oscar, a Tony and a Grammy," says the 22-year-old Beyoncé. "I already have three Grammys, so now I have two more awards to go."
Oscar and Broadway will have to wait, at least for the moment. Right now, Beyoncé's music career is red hot. Her solo debut album, Dangerously in Love, has already burned up the Billboard charts. And her steamy videos for "Crazy in Love" and "Baby Boy" each went into heavy rotation on MTV and MuchMusic. This month, Beyoncé promises to set the Grammy Awards ablaze, with a leading six nominations for Dangerously in Love—including one in the heavyweight category of Record of the Year, for "Crazy in Love," her horn-laced duet with rapper Jay-Z, her rumored squeeze. It's quite possible that Beyoncé will come away with an armful of trophies, much like Norah Jones did last year, and suddenly be propelled well into pop's dizzying stratosphere.
Beyoncé's breakthrough comes at a time when Grammy, like a reluctant parent, has finally embraced the industry's upstart child, urban music. Hip hop and r&b dominate all of the major categories at this year's awards. And Beyoncé, whose album also features guest appearances by rappers Missy Elliott and OutKast's Big Boi, both of whom have multiple nominations, manages to bridge both worlds. Although she refuses to discuss her relationship with Jay-Z, she's been seen on the rap mogul's arm at numerous social events and New York Post gossip columnist Cindy Adams calls them "seriously serious." Added Adams: "Seriouser than Pamela Anderson and Kid Rock. Seriouser than Carmen Electra and whoever." Fuelling rumors of impending nuptials is Beyoncé's recent purchase of three townhouses on Miami's "Millionaire's Row."
One place where Beyoncé and Jay-Z have been seen together frequently is fashion shows. Jay-Z has his own line of clothing called Rocawear, and he accompanied Beyoncé to last fall's New York Fashion Week. Beyoncé, who is spokeswoman for L'Oreal and has had dresses and gowns personally designed for her by Donatella Versace and Giorgio Armani, has said she intends to start her own clothing line with her mother. All of this, on top of her promising movie career, has made Beyoncé one of pop's leading glamour goddesses. "She's a style icon," professes Versace. "She can wear couture or jeans with the same attitude—young, fresh and very hip-hop."
Beyoncé's star power is instantly evident throughout her sexually charged videos, in which she sings like she's channeling seductive disco queen Donna ("Love to Love You, Baby") Summer and struts as provocatively as supermodel Naomi Campbell. "Most incredibly, it's your girl B," announces Jay-Z, in his super-hyped introduction to "Crazy in Love." "History in the makin', part two," he adds, prophesizing that Beyoncé's solo career will be every bit as successful as Destiny's Child's. Similarly, in the video to "Baby Boy," reggae-dance star Sean Paul calls Beyoncé a "top top girl, certified quality," as the bikini-clad performer writhes about on a bed made of furs, singing another tale of obsessive, delirious love. Both videos feature Beyoncé's now patented bootie-shakin'.
Her appearances on the big screen have been equally confident. After appearing opposite Mekhi Phifer in MTV's Hip-Hopera: Carmen, an urban retelling of the classic opera, Beyoncé landed the role of secret agent Foxxy Cleopatra opposite Mike Myers in Goldmember. She didn't nail the part at first, but redoubled her efforts on the return visit. "I went back," she recalled of the second audition, "wearing a Pam Grier-like cat suit, an Afro wig and had memorized every Blaxploitation film ever made." Ultimately, Beyoncé's comedic turn as the take-no-stuff sexy agent, along with her contributions to the funky soundtrack, were among the movie's highlights.
Beyoncé's next part, as the romantic lead opposite Cuba Gooding Jr. in The Fighting Temptations, was more dramatically challenging. Once again, she shone, this time as Lilly, a small-time nightclub singer and single mother who is recruited to help a struggling church choir win a gospel competition. "I wanted to seem natural," Beyoncé said of the part, which required her to sing jazz and gospel numbers. "I tried to find the most unglamorous clothes, the most unglamorous hairstyle. I didn't wear my hair straightened. I wanted to show myself in a different light." She added that she drew on personal experiences to portray Lilly, who supports both a young son and an ailing grandfather. "My mother owns a hair salon and I grew up there, sweeping the floor and listening to the stories told by all these women who came there. Some were single mothers, some weren't, but they were positive, strong women."
Her parents, Mathew and Tina Knowles, have played a key role in Beyoncé's career. After their eldest of two daughters announced at the age of seven that she wanted to pursue a performing career (Beyoncé's younger sister, Solange, has since followed suit), Mathew quit his job as a medical-equipment salesman to manage the teenage Destiny's Child, with Tina designing the group's look. In 1995, Mathew negotiated a recording deal with Columbia Records for Destiny's Child, which included founding members Beyoncé and cousin Kelly Rowland, who were 15 and 16 when "No, No, No" from the group's self-titled debut album stormed the charts. While the second album, The Writing's on the Wall, spawned the hit singles "Say My Name" and "Bills, Bills, Bills," the group added new member Michelle Williams and that lineup has remained in tact ever since.
Using Berry Gordy's Motown Records as a model, Beyoncé's father has built an empire of his own around his daughter's group. Music World Entertainment is a self-contained record label, production and management company, which continues to handle Destiny's Child as well as the solo careers of Beyoncé, Rowland, Williams and now Solange, among others. With worldwide sales of 20 million, Destiny's Child has become one of the world's best-selling female groups. So it should come as no surprise that, despite solo albums by each of its members, the group has no intention of disbanding. Destiny's Child plans to record its fifth album next summer. The solo work, Beyoncé says, is a part of growing up. "We're all adults now, and we need to learn things about ourselves," she says, "and sometimes you can't do that unless you're by yourself."
Unlike Britney, who detailed her coming-of-age rather awkwardly (remember her song "I'm Not a Girl, Not Yet a Woman"?), Beyoncé's growing maturity seems natural and sure-footed. By all accounts, she's grounded and keeping it real, unlike many divas. A shy (yes, shy), devout Methodist who prays every day, she thinks of herself as an 'old soul' and believes in traditional Southern values of family, moderation and a solid work ethic. "I always want to better myself," she says. For her album, she wrote 43 songs, of which 15 made the final cut, including the mawkish hidden tribute to her father, "Daddy" (last year, she bought him a speedboat for Christmas and the two go out to the lake together in Houston). She's co-written 99 per cent of her hit singles, both solo and with Destiny's Child. Two years ago, she won the ASCAP Pop Songwriter of the Year Award—the first African-American woman and the only second woman ever to receive that honor.
What little free time she has is taken up with her newfound passion for visual art. "I started painting portraits of women two years ago, while filming Austin Powers," says Beyoncé, who works with oils because she finds them the most challenging. "I got hooked and wouldn't sleep. I made this special room with saris and pillows. I would light candles, play Miles Davis and Björk, and paint all night. It was very therapeutic."
This summer, Beyoncé hopes to take a solo tour out on the road. But she'll have to juggle that with recording the next Destiny's Child album and making her next movie. She desperately wants to do a musical, something along the lines of Chicago or Moulin Rouge. With her singing and dancing abilities, Beyoncé seems well suited for the stage and screen.
Will her future as an actress-celebrity spoil her sweet, warm, unaffected nature? U2's Bono, who worked with her at last November's AIDS benefit in Cape Town, hosted by former South African president Nelson Mandela, doesn't think so. Says Bono: "When the party balloons are burst and the champagne has lost its fizz, Beyoncé will still mean something, because underneath the glamour-puss routines and soulful sexiness, there's a gospel heart beating." And that, more than million-dollar sponsorships, airbrushed photos or Versace beaded gold dresses, will provide Beyoncé with the sort of longevity that every artist craves.