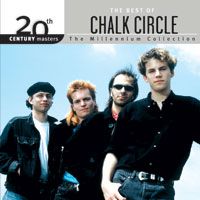 A thinking band from the 1980s, Chalk Circle was that rare group of musicians who combined socially conscious lyrics and chiming guitars in an age dominated by big hair and synthesizers. Listening to the band's music again, what stands out is how fresh and forceful it still sounds. The songs have aged remarkably well.
Part of the reason lies in Chalk Circle's sources of inspiration: literature and the environment. The group took its name from a play by Bertolt Brecht, about fighting for your convictions in the face of pressure. And the band members, who grew up in Newcastle, Ontario, near the controversial Darlington Station, never shied away from writing about the dangers of nuclear power. As singer-guitarist Chris Tait, who wrote most of the groups lyrics, put it: "We feel most comfortable writing about subjects that are around us."
Originally formed as a trio in 1983 by Tait, bassist Brad Hopkins and drummer Derrick Murphy, Chalk Circle rounded out its sound with the addition of keyboardist Tad Winklarz, a classically trained pianist who fled his native Poland shortly before the imposition of martial law. The song "Buildings" arose from one of the first
rehearsals with the newly formed quartet. Although it was a well received live song and a band favorite, "Buildings" never made it onto any of the band's albums—until now. After winning an award from influential Toronto radio station CFNY for most promising non-recording artists in 1985, the band landed a contract with Duke Street Records. The Great Lake, a six-song EP released the following year, was a runaway success. Along with the stirring title track, it produced two Top 10 singles: the harmony-filled "April Fool" and the buoyant "Me Myself and I."
For its first full-length album, Mending Wall, Chalk Circle once again turned to literature, borrowing its title from the Robert Frost poem of the same name that contains the famous line "good fences make good neighbours." Released in 1987, Mending Wall featured two environmental songs. "This Mourning," a soaring Top 10 hit, dealt with the fear of a nuclear apocalypse that leaves its victims shivering and sleepless in the dark. The melancholic "N.I.M.B.Y.," an acronym for "Not in my backyard," was based on a slogan used by protesters at the Love Canal in Niagara Falls, New York.
Though serious and thoughtful, Chalk Circle also had a humorous side. A reissued Mending Wall featured a hilarious cover of T-Rex's hard-rock classic "20th Century Boy," included here in this collection. Chalk Circle's version, yet another Top 10 hit for the band, captures all the swagger and sexual posturing of Marc Bolan's original—right down to breaking glass and Tait's infectious whoops and handclaps.
Chalk Circle's final album, 1989's As The Crow Flies, gave us songs like "Sons and Daughters," with its gospel-like chorus, and a keen rhythmic sensibility rarely heard in commercial pop as well as "Together," the band's final single. The album allowed the group to venture into more ambitious territory, with the help of many guest artists as well as label mates Jane Siberry, Hugh Marsh and Moe Koffman, and added to an already impressive legacy of intelligent, grown-up pop music.
Nicholas Jennings