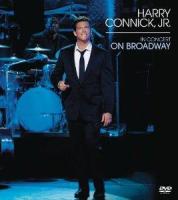 Harry Connick Jr. is a genuine renaissance man, an award-winning singer, songwriter and actor who also plays piano and is a respected composer, arranger and bandleader. A childhood prodigy, Connick learned the keyboards at three, played publicly at six and made his recording debut with a jazz band at 10. Just a decade later, he released his self-titled solo debut album and won his first Grammy Award two years later for his work on the soundtrack to the 1989 romantic comedy
When Harry Met Sally
, starring Meg Ryan and Billy Crystal.
As an actor, Connick has been equally versatile, playing a sympathetic leading man in Hope Floats with Sandra Bullock and a serial killer in Copycat with Sigourney Weaver. Rich, handsome and married to former Victoria's Secret model Jill Goodacre, with whom he has three daughters, the New Orleans native has also starred in TV's Will and Grace and the Broadway revival of The Pajama Game. "I just like to enjoy life," says Connick, "and make sure that there's time for everything."
Last year, Connick performed a sold-out concert run on Broadway and made sure there was time to film it for his fans. Now released as In Concert on Broadway the DVD-CD captures Connick as both romantic crooner and funky showman, with songs ranging from big-band tunes like "All the Way" to such New Orleans originals as "Take Her to the Mardi Gras." Ultimately, In Concert on Broadway proves that the wildly gifted Connick really can do it all.