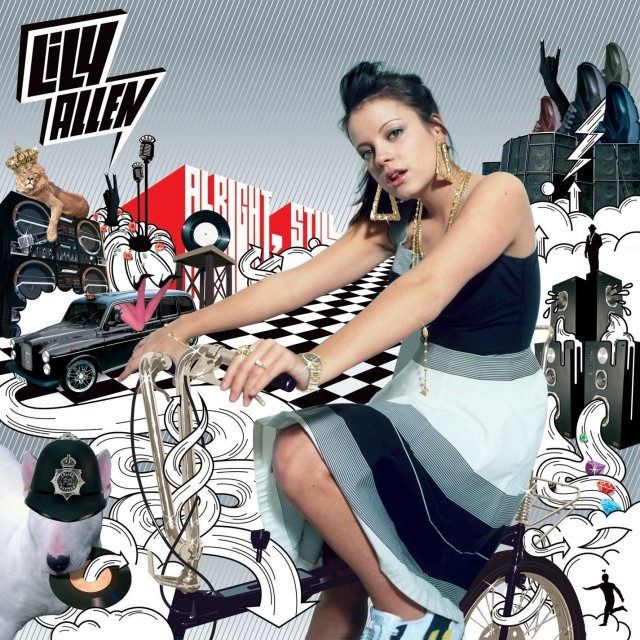 Tours can take their toll on the most experienced rock musician. But if you're a suddenly hot young singer from England, and you find yourself catapulted into a seemingly endless series of concerts, interviews and promotional appearances across the North American continent, it can be downright dizzying. That was the state Lily Allen was in this past April. The pint-sized pop star was at her wit's end on the tail end of a three-month tour that had seen her perform more than 60 shows, make dozens of TV appearances and conduct literally hundreds of interviews. The morning after a sold-out appearance at Toronto's Phoenix Theatre spoke to Inside E, and the fatigue in her voice was palpable. Touring, Allen concluded, with her typically tart tongue, "can be a complete mind f*ck."
If the cheeky Brit and summery hits like "Smile" and "LDN" were not so damn likable, it would be easy to dismiss her as a spoiled showbiz brat. The 21-year-old daughter of musician-comedian Keith Allen and film producer Alison Owen, Allen is responsible for some of the most acerbic and infectious pop songs to hit the airwaves recently—one critic described her sound as "bubblegum with razor blades." Allen's album, Alright, Still, released last summer, has moved 2.5 million copies and is still selling, thanks to a strong word of mouth about its mix of barbed breakup tales and catchy ska, calypso and reggae beats. Whether she likes it or not, Allen's popularity is keeping her on the road. After appearances at the U.S. Bonnarooo Music Festival and on Late Night with David Letterman, she plays Glastonbury and half a dozen other European festivals this summer.
Following the Toronto show, Allen made no attempt to hide her disillusionment with being on the pop treadmill. "Doing all the promos and interviews makes you feel like a product," she says, "and having to tour all the time and shove an album down peoples' throats and take their money starts to feel almost greedy. It's not what I went into this for." So what was her motivation? "I guess I wanted to prove to myself that I could do something. I wasn't doing anything before I did this. I quit school. I didn't have any direction. I didn't know what I wanted to do. But I knew that I could sing."
Allen's talent was obvious early on. In late 2005, after a brief deal with Warner Music, she was signed to Regal Records, a label owned by Parlophone-EMI. The company had a specific recording plan in mind, but Allen had her own ideas. She began uploading her songs to her MySpace page and was soon attracting hundreds of friends and thousands of hits (she currently has a staggering 250,000 friends and more than three million hits on MySpace). And emailed links to her demo tracks meant that magazines like NME published rave reviews of her music well before Alright, Still's release. After BBC Radio One aired the demo to "LDN," Allen's wry observations about the reality of life in her hometown of London, the resulting buzz prompted the single to be rush-released ahead of schedule.
The video for "LDN" opens with a hilarious scene of Allen in a record store, seeking help from the staff. "Have you got any kind of like sort of punky electronica," Allen asks the store clerk, "kind of grime, kind of like new wave grime, but maybe like more broken beats, kind of dubby broken beats but a little bit kind of soulful, kind of drum and bassy, but more break beat kind of broken drum and bass?" All she gets is a blank stare. "I was taking the piss out of music nerds," explains Allen. "People in record shops get really moody when you don't know exactly what you're talking about, But they should actually be trying to help people embrace music rather than make them feel shit for not knowing the exact name of the record and the label it's on and the year it was released."
Allen herself could have easily grown up a music nerd. With two hardcore music fans for parents, she was exposed to vast and eclectic record collections. "My mum is very good friends with Neneh Cherry and my dad was good friends with Joe Strummer from the Clash," says Allen. "We were always surrounded by very creative and musical people and I guess that's something that always interested me when I was a kid." She continues: "My mum was always playing ska stuff like the Specials and Madness and Fun Boy Three. A lot of it was background music, so not necessarily stuff that I could name check, just a style of music that I heard around the house for such a long time. I get irritated when people try and tell me I'm a fake ska lover because I don't know the names of all the songs. But I've never been one to read all the labels on the records. I just know what I like and put them on."
Although she's a serious music fan herself, Allen has made controversial statements about several musicians, including Sir Bob Geldof, Lady Sovereign and Amy Winehouse, to whom she's been compared. "I don't like musicians for their personalities," she says. "I'm a strong believer that young people should gain their role models from their friends and family, not from people in the limelight." And she's strongly opposed to the supermodel body image prevalent in the media (check her song "Cheryl Tweedy," about the blonde wife of English soccer star Ashley Cole, and the reference to Kate Moss, rhymed with "weight loss," in her song "Everything's Just Wonderful"). Meanwhile, Allen has launched her own clothing line, Lily Loves, featuring the prom dresses she often wears with sneakers and gold jewelry.
As her career explodes into pop's multi-platform stratosphere, Allen is going to be faced with increasing demands for more touring, marketing and promotion. "It's a funny game," she admits. "It's like a choice between sanity and money." Then, aware of how lucky she is, she qualifies her last remark. "As bored and exhausted and homesick as I am by it all," she says, admitting that she desperately misses her boyfriend, A&R man Sebastian Chew, "I'm sure there are many people in the world who would love to be doing what I'm doing, instead of stacking shelves in a supermarket or something. I just have to keep this thing in perspective."