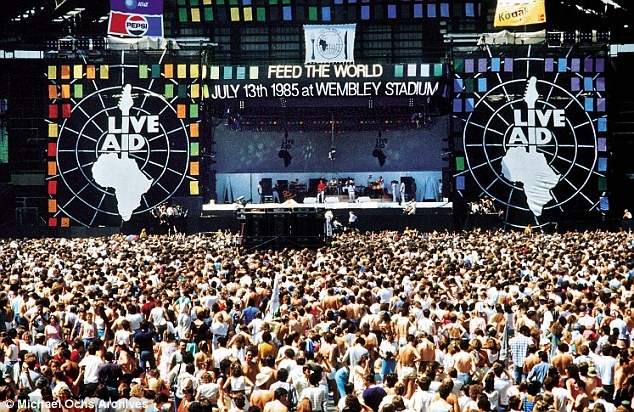 In rock history, July 13, 1985 will be forever known as "the day that music changed the world." On that day, Live Aid broadcast 16-hour, all-star packed concerts from two continents to an audience of 1.5 billion—raising more than $140 million for African famine relief in the process. This, at the height of the so-called "Me Decade," was no small feat. The money went directly to Ethiopia, providing food and saving the lives of thousands who would have otherwise starved to death in refugee camps. Besides the massive humanitarian gesture, Live Aid remains memorable for some truly transcendent musical performances, including a young U2's emotionally-charged rendition of "Sunday Bloody Sunday" and Patti Labelle's deep-soul cover of "Imagine."
Organizer Bob Geldof, fondly remembered for imploring "Give us your fookin' money," had promised the artists and their lawyers that Live Aid would only ever be a one-time concert event. But bootleg versions of the broadcast forced Sir Bob to change his tune. The Official Live Aid DVD, a lavish four-disc set, is now available to document what was called "the Greatest Show on Earth." The set offers a bonanza of performances—93 in total—and such significant extras as the Band Aid and USA for Africa videos of "Do They Know It's Christmas" and "We Are the World," as well as the original BBC news report on the famine crisis that first shocked Geldof into action. But the real bonus is that proceeds from the sales once again provide African hunger relief.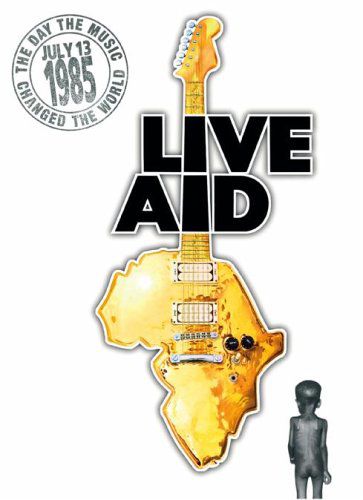 Geldof was admirably pragmatic in choosing superstars over more adventurous artists. "The purpose of Live Aid is to raise money," he said bluntly at the time. "If a band sells a million records, it means more people will watch than if they sell a thousand. If more people contribute, more people live. If I have a choice between Steel Pulse or Wham! on this show, I'll take Wham!" Consequently, the DVD set features a number of big-hair bands who were '80s chart toppers but have since been relegated to the "Where Are They Now?" files, such as Spandau Ballet and Thompson Twins. But the set also features some timeless moments, including a bearded Elvis Costello asking for help on "this old English folk song" and getting the audience of 60,000 at London's Wembley Stadium singing along with him on a stirring rendition of the Beatles' "All You Need is Love." Queen's high-energy set underscores both the popularity of the band and the charisma of singer Freddie Mercury. The Wembley finale features Pete Townshend and Paul McCartney carrying Geldof, looking every bit the exhausted saint, on their shoulders before an all-star performance of "Do They Know It's Christmas" (a far superior song to the saccharine "We Are the World").
At Philadelphia's JFK Stadium, Chevy Chase (in short shorts—not a pretty sight) introduces Duran Duran and an overweight Ozzy Osbourne leading a sluggish Black Sabbath set. And much is made of the overrated vastly Phil Collins, who jetted in on the Concorde to be able to play at both concerts. But Philly has its own fine moments, including a deliberate wardrobe malfunction with a topless Mick Jagger tearing off Tina Turner's leather skirt during a playful duet. Jack Nicholson then introduces Bob Dylan as "one of America's great voices of freedom," before Dylan and his obviously very stoned guest sidemen, Keith Richards and Ron Wood, deliver an anthemic "Blowin' in the Wind." With a wealth of highlights, The Official Live Aid DVD serves as both a worthy historical document and a perfect choice for the gift-giving season.
Inside Entertainment 2004