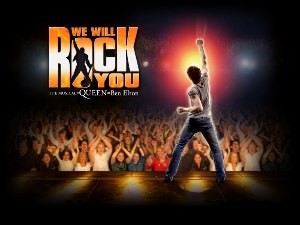 What a difference a few decades make. When Queen first came to prominence in the early 1970s, the British band was panned for its bombastic blend of glam rock and heavy metal posturing. The five-word dismissal by Village Voice critic Robert Christgau of Queen II ("Wimpoid royaloid heavoid android void.") was typical at the time. Fast forward to the early '80s and Queen, led by flamboyant frontman Freddie Mercury, is performing in Latin American soccer stadiums to rock's largest audiences. A decade later, after Mercury's AIDS-related death, the band gets a commercial boost when "Bohemian Rhapsody" is featured in the movie hit Wayne's World. Now, the belated coronation is complete, and Queen is routinely hailed as groundbreaking and inventive. And We Will Rock You, the hit musical that opens March 14 in Toronto, is making Queen's songs even more ubiquitous. "It's a strange reversal," admits Queen's drummer Roger Taylor. "We seem to be more popular now than we were 20 years ago."
Time really does change everything. Songs like "We Will Rock You" and "We Are the Champions," though always crowd favorites at Queen concerts, were once derided as cliché-ridden schlock rock. Now they're cited as classic anthems and heard as anthems at sporting events the world over. Even "Bohemian Rhapsody," Mercury's rock-opera opus, has undergone a favorable reassessment. When it was first released in 1975, the band's record company and radio stations complained about its length, while music magazines cited the song's elaborate structure and multi-tracking—using 180 vocal overdubs alone—as proof of the band's transparent grandeur. Melody Maker, for one, called it a "superficially impressive pastiche" of operatic styles. These days, it's hard to imagine a more acclaimed, recognizable or influential piece of music. "Bo Rap," as fans call it, has been voted the world's most popular song of the past 50 years by Guinness World Records, inducted into the Grammy Hall of Fame, covered by such bands as The Flaming Lips and credited with inspiring many individuals, from Guns N' Roses' Slash to Def Leppard's Joe Elliot, to become musicians.
Queen's Taylor and guitarist Brian May, along with We Will Rock You's writer-director Ben Elton, all spoke about the band's legacy and Mercury's influential role during the musical's media launch in Toronto last December. Elton noted how Queen's music was "uniquely theatrical," and that one of Mercury's earliest songs, "Seven Seas of Rhye," had inspired Jim Steinman to write his rock opera Bat Out of Hell. May, still sporting his trademark cascading curls, recalled how the band's manager, Jim Beach, often predicted that a musical was in its future. "We'd always go, 'Nah, we don't like musicals,' but here we are today," said May, smiling, obviously pleased with the income he, Taylor and bassist John Deacon are receiving from the show, which to date has played in Australia, Japan, Russia, Spain, Germany and Las Vegas, since debuting in London in 2002. Taylor says that he believes that critics' early resistance to Queen was due to the band's glam-metal extravagance. "We were unapologetically over the top," admits Taylor, "especially Freddie. He was completely outrageous."
Proof can be found in performance clips of Mercury on such DVDs as Queen's bestselling two-volume Greatest Video Hits, strutting about the stage, thrilling audiences with his falsetto leaps and athletic moves in costumes that seem like a prototype of Borat's "sexy man" lime green suspender thong. Mercury was well suited to the stage, just as Queen seemed born to play stadiums. "We're the Cecil B. DeMille of rock and roll," he liked to say, "always wanting to do things bigger and better." Mercury's admirers include Axl Rose, Elton John, Robbie Williams and David Bowie, with whom Queen recorded the song "Under Pressure." "Of all the more theatrical rock performers, Freddie took it further than the rest," Bowie once recalled. "He took it over the edge. He was definitely a man who could hold an audience in the palm of his hand. And, of course," Bowie added, "I always admired a man who wears tights."
Born Farrokh Bulsara in Zanzibar, to Indian Parsis of Persian descent, Mercury was the world's first Indian and Persian rock star. But he kept his ethnicity—and his sexuality—concealed. The fact that he was gay remained an unspoken, open secret ("Bohemian Rhapsody" has often been interpreted as being about Mercury's struggle with his sexuality). And he didn't reveal his AIDS affliction until the day before he died in 1991. Mercury's fondness for excess carried over into his personal life, where he and Taylor were Queen's notorious party animals. Taylor recalls one particular night at a Montreal hotel during the band's heyday. "There were two huge suites on the hotel's top floor," says Taylor, "what we called Freddie's Presidential Poof Parlor and my Heterosexual Hangout. The fire alarm went off and there were all these screaming queens and girls, in various states of undress, rushing down the stairwells to the lobby."
Mercury's legend lives on in Queen's music and We Will Rock You. The musical, a spoof on the classic quest tale, features all of the band's best-known hits, including "Killer Queen" and "Somebody to Love." As with Mamma Mia! and ABBA's music, those songs will now be heard by several generations of fans. Those attending We Will Rock You's Toronto show, like others around the world, are bound to go ga-ga for Queen's timeless music.
Inside Entertainment 2007