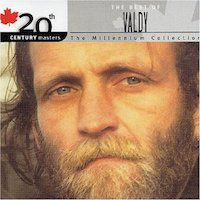 There's still something reassuring about Valdy's voice. Like a big Cowichan sweater, the kind the singer used to favour back in the 1970s, its sound envelops with a warm, fuzzy idealism that tells you all is right with the world—even if it isn't.
That, of course, was Valdy's secret. He was a master illusionist, a city boy who made us believe him a country man and, best trick of all, a complex guy who preached the simple life. Make no mistake: his heart was in the right place, but Valdy was "more of a manipulator than a singer or a songwriter," as his manager candidly put it. He wanted to make us feel good and, for much of the '70s, he did.
Once touted as the heir to Gordon Lightfoot, Valdy was that rare breed of artist who, like Stan Rogers or Stompin' Tom Connors, got under our skins with songs that seemed to spring straight out of Canadian soil. At a time when people dreamed of getting back to the land, Valdy personified that ideal for individuals trapped in school or dead-end jobs. His five top-selling studio albums for A&M, all represented in this collection, reflect the rustic side of Canadian pop in the '70s, acoustic alternatives to April Wine or Bachman-Turner Overdrive that stil
l resonate today.
Born to a wealthy Danish family in downtown Ottawa, Valdemar Horsdal irked his parents when he chose a career in music. His conservative father forbid him to use the family name professionally. The aspiring songwriter resorted to the singular name, Valdy, and promptly moved out west, where he soon landed a recording contract.
Country Man, released in 1972, announced his arrival. The album's front cover depicted a bearded Valdy as an organic Earth Father, his long hair forming the bough of an old oak tree. On the back cover, he wrote, "I am a farmer. I live by the sea. My family and me." It was true: Valdy, his wife and daughter lived on five acres on the west shore of Vancouver Island, where they raised chickens, goats and grew rhubarb. All of which underscored the pastoral messages of numbers like "A Good Song" and "Rock and Roll Song," both of which became radio hits that year.
The hippie idealism intensified on Valdy's next album, 1973's Landscapes, with songs like the bittersweet title track, about a runaway gypsy girlfriend, and the gentle "Simple Life (Ode to L.A.)," which rejected the big city living in favour of a rural existence. Although the following year's Family Gathering contained only three new original numbers, one of them was romantic waltz "Renaissance," which became another Top 10 hit.
The addition of a sterling group of musicians, including Claire Lawrence and Shari Ulrich, led to the more upbeat Valdy and the Hometown Band. That 1975 album produced catchy new material like "Yes I Can" and "Peter & Lou." Valdy's last recording for A&M, 1978's Hot Rocks, was even more of a departure, with synthesizers and electric guitars on songs like the anti-nuke protesting title track.
A cynic today might take delight in viewing Valdy as a stale-dated member of the granola generation. But that would be to dismiss an artist whose songs served as beacons of hope for many disillusioned city dwellers. His was a shamelessly romantic vision. As the world grows ever more harried and hateful, Valdy's ethos of peace, love and the simple life just might click with a whole new tribe of dreamers and believers.
Nicholas Jennings