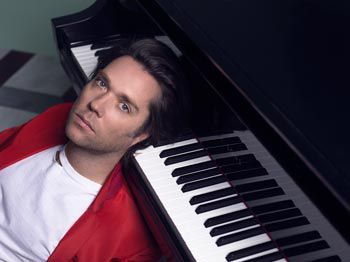 Rufus has had an eventful summer, celebrating a significant birthday and performing everywhere from the prestigious Teatro Real opera house in Madrid to England's Glastonbury Festival. The charismatic singer tells us about his favorite current music and his continuing efforts to honor the memory of his late mother, folksinger Kate McGarrigle, with the release of a tribute album, Sing Me the Songs, and a documentary concert.
Do you enjoy touring now as much as when you were younger? I'm lucky because I get to play all these gorgeous opera houses, so everything is pardoned and replenished once you get into those beautiful halls.
What was it like to play Glastonbury? It was amazing. I was playing solo in front of 50,000 people and you could hear a pin drop. The Rolling Stones were on the same bill. I don't know how they do it. That, to me, is one of the world wonders, how they still go out on the road so much.
What do you miss most about home when you're on the road? My bathroom (laughs)! You really start to pine for the things you're familiar with, like what kind of water you're going to get from the sink or if there'll be enough water pressure for your bath or shower. It becomes very animalistic.
How did you feel about turning 40? The bark was worse than the bite. There was so much buildup and suspense about what one should feel and the trauma of turning 40, but the next day it was like 'oh my god, that was nothing.'
You celebrated in Madrid? Yes, I performed an opera and Placido Domingo came and told me afterwards that he was very moved. To have the greatest living tenor tell you that is a big deal!
What are your three current favorite songs? Norah Jones' version of "(Talk to Me of) Mendocino" from Sing Me the Songs is great. Norah is so flawless and subtle and deep at the same time. Plus, that song fits her voice like a glove. I would include Placido singing any main aria from Otello, because that really gets me going and is a perennial favorite. Finally, my husband (Luminato artistic director Jörn Weisbrodt) has turned me on to The XX's "Angels." I definitely feel hip when I listen to that—and that's very important when you're 40!
You're been busy with tributes for your mum. We've been celebrating her life and legacy and the fact that she left us this beautiful treasure of songs. We've started the Kate McGarrigle Foundation to raise money for sarcoma research. Sarcoma is the very rare cancer that killed Kate. So that is the onward battle that my sister Martha (Wainwright) and I would like to keep waging on cancer.
What have you got coming up? I'm working on a new opera. This one has a big Canadian connection—that's all I can say at the moment. And I wrote and recorded a duet with Robbie Williams called "Swings Both Ways" for his new album, and that's very exciting.
Hello! Canada magazine July 2013