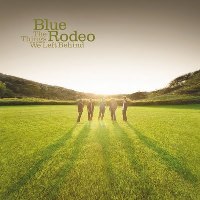 One of Canada's longest running bands, Blue Rodeo forged its country-tinged rock sound on Toronto's Queen Street in 1984. Since then, the group has released more than a dozen albums and sold more than four million copies while winning five Junos and a place on Canada's Walk of Fame. Blue Rodeo's success is rooted in the songwriting partnership of Jim Cuddy and Greg Keelor, whose friendship began on the football field at North Toronto Collegiate Institute.
To mark the band's 25th anniversary, Jim and Greg—along with bassist Bazil Donovan, drummer Glenn Milchem and pedal steel player Bob Egan—have made the ambitious The Things We Left Behind, a double album released in both CD and vinyl formats. "From the beginning we knew we were going to two records," says Jim. Adds Greg: "We wanted to make two CDs that represented the flip of a record."
As with all Blue Rodeo records, the strength of The Things We Left Behind lies in the songwriters' yin and yang, typically Jim's melodic ballads and Greg's moody rockers. But the new album often turns that dichotomy on its head. Some of the best songs offer surprising twists, whether it's Greg's joyous "Never Look Back" or Jim's plaintive "One Light Left in Heaven," graced by Anne Lindsay's violin and Oh Susanna's backing vocals. Other highlights include the CSNY-style epic "Million Miles" and the Beatlesque "Don't Let the Darkness in Your Head." After a quarter century, Blue Rodeo still knows how to keep it fresh.
November 2009