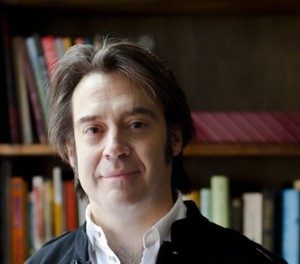 Brad Roberts, the Crash Test dude, is no dummy. Although he's a Grinch who hates Christmas, can't stomach turkey and is practically Scrooge-like in his refusal to buy presents for people or accept gifts from others, he knows that Christmas music is too good a thing to pass up. And what better way to use The Voice—that infamous basso-profundo instrument of his—than to have it reverberate in all of its woofer-shredding glory on centuries-old hymns and carols? But Roberts, once dubbed "Professor of Irony at the School of Postmodernism," didn't stop there. He gave some of his favorite seasonal songs the sort of oddball twist that made Crash Test Dummies such a worldwide phenomenon. The result is Jingle All the Way..., one of the wackiest and yet ultimately most charming Christmas albums to come along in many a Yuletide.
Speaking from his Manhattan apartment, Roberts traces a fondness for holiday music back to his pre-college days in Winnipeg when he started teaching guitar. "All the songs I was teaching these poor kids from all these stupid instruction books were so boring," recalls Roberts. "But when Christmas rolled around, it was easy for the kids to play carols that were so familiar to them. So I started working out my own little arrangements of these songs and that's when I noticed how well constructed this music was—orderly yet very beautiful, emotive but quite precise. Ever since then, I've wanted to make a special kind of Christmas album."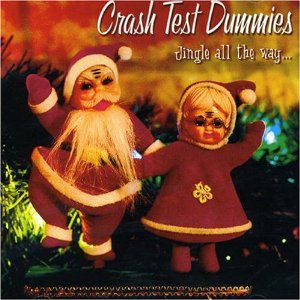 Roberts says he'd heard punk rock bands doing the sleigh bells thing ("ha, ha") and had encountered the occasional Rasta Santa ("just another one-trick pony") and wanted to avoid a strictly novelty approach. Consequently, Jingle All the Way… is divided equally between serious, sublime takes on time-honored hymns and cheesy, tongue-in-cheek renditions of popular carols. Working with producer Scott Harding and keyboardist Chris Brown, two other expatriate Canucks living in New York, Roberts turns a minor-key "Jingle Bells" into a stern, Bolshevik workers' march and gives "God Rest Ye Merry Gentlemen" a jazzy, flute-filled swing, a la Jethro Tull's "Bourée." At the same time, "We Three Kings" takes on a distinctly Oriental feel with the pipa (Chinese lute) played by Min Xiao Fen. And Ellen Reid, Roberts' longtime backup singer in Crash Test Dummies, provides Kitty Wells-style crooning on "Silent Night" and "O Little Town of Bethlehem."
But the two best songs are the ones that open and close the album. "White Christmas" is Brad as Bing, with Roberts delivering a half-spoken, half-sung performance that is pure, Shatner-esque kitsch. Over Brown's game-show Hammond organ, Roberts hits a frighteningly low, bowel-rumbling C note that may land him on one of Rhino Records' Golden Throat compilations of bizarre celebrity vocal performances. The album finishes with Roberts accompanying Reid's soprano on a starkly beautiful version of that old, 18th-century Canadian chestnut, "The Huron Carol." With simple piano and cello accompaniment, Reid sounds positively angelic, while Roberts' resonating "in excelsis gloria" in the background is chillingly solemn.
Although Reid has served in Crash Test Dummies—along with drummer Mitch Dorge, harmonic player Ben Darvell and Roberts' brother, Dan, on bass—from the beginning, the band is now essentially Brad's own project. "I own the name and I've always run the thing," he states, without a hint of arrogance. "Whoever wants to participate can." After the chart-topping hits "Superman's Song" (from the group's 1991 debut The Ghosts that Haunt Me) and "Mmm Mmm Mmm Mmm" (from 1993's God Shuffled his Feet), the Dummies delivered two more albums to its major-label master, BMG Music. But neither A Worm's Life nor Give Yourself a Hand matched that early success. And Roberts recorded a live album, Crash Test Dude, and last year's quirky I Don't Care if You Don't Mind on his own Cha-Ching Records, while the other Dummies pursued solo projects of their own.
Roberts has no regrets. Now free of BMG, he says he's never been happier—or more prolific. Already, he's recorded a new album with Stuart Cameron (son of Canadian icon John Allan Cameron) of what he calls "sexy rock, groove-laden songs" and has written another that he describes as "orchestral and pastoral." Says Roberts: "Having had a hit as big as "Mmm Mmm Mmm Mmm is quite a gift. I reaped enough fiscal reward (he's owns both the publishing and mechanical royalties) to start my own label. Now, I can do pretty much whatever I want."
Inside Entertainment 2002