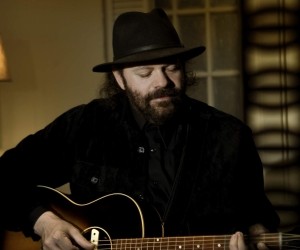 Oh brother, what's going on here? Bluegrass and gospel suddenly seem as hot as hip-hop and electronica. Banjos and mandolins are replacing keyboards and drum machines as the instruments du jour. And sing-along hootenannies are taking over at least a few downtown clubs across the country. Ever since the O Brother, Where Art Thou? sound track started selling by the truckload, old-time country music is everywhere: at summer festivals, on college radio, even at the neighbourhood Starbucks. The trend has nothing to do with Nashville or guys in big hats with names like Garth. It's a musical revolution of a different sort -- out with the new, in with the old. Canadian guitarist Colin Linden, who contributed some vintage country blues to O Brother, likens it to the role punk rock played in the 1970s. "Every decade, pretty well, the life seems to get sucked out of music until something cool comes along to revitalize it again," he says. "Right now, old-fashioned, heartfelt music is doing that."

Dolly Parton, Steve Earle and Lucinda Williams all fertilized the ground for the current roots revival with late-'90s hit albums steeped in rich southern flavours. But with the Coen brothers' Depression-era movie, starring George Clooney as a pomade-loving escapee from a chain gang, the music has broken out like a runaway train. Six months after it was released, the sound track--featuring Alison Krauss, Emmylou Harris and other luminaries performing material by such early country legends as Jimmie Rodgers and The Carter Family--remains near the top of the charts, having sold two million copies in the United States and more than 100,000 in Canada. In the same way that the Buena Vista Social Club has launched successive waves of Cuban music, O Brother has opened the floodgates for everything from country blues and hillbilly songs to white spirituals and string band music.

Although far from the Appalachian Mountains or the Mississippi Delta, Canada has its fair share of old-time music purveyors, many of whom are performing at festivals this summer. Along with veteran bluegrass acts like The Good Brothers of Newmarket, Ont., and Edmonton's Jerusalem Ridge, the Canadian contingent includes a younger generation of artists--such as Toronto's Jenny Whiteley, whose fine self-titled debut CD won a Juno Award this year for best roots and traditional album, and Kingston, Ont.'s Luther Wright and the Wrongs, who have recorded an inspired bluegrass version of Pink Floyd's The Wall, of all things. Two of the brightest new acts are Toronto's The Backstabbers Country Stringband and Vancouver's The Be Good Tanyas, an all-female trio now being groomed for major stardom by Nettwerk Productions, home of superstar Sarah McLachlan. Whiteley and The Backstabbers are performing at Summerfolk in Owen Sound, Ont. (Aug. 17 to 19), while Luther Wright and the Wrongs and The Be Good Tanyas will be at the Regina Folk Festival that same weekend.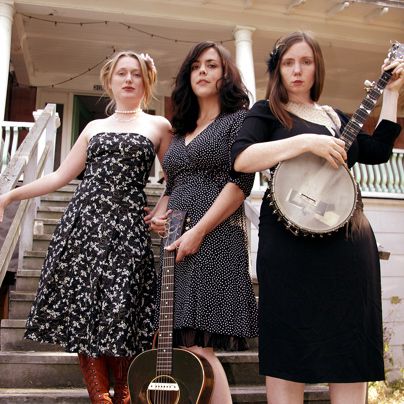 With a shared love of old clothing and even older music, the women in The Be Good Tanyas came together during the summer of 1999. Their group's musical tastes were forged while mandolin player Samantha Parton and guitarist Frazey Ford were planting trees in B.C.'s Kootenay mountains and singing songs from the late 18th century--the sort that music critic Greil Marcus has described as "tales of murder and suicide in which love is a disease and death the cure." For Parton, 29, such compositions are infinitely more appealing than most contemporary pop. "I'm a nostalgic person," says the musician, who points to Woody Guthrie, John Steinbeck and her own Eastern European grandmother, an eccentric musician and actress, as influences. "Old songs have an honesty that I find very powerful."

Parton and Ford, together with banjo player Trish Klein, landed their first gig performing outside a vintage clothing store in Vancouver's east end. Their fee of $90 was paid in used clothing. Singing songs like "The Coo Coo Bird," a quirky traditional number first made widely available on Harry Smith's influential 1952 Anthology of American Folk Music box set, they began developing their intricate harmonies and old-time repertoire of jazz, blues, gospel, folk and country. They also started writing their own songs, such as "Only in the Past" and "The Littlest Birds." As heard on the group's debut album, Blue Horse, which sold 4,000 copies just through word of mouth, those songs have a sweet, haunting quality that instantly conjures up the past. Nettwerk plans to capitalize on the group's--and old-time music's--growing popularity by rereleasing the album this fall in Canada and the United States. "We feel like we're in the right place at the right time," says Parton, fresh from a triumphant homecoming at the Vancouver Folk Music Festival in mid-July. "People seem to be aching for that sense of simplicity that music from another era seems to offer."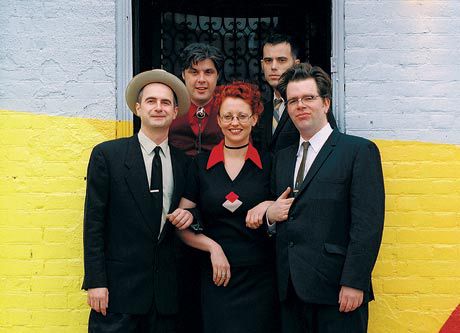 The members of Toronto's Backstabbers have also been drawn to the purity of early country sounds. The group formed in 1997 at Toronto's The Cameron Public House, a club better known for alternative rock than hillbilly music. While growing up in Owen Sound, a 2 1/2-hour drive north of Toronto, mandolinist Tom Parker fell under the spell of fiddle music, thanks largely to his grandfather, a player who performed at the local folk festival now known as Summerfolk."None of us was into really loud music to start with," explains Parker, 36, who moved to Toronto after high school and met Bob Hannan, a guitarist with a passion for Carter Family-style country, as well as fiddler Tony Allen and accordion player Oliver Bielefeld. Bassist James Thomson, meanwhile, had come out of a jazz background. "We found there was a certain power or electricity, if you will, in standing around a single microphone and singing acoustic, traditional music without having to crank up the volume," says Parker. "We could actually harmonize better that way."

The quintet began performing Sunday nights at the Cameron--a place they now affectionately call "the Opry," attracting increasingly large crowds that took to singing along with both traditional backwoods numbers like "The Old Plank Road" and such original tunes as "I Used to Love the Way You Walked (Until You Walked Out of My Life)." The Backstabbers launched their self-titled debut CD last November, and have since staged popular theme nights, including ones featuring music from O Brother as well as an evening called The Illustrated History of Country Music, an exploration of songs spanning more than 300 years. This fall, after appearing at Summerfolk and competing at an Appalachian string band competition in Clifftop, W.Va., the Backstabbers will release their next album. For Parker and his band mates, it's all part of a quest to popularize old-time country sounds. "Some people think this stuff is corny or outdated," says Parker, "but it's some of the most potent music ever created."

"This music still has the ability to move people, even though some of it was composed nearly 100 years ago," agrees 41-year-old Colin Linden, whose latest album, Big Mouth, includes a spine-tingling version of "Hard Time Killing Floor Blues," which he taught to musician-turned-actor Chris Thomas King for O Brother. "There's a real humanity in these songs that you just don't hear a lot of these days. That's why they've stood the test of time."
Maclean's August 6, 2001