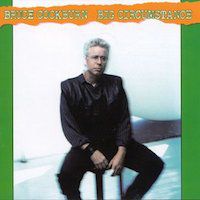 The result of three years of traveling to such far-flung places as Mozambique, Nepal and Central America, the songs on 1989's Big Circumstance reflect Bruce Cockburn's heartfelt reactions to war, repression and environmental abuse. The celebrated Canadian singer-songwriter was already well known for such forthright songs of the 1980s as "If I Had a Rocket Launcher" and "Call it Democracy." With Big Circumstance, Cockburn ended the decade with some of the most politically potent material of his career, including "If a Tree Falls," which tackled the issue of rain forest destruction. "From Sarawak to Amazonas, Costa Rica to mangy B.C. hills," he sang angrily, "ancient cord of coexistence hacked by parasitic greedhead scam." The accompanying video—one of Cockburn's best—didn't pull any punches either.

Cockburn took a similarly direct approach in making Big Circumstance. The album was recorded with producer-keyboardist Jon Goldsmith, drummer Mike Sloski and bassist Fergus Marsh, with no editing, few overdubs and a minimum of takes. That immediacy added to the urgency of songs like the bluesy "Radium Rain," which Cockburn wrote while performing in Germany several days after the Chernobyl nuclear disaster in the nearby Ukraine, and the punk-like "Where the Death Squad Lives," about the terror in Central America, where "they cut down people like they cut down trees." Meanwhile, the deceptively sweet "Gospel of Bondage," featuring mellifluous backup vocals from friends Judy Cade and Mose Scarlett as well as acclaimed artist Mary Margaret O'Hara, tackles Christian extremists. "God must be on the side of the side that's right," Cockburn sings, "and not the right that justifies itself in terms of might."
Some of the songs arose from a 1987 trip that Cockburn made to Nepal on behalf of the overseas development agency USC Canada (formerly the Unitarian Service Committee), which Cockburn has been associated with since the late 1960s. "Tibetan Side of Town" is a jazzy portrait of Kathmandu, a series of stark, diary-like observations about the sights, smells and sounds of the Nepalese capital. "Understanding Nothing," a moody expression of cultural bewilderment, is more impressionistic. Using spoken verse, Cockburn tells of "weavers' fingers flying on the loom, patterns shift too fast to be discerned."
At the same time, the album represented a return to Cockburn's more acoustic sound, best heard on the album's two romantic numbers: the aching "Pangs of Love" and the gentle, swaying "Don't Feel Your Touch," which ranks among his most melodically gorgeous numbers. However, "The Gift" uses swirling electric guitars and rippling percussion to create a joyful sound that one critic compared to "Grateful Dead-like euphoria." The original album ended with the dry-wit humor of "Anything Can Happen," a cabaret-like number that includes a woozy clarinet and a series of possible death scenarios. "We could have been nailed by some vigilante type, in a case of mistaken identity," Cockburn sings, before adding the deadpan qualifier, "obviously."
This remastered version of Big Circumstance features only one bonus track due to the extended length of the original album: an acoustic version of "If a Tree Falls." But it's a most fitting addition, since it was a breakthrough song in several ways. Cockburn wrote it during the spring of 1988—well before many celebrities embraced the issue of rainforest preservation. The song formed the title track of a benefit album, released in 1996, featuring such artists as Ferron, John Trudell, Hank Williams Jr. and Buffy Sainte-Marie. And both it and the hard-hitting video that accompanied the song became U.S. hits, reaching number 19 on the Modern Rock charts and garnering airplay on VH1 respectively. To hear Cockburn sing this cautionary tale today, in a slower, starker arrangement, underscores both its inherent strength and, sadly, its continuing relevance. Like the rest of Big Circumstance, it remains a powerful testament to one man's social conscience and artistic vision.
Nicholas Jennings

Originally released 1988, reissued 2005 by Rounder Records.