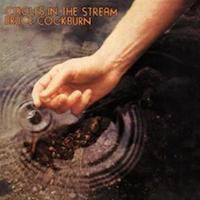 One of the marks of a great live album is the ability of the artist to inject his material with new vitality, to the point where even well-known songs take on fresh meaning. Bruce Cockburn did exactly that with Circles in the Stream, which caught the Canadian folksinger at the culmination of his first tour with a full band. That group provided the kind of intelligent and intuitive accompaniment that creates an inspired—and inspiring—concert experience. "It's amazing to hear how tight we are together," percussionist Bill Usher once recalled, on hearing the recording. "We're all hitting the same accents at the same time and in harness with each other."
Recorded in the spring of 1977 at Toronto's venerable Massey Hall, Circles in the Stream captures Cockburn at the peak of his creative powers. Originally released shortly after Cockburn's fine transitional album In the Falling Dark, the live recording blends adventurous jazz textures with his more familiar folk influences. The album opens with the stirring sound of a traditional Scottish tune on bagpipes, before Cockburn and his sidemen—Usher, bassist Robert Boucher and electric pianist and marimba player Pat Godfrey—segue into a shimmering rendition of "Starwheel." Following a marimba-laced version of the stark "Never So Free," Cockburn launches into three newly written songs: the stunning guitar instrumental "Deer Dancing Round a Broken Mirror," the dreamy, jazz-tinged French song "Homme Brûlant (Burning Man)" and the rhythmic, politically charged number "Free to Be."
Two other new songs rank among the album's highlights. Like "Deer Dancing," the wondrously intricate instrumental "Cader Idris," named after a Welsh mountain which means "Chair of Idris," showcases Cockburn's superb fingerpicking and fretwork. "Red Brother Red Sister" acknowledges the historic
plight of native Canadians and their subjugation by the white man. Cockburn sings about attending a pow wow and feeling "the people's love/joy flow around." Then, in the song's most moving line he adds the emotional rejoinder: "It left me crying just thinking about it/How they used my saviour's name to keep you down."
The rest of the concert features some of Cockburn's most popular songs, drawn from all of his albums up to that point, with the exception of his self-titled debut. "Lord of the Starfields" benefits from a freeform jazz introduction and a dazzling guitar solo, while "Joy Will Find a Way" boasts an infectious groove and Godfrey's mellifluous marimba. "All the Diamonds," voted the all-time fan favorite on the Humans discussion group, remains a well-polished gem in this solo performance. And "One Day I Walk," recently covered by k.d. lang on Hymns of the 49th Parallel, her bestselling tribute to the Canadian songbook, sounds positively elegiac with keyboard, bass and percussion accompaniment. But the song most transformed in this live setting is "Dialogue with the Devil," a dark number whose meaning has often puzzled Cockburn fans. Here, it takes on an even more haunting tone than the studio original. When Cockburn (as the Devil) sings, "Why don't we celebrate," with increasing desperation, the effect is utterly chilling.
Circles in the Stream came amid a period of great change in Cockburn's life. Although he had embraced Christianity in 1974 and his wife, Kitty, had given birth to their daughter two years later, instability soon followed: Cockburn's marriage began to dissolve and he would eventually move from rural Ontario to downtown Toronto. Yet, despite those imminent tensions and pressures, musically, at least, Cockburn sounds positively elated on Circles in the Stream. Maybe this was due to his deepening spirituality, or perhaps the camaraderie from working with a band of talented, sympathetic musicians. Either way, the joy that Cockburn projects in this concert is almost palpable. It helps to make the album, now digitally remastered and available internationally on CD for the first time, both a brilliant live recording and one of the best in the entire Cockburn catalogue.
Nicholas Jennings
Originally released 1977, reissued in 2005 by Rounder Records.