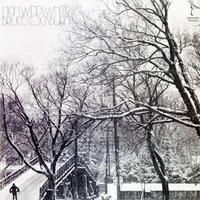 The stark black and white cover photo speaks volumes about Bruce Cockburn in the early 1970s. He stands alone at the foot of a bridge, surrounded by snow-capped trees, looking like what writer Jack Batten then described as a "splendid survivor of Robin Hood's merry men dressed in leather jerkins and boot-high moccasins." At the time, the rising singer-songwriter possessed a deep fascination with the wilderness and things medieval—especially Renaissance music. And although already on a quest, Cockburn had not yet embraced his particular brand of Christianity. He was, in his own words, a "spiritual loner who sought truth in nature."
Images and references to rivers, birds, mountains and, especially, sunlight abound on 1971's High Winds White Sky—as they do on Cockburn's previous self-titled debut album and the subsequent Sunwheel Dance. The three albums formed a powerful acoustic trilogy that established Cockburn as one of Canada's most important performers of introspective, literate songs. Unfortunately, they also typecast him as a pastoral folkie, an image that Cockburn found ultimately restricting. For one thing, his tastes went well beyond just folk into country blues and global music. And his interests led him to Buddhist teachings, from the Beat writers to the Sutras themselves. Blending all of those elements, High Winds White Sky remains a landmark recording—as fresh and
adventurous sounding as the day it was released.
Produced by Eugene Martynec, the album boasts an admirable sonic clarity. On songs like the chiming "You Point to the Sky," the warmth of Cockburn's voice and the ring of his bell-like guitar picking are palpable. Several numbers, including the gentle "Love Song," the circular "Life's Mistress" and the lute-like picking of the title track, with its line about a "glittering ring, blood of the king," are steeped in the music and imagery of the Renaissance. And rarely has Cockburn ever written a more peaceful, lyrical song as "Let Us Go Laughing."
The album also contains one of Cockburn's best known compositions. "One Day I Walk," with its universal theme of homecoming, has been covered to date by the likes of Anne Murray, Tom Rush, The Skydiggers and The Rankin Family. "Today I walk in hours," goes the song's hymn-like chorus, "one day I shall be home."
Musically, Cockburn had been deeply influenced by the country-blues fingerpicking styles of Mance Lipscomb, Big Bill Broonzy and Mississippi John Hurt. And the blues are all over the remastered version of the album, beginning with the opening "Happy Good Morning Blues." The cheerful song concludes with Cockburn's playful vocal imitation of a horn solo—an instrument sound that eccentric crooner Leon Redbone later perfected and called a "throat tromnet" (Cockburn briefly studied trumpet before taking up the guitar). Meanwhile, the darker, slinkier "Golden Serpent Blues" features one of the rare instances of Cockburn's piano work.
Two new bonus tracks also bear a distinctive blues stamp. Recorded live in early 1970 at the Bitter Grounds Coffee House in Kingston, Ontario by teenage engineer Doug McClement, the romantic "Totem Pole" and the humorous "It's an Elephant World," with its walking bass line, are welcome additions to Cockburn's diverse discography.
A mystical global influence permeates "Ting/the Cauldron." Featuring Cockburn's hypnotic guitar work and the playing of Michael Craydon on marimba and pygmy rhythm log and John Wyre, who became a founding member of the world-renowned percussion group Nexus, on gongs and cymbals, the epic instrumental track represents Cockburn's earliest foray into world music. His droning dulcimer playing on "Shining Mountain," backed by Eric Nagler's ringing mandolin, conjures up an Eastern spell of its own.
Like the cover photograph (taken on Ward's Island in the Toronto Harbour), High Winds White Sky reflects a solitary time in Cockburn's career when he was searching for what he called "purity in nature." In the course of that search, Cockburn created what sounds today like purity in music.
Nicholas Jennings
Originally released 1971, reissued 2003 by Rounder Records.