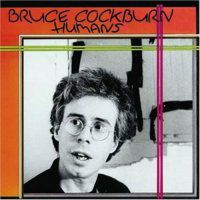 Ranked by many people as Bruce Cockburn's best album, Humans is a watershed release in the acclaimed Canadian singer-songwriter's stellar career. It came in the midst of tumultuous change in Cockburn's life, following the breakup of his 10-year marriage and his move from the country to the city. After a decade of rural existence, living in a camper and then settling in tiny Burritt's Rapids, south of Ottawa, the longtime loner took up residence in downtown Toronto. It was, he told reporters at the time, a deliberate test of his faith. "I moved with the express purpose of absorbing myself in human society to see what it was," said Cockburn. "If, as a Christian, I was being asked to love my fellow human beings, I couldn't love them very well if I didn't know anything about them."
With 1980's Humans, Cockburn challenged himself musically as well as spiritually. The album represented the first of his more electric, rock-oriented releases, after the trilogy of acoustic jazz folk recordings that culminated in 1979's Dancing in the Dragon's Jaws. The latter produced the reggae-flavored "Wondering Where the Lions Are," which became a Top 40 hit in both Canada and the United States. Where "Lions" featured the rhythm section of Jamaican star Leroy Sibbles' group, Humans' anthemic "Rumours of Glory," with its bouncy bass, added the reggae legend himself on backup vocals. Cockburn, wielding an electric guitar and backed by such new band members as violinist Hugh Marsh and keyboardist Jon Goldsmith, infused the entire album with a tougher, more uptempo sound. "I really wanted to play reggae music and rock 'n' roll," he
later explained, "and make people get up and dance."
Inspired by what he saw on his first tours outside of North America, to Japan and Italy in the late 1970s, Cockburn began taking a documentary-style approach to his songwriting. The album opens with "Grim Travellers," a bleak view of human nature and the world, as seen through various newspaper stories. "Guerilla Betrayed," with a soaring solo by celebrated jazz saxophonist Pat LaBarbera, hints at the political content that became more forceful in subsequent Cockburn albums. And "How I Spent My Fall Vacation" is a tense travelogue involving an Italian policeman with an itchy trigger finger, while the vibrant, pulsing "Tokyo" features observations about an accident he witnessed while in Japan.
Several songs on the album deal directly with the dissolution of his marriage—and amount to some of the most emotionally charged work of Cockburn's career. "You Get Bigger as You Go" starts out as a plaintive lament but builds in intensity, reflected by the escalating interplay between Cockburn's guitar and Marsh's violin. "What About the Bond," with the reggae vibe of Goldsmith's organ and LaBarbera's sax, features an urgent call-and-response chorus between Cockburn and backup vocalists Kathy Moses, Beverly Glen-Copeland and Rachel Paiement, of the Franco-Ontario group CANO. "What about the mystical unity," Cockburn asks about his wedding vows, "sealed in the loving presence of the Father?"
Perhaps the most moving song about his marriage breakup is "Fascist Architecture," which uses buildings erected during Mussolini's reign as a metaphor for what Cockburn admitted are "the structures we build within ourselves." Freed from the emotional confines that he placed on himself within the relationship, he sings "there isn't anything in the world/that can lock up my love again."
This remastered Humans closes with a stunning live version of "Grim Travellers," a bonus track that neatly bookends the album. Recorded at Toronto's Ontario Place, during the same series of concerts that produced 1990's Live album, this robust rendition is notable because it features one of the rare instances of Cockburn on harmonica. Although Cockburn has described the song's outlook as dark and hopeless, he has also pointed out that "Rumours of Glory" has always served as its cheerier and more hopeful counterpart.
Humans struck a strong chord with fans and critics around the world. Rolling Stone called it "feverishly lovely," while England's Melody Maker noted, "It's hard to imagine anyone coming across Cockburn for the first time with Humans not being won over to the cause." Perhaps the greatest tribute was paid by the artist's fans: the oldest and largest discussion group on the internet devoted to all things Cockburn chose to call itself simply Humans.
Nicholas Jennings
Originally released 1980, reissued 2003 by Rounder Records.