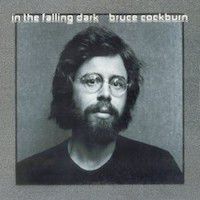 If an artist's worth can be gauged by the degree to which his artistry evolves, then Bruce Cockburn's value has grown immeasurably with each passing album. Over the course of 32 years and nearly as many recordings, the legendary Canadian singer-songwriter has always pushed the musical envelope. Never one to rest on his creative laurels, he has constantly tried on new ideas without ever abandoning the fabric of earlier material. The result is a rich body of work—deep, diverse and never disappointing—that stands the test of time and includes some of the most sophisticated and evocative songs in pop music.
Originally released in 1976, In the Falling Dark was the first of a trilogy of recordings that bridged Cockburn's acoustic work of the early '70s with his electric period a decade later. Stylistically adventurous, it featured more jazz textures than folk influences, reflecting Cockburn's long-time love of John Coltrane and Wes Montgomery, and showcased the daring, improvisational interplay of flute and horns. In the Falling Dark was also the first collection of songs that fully explored Cockburn's deepening Christian faith, with numerous songs of praise and worship. But, far from fundamentalist or evangelical in tone, those songs—like all of his spiritual material—could be
enjoyed simply for their undeniable passion and inherent beauty.
This newly remastered version of the album opens with "Lord of the Starfields," which remains one of Cockburn's most stirring testaments of faith. "I was trying to write something like a psalm," he once explained, and indeed the song takes on a hymn-like quality as he sings poetically of the "Universe Maker" who is the "voice of the nova, smile of the dew." And with the inclusion of "Dweller By a Dark Stream," one of four bonus tracks, the album now closes in bookend fashion with a similarly moving ode to the Universe Maker's son. Meanwhile "Shepherds," heard set to entirely different music than on Cockburn's 1993 Christmas album, touches on the Nativity with help from Fred Stone's dreamy jazz trumpet solo.
There are now three instrumentals on the album, with the newly added "Untitled Guitar" joining "Water into Wine" and "Giftbearer." As always, Cockburn's playing here is virtuosic, featuring explosive bursts of quicksilver guitar. "Red Brother, Red Sister," another bonus track, foreshadows the social criticism of Cockburn's work in the 1980s with a damning indictment of Christianity's oppression of aboriginal people. In the early '70s, Cockburn met a number of native Canadians, including actor Tom Jackson and singer Shingoose, who sang backup on his next album. Cockburn said that it was then that he began to understand native people's plight and "the history that led to it."
Threads of various themes in Cockburn's work, from spirituality and politics to jazz and world music, have always been traceable throughout his career. But they are all especially prominent here. And some of them show how far ahead of his time the singer-songwriter was back in 1976. "Gavin's Woodpile," which later gave a popular Cockburn website its name, is an early warning signal that bristles with rage about the human destruction of the environment. Meanwhile, the gentle island vibe of "Little Sea Horse," with Kathryn Moses' soaring, bird-like flute and Bill Usher's sunny percussion, continues the global influences first found on Joy Will Find a Way and precedes western pop's first excursions into world music by at least several years.
In the Falling Dark's strengths run deep, from the inspired, rolling road song "Silver Wheels" to the joyous, African-inflected gospel of "I'm Gonna Fly Someday." It's a landmark album, one that announced Cockburn's arrival as an important songwriter. But it's also a generative recording, planting the creative seeds that came to fruition fully on the subsequent studio albums Further Adventures Of… and Dancing in the Dragon's Jaws. With its compelling songs and majestic sweep, In the Falling Dark is the perfect place to discover the impressive range of Bruce Cockburn's artistry.
Nicholas Jennings
Originally released 1976, reissued 2002 by Rounder Records.