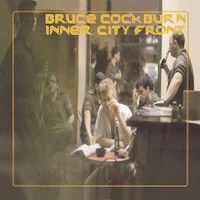 The best artists—not flavour-of-the-week pretenders, but ones who view art as life's work—know that reinvention is a necessary part of the creative process. Think of the chameleon-like transformations of David Bowie, Bob Dylan or even U2; each has redefined themselves at key points in their careers. Cynics might charge opportunism, but there's real danger involved with such moves, including risking one's traditional audience. Truth is, artists need to follow their muse—to say nothing of the need to reflect new circumstances in their lives. All of this brings about changes.
For Canada's Bruce Cockburn, the months leading up to Inner City Front's 1981 release had been fraught with change: his marriage of 10 years dissolved, leading him to switch from country to city life. Taking an apartment in downtown Toronto, he assembled a band of crack musicians and adopted a more rugged, urban sound. Gone were most traces of the Gentle Folkie of the late 1960s and even the Mystic Christian of the '70s. In their place was the New Wave Cockburn of the '80s, highly politicized and sporting both a leather jacket and an electric guitar. A tour of Italy with bandmates Hugh Marsh, Jon Goldsmith, Kathryn Moses, Dennis Pendrith and Bob DiSalle exposed him to new audiences and provided fresh inspiration. "I'd lost touch with what it felt like to play
for people and why they were there," he explained at the time. "And I also just got bored doing the same thing over and over."
After releasing Humans, the first of his more electric, rock-oriented albums, Cockburn produced the nine tracks of rock, reggae, jazz and folk-fusions that formed Inner City Front. Now remastered with two bonus tracks, it could be called the artist's Toronto album since it reflects so strongly his move to the city and his embrace of both its attractions and tensions (the lyrics contain numerous Toronto references). In the cover photograph, Cockburn, sitting in a local restaurant (the popular but now defunct Emilio's), looks like a hard-bitten foreign correspondent, smoking a cigarette and surrounded by uniformed soldiers. And he sounds every bit the cynical war reporter on "All's Quiet on the Inner City Front." "Turn on the tube but there's nothing new/the usual panic in red, white and blue," he sings dispassionately. "Military advisors marching in the square/knife-sharp trouser creases slicing air."
Reggae rhythms drive two songs in which Cockburn wages battle against hypocrisy and inaction. "What's been done in the name of liberation," he asks defiantly on "Justice," "and in the name of civilization, and in the name of race, and in the name of peace!" Interestingly, the song has been rediscovered in the wake of 9/11 because it also begs the same question of Islam. On "Broken Wheel," he declares his newfound political agenda: "Can't be an innocent bystander in a world of pain and fire and steel." Cockburn explained that his new stand was an extension of his Christian views, "trying to understand what it meant to love my neighbour and to care about what happens to the people around me."
Meanwhile the opening track, the jazz-flavoured "You Pay Your Money and You Take Your Chance," reads like a vivid movie script, with its tale of a crying woman, a fleeing guy named Chuckie and "a deaf kid talking like Popeye." Just a day in the life of Cockburn, who was living at the time next door to a chicken slaughterhouse in Toronto's ethnic Kensington Market. The album also contains some of the most carefree love songs of his career, including "Wanna Go Walking," a B-52s-like rocker, the flute-filled "And We Dance" and the infectious "Coldest Night of the Year," which finally joins the album for which it was originally intended. "The Light Goes On Forever," a bold assertion of faith, is also included as a bonus track, having been previously available only as a B-side.
For all his political engagement and willingness to confront urban life, Inner City Front also finds Cockburn continuing to withdraw to seek spiritual solace. On "Loner," the touching ballad that originally closed the album, he confesses: "I'm always living and I always die/on the event of your eyes/I'm a loner/with a loner's point of view." Despite his many personal, political and musical changes, Bruce Cockburn remained unwavering in the faith that had sustained him through so much of his adult life.
Nicholas Jennings
Originally released 1981, reissued 2002 by Rounder Records.