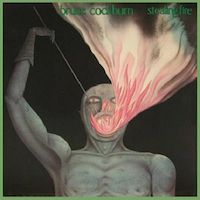 The words, "you've got to kick at the darkness 'til it bleeds daylight," from Bruce Cockburn's "Lovers in a Dangerous Time," have traveled well. In some places, they've even slipped into the vernacular. The phrase "kick at the darkness" became the title of a Cockburn tribute album, featuring a hit version of the song by pop-rockers Barenaked Ladies. And superstar Bono quoted the expression in his own song "God Part II" on U2's Rattle and Hum album. Meanwhile, the popularity of "Lovers" helped to make Stealing Fire Cockburn's best-selling album. But, in crafting the lyric, the Canadian singer-songwriter wanted only to issue a challenge to complacency. "What I meant," he later explained, "was that we can't settle for things as they are. If you don't tackle the problems, they're going to get worse."
Cockburn had said much the same in the title track from his previous album, The Trouble with Normal, which cited labor strife, tenant conflicts and Third World intervention. But, with 1984's Stealing Fire, Cockburn's words and music took on even greater urgency. The previous year, he made his first trip to Central America on behalf
of the international development group OXFAM. While in southern Mexico, he visited a refugee camp that had recently been attacked by the helicopters of the U.S.-backed Guatemalan army. The horrific experience sparked the anger-filled "If I Had a Rocket Launcher," which became a mixed blessing for the musician-activist. On the one hand, it triggered accusations that Cockburn was advocating violence—a charge which he flatly denied. "This is not a call to arms," he once said, before performing the song. "This is a cry." At the same time, the controversy brought him unprecedented attention—garnering airplay for the single and throwing the video into regular rotation on MTV.
Cockburn's fact-finding tour of the region gave rise to several other powerful songs on the album. The gorgeous "Nicaragua," expresses his optimism about the country's revolution in the line, "You're the best of what we are." But the song ominously describes the U.S. embassy in Managua and Nicaragua's enemies as "voyeurs licking moistened lips." Cockburn's admiration for the country's people comes through on "Dust and Diesel," conveying their everyday heroics under the constant threat of war.
Two new bonus tracks tackle similar concerns—or bristle with "Rocket Launcher"-like passion. The gently swaying "Yanqui Go Home" portrays America as "trying to be the Pharaoh of the West [but] bringing nothing but ruin," while the fiery "Call it the Sundance," featuring one of Cockburn's most incendiary electric guitar solos, observes the universal consequence of action. Both songs were recorded during the Stealing Fire sessions but, for reasons of length, never made it on the original album.
In contrast to those issue-oriented songs, the recording also boasts some of Cockburn's most romantic numbers. "Sahara Gold" is his description of the tumble-down effect of his lover's hair, while the buoyant "Making Contact," written in tropical Tobago, conjures up dreaming visions of sex and surf. And "To Raise the Morning Star," featuring the gospel-like voices of Shawne Jackson, Colina Phillips and Sharon Lee Williams, is a moving anthem that pays tribute to human aspirations.
Produced by Jon Goldsmith and Kerry Crawford, Stealing Fire brought together an all-new band for a fuller, richer sound. Bassist and Stick player Fergus Marsh (violinist Hugh Marsh's brother), drummer Miche Pouliot and percussionist Chi Sharpe joined Cockburn and keyboardist Goldsmith on all the tracks, while Rough Trade singer Carole Pope and reggae legend Leroy Sibbles appeared as guest vocalists on the song "Maybe the Poet." The latter, with its warning to "pay attention to the poet/you need him and you know it," underscores the album's inherent truths and prescience. Whether issuing calls to action or cries for help, Cockburn's poetry demands attention. Nearly 20 years after Stealing Fire's original release, his words are needed more than ever.
Nicholas Jennings
Originally released 1984, reissued 2003 by Rounder Records.