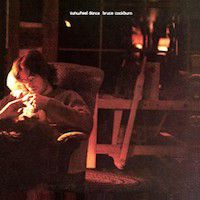 Bruce Cockburn's third album is an undeniably joyous affair. From the Renaissance-inspired "My Lady and My Lord" to the giddy singalong "For the Birds," Sunwheel Dance basks in warm, acoustic guitar and bright, hopeful lyrics. Taken together with Cockburn's previous High Winds White Sky and his self-titled debut, it forms a powerful trilogy that reflects the singer-songwriter's deep love of nature and his growing spirituality. "It was a period when I was searching but very unaware of my own inner workings," Cockburn later explained. "There was all this optimism, even though the songs themselves may have been going in different directions. But the imagery of light was there—a lot."
Indeed, sunlit images infuse almost every song on the album. On the chorus to the opening "My Lady and My Lord," Cockburn taunts the wind and rain, knowing that "the sun will shine again." In the tranquil "Fall," he sings of walking in a meadow "with sunrise inside," while the closing "For the Birds" and the hymn-like "He Came from the Mountain" use the sun to describe blue jays and God's face respectively. Then there is the mandolin-driven "When the Sun Falls" and the album's breezy title track, the first instrumental to showcase Cockburn's formidable
fingerpicking guitar style. Respected Canadian guitarist and legendary guitar maker Grit Laskin says that Cockburn's unique style—"accessible but by no means simplistic"—influenced an entire generation of aspiring fingerpickers.
But not all of Sunwheel Dance has a sunny, optimistic feel. In the haunting "Dialogue with the Devil," ranked by Cockburn's fans as one of their favorite songs, an ominously droning guitar sets the stage for a darker discourse in which the sun is "splintered" and "buried" by material temptation. "You can drown yourself in jewels," warns Cockburn, "like a thousand other fools." The anti-war "It's Going Down Slow," recently updated for a benefit album to assist children affected by global conflict, stands as Cockburn's first overtly political song. Over a rare Cockburn piano track and featuring his first instance of electric guitar on record, he concludes that "if mankind must have an enemy, let it be his warlike pride."
The album's spirited "Up on the Hillside" continues the blues exploration of High Winds White Sky's "Happy Good Morning Blues" and Golden Serpent Blues." Once again, Cockburn observes a world "in convulsions," where "Buicks get bigger and five cents costs a dime." But he was clearly seeking spiritual guidance as he sings, "You and I, friend, sit waiting for a sign." "I wasn't a Christian yet," Cockburn later observed, "although I was heading that way." In fact, like his two previous recordings, Sunwheel Dance was more specifically influenced by Eastern philosophies and Buddhist teachings, from the Beat writers to the Sutras themselves.
Produced by Eugene Martynec, the album was recorded in the fall of 1971 at Toronto's Thunder Sound, a now defunct Yorkville studio financed partly by Neil Young. Session players joining Cockburn in the studio included Dennis Pendrith, who became his longtime bassist, and violinist Ian Guenther, a Julliard graduate who worked with Lighthouse, Fraser & DeBolt and, more recently, Blue Rodeo. Meanwhile, the choral voices on the infectious "For the Birds" came from a veritable rogues gallery of Cockburn's friends, including Eric Nagler, Mose Scarlett and Michael Ferry, the former vocalist with local r&b legends Jon and Lee & the Checkmates.
Now remastered in all its sun-flecked glory, Sunwheel Dance features two bonus tracks, including an unreleased solo version of "My Lady and My Lord," in which Cockburn's acoustic guitar shines with a distinctive medieval tinge. The other new offering is the gentle piano ballad "Morning Hymn," previously available only as a B-side to the "It's Going Down Slow" single, which serves as a fine addition to the album, complete with its own sunny imagery. The cover photograph of Cockburn sitting by the fireplace in an Ottawa Valley farmhouse, snug in his Cowichan sweater, remains a fitting image: blessed with intimacy, Sunwheel Dance sounds as rich, warm and, yes, cozy as it first did 33 years ago.
Nicholas Jennings
Originally released 1971, reissued 2005 by Rounder Records.