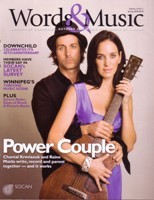 It may be the perfect partnership. As husband and wife, Chantal Kreviazuk and Raine Maida are celebrating their 10th anniversary this year, while raising three happy, rambunctious young sons. But Kreviazuk and Maida are also successfully married in songwriting, an alliance that has benefited their respective careers and made them Canada's go-to power couple for American stars like Gwen Stefani, Kelly Clarkson and Pink and such Canadian artists as Avril Lavigne, Rex Goudie and Eva Avila.
It all began in 1996 when Winnipeg-born Kreviazuk, who had just released her debut album, Under These Rocks and Stones, met Maida, frontman of Juno Award winning rockers Our Lady Peace, backstage at a Pearl Jam concert. Three years later, they were married. By the time Kreviazuk released her third CD, 2002's What If It All Means Something, the album featured four songs co-written with her husband. Their collaboration deepened even further on her 2006 recording, Ghost Stories, with the couple co-writing all but two of its songs and Maida playing bass and producing the entire album. Kreviazuk then returned the favor, singing and playing piano on Maida's first solo album, The Hunter's Lullaby.
Their partnership will soon bear more fruit. While producing the latest Our Lady Peace album, the long-awaited Burn Burn, Maida also produced Kreviazuk's her fifth studio album, Plain Jane, in their Los Angeles home studio. Both albums are due for release this summer. Plain Jane, which Maida describes as a "more mature, grown-up record," features as many songs co-written by the couple as by the singer-songwriter herself.
Clearly Kreviazuk, a classically trained singer-songwriter who won Juno Awards in 2000 for Best Pop Album and Best Female Artist, likes to keep things close to home. "There's a comfort zone that I have working with my husband that I hadn't been able to find before," she explains. "In the past, I'd be in a studio with a producer and musicians and find myself holding back. I'd keep people hanging as to whether I was committed to an idea. I'd sneak to a phone and ask Raine, 'What do you think of this?' He became my sounding board. He has great taste. But more than his talent, he has a confidence that I trust."
Kreviazuk's co-writes with Maida rarely follow the same pattern. Sometimes his input enhances the lyrics, she says, while at others he assists with the music or song structure. With "Time," from What If It All Means Something, Maida figured out that the song's bridge should actually be the chorus and the two composed the lyrics together after a long walk in New York's Central Park. Similarly with "Waiting," from the same album, Kreviazuk leaned on Maida to help her focus the song's lyrics. Says Kreviazuk: "I knew what I wanted to say, but it was difficult to express because it was such a personal story. Raine helped me figure out what the song was about. I find it's really good sometimes to have someone else's perspective in those situations."
Ghost Stories included one of Kreviazuk's most popular hits, "All I Can Do," which she says has received more positive feedback from fans and radio stations than any other single in her career. Once again, Maida played a critical role in the song's creation. "I wrote that when I was pregnant and thinking about the crazy love you have for your kid," remembers Kreviazuk. "Raine came off the road (from touring with Our Lady Peace) and I played it for him. He had me repeat the phrase 'all I can do' over and over and suggested some other things. Although I had come up with the crux of the song, his changes made it so much better."
Maida believes that the secret to successful collaboration is a willingness to give and take. "Chantal and I are always striving to write that great song," he says. "That's where a partnership is amazing. If you're on your own, you might tend to say that a song is really good and be happy with yourself and leave it. If there's someone else involved, it's a different story. Chantal and I push each other and ask questions like, 'can that lyric be better?' and 'is it expressive enough, are you feeling it?' For us, the evolution of our songwriting has been to accept the nature of collaboration and to use it as a strength."
The success of their respective careers helps to keep their professional life on an even playing field. Still, Maida admits that a little bit of friction between he and his wife doesn't hurt either. "We're both Type 'A' personalities," he says, so we take a dig at each other every once in a while. If I write a great chorus to a song, I'm like, 'Hey, you'd better come up with a great verse.' And vice versa. She wrote this amazing chorus the other days and I felt, 'Oh god, I'd better program the best possible beat to go with it.' It's not like we're keeping count of who does what. It's more personal than competitive, and quite healthy, I think."
Kreviazuk agrees. "I'm not the jealous type," she insists. "I'm more competitive with myself than with Raine." But she admits that it did irk her when her husband was asked to co-write with U.S. songwriter Cathy Dennis. Together they penned the song "Heroes" for American rocker David Cook's second album. "I really got my shorts in a knot over that," she says. "I was like, 'Ah, excuse me, but why wouldn't Raine write with me for this project?' All that did was make me really want to deliver something for David's record." Ultimately, Kreviazuk contributed to the song "Permanent" for Cook's album.
How do they approach their songwriting sessions for other artists? Kreviazuk believes it's all about respect. "You really have to leave your ego at the door and get over yourself," she says. "It's best when the artist you're writing for, or with, brings something of themselves to the session. That way, they're emotionally invested in the song and it is a better reflection of them. Too often, artists go into the studio with high-profile producers and writers and the song is already written, laid out and ready for them to sing. Raine and I prefer to embrace their uniqueness. We feel that's the best way to write a song."
Maida says that, whether writing for themselves or other artists, it's important to tap into a personal truth—especially if it's spontaneous. "It takes a while to learn this, but it's really about finding something that moves you," he says. "Once you try and force things, it's never that good. It's often those accidental, serendipitous, stream-of-consciousness situations where it just pops out of you and you feel you're more a vehicle for the song than the actual writer that are the best moments."
Sometimes good co-written songs emerge in the strangest of ways. Maida recalls when he and his wife were called in to co-write with Alecia Moore, better known as Grammy-winning U.S. pop star Pink. Her album had already been completed but the record company was still looking for a single. Faced with that pressure, Maida and Kreviazuk started throwing musical ideas around. Each time they came up with the verse melody and then the chorus and bridge, Pink said little except that it was good or she liked it. "We were really tense," says Maida, "and we weren't feeling a lot coming from Pink, which only made it worse." But when it came time for the lyrics, Pink surprised them. Says Maida: "In the course of us coming up with these melodies and chord structures, she'd written the entire lyric. Then she went into the vocal booth and nailed it in one take." Although the song, "Outside of You," eventually wound up on Hilary Duff's Dignity album rather than Pink's, Maida says it remains one of his and Kreviazuk's favorite songs that they've co-written with another artist.
Kreviazuk believes that whenever she or Maida write independent of one another it serves to strengthen their collaborative relationship. While completing Half of Me, she also found time to compose a song for U.S. pop-opera singer Josh Groban and another with Nashville country star Faith Hill in mind. Meanwhile, she and Maida have discovered a way to balance their personal and professional lives. "We really have each other's job on almost every level," says Kreviazuk. "Raine spends a little more time at the mixing board and I spend a little more time in the nursery. But, basically, we are each other's equal."
Has their domestic life ever made work more challenging in the studio? "Absolutely," says Maida. "We've sometimes gone into the studio right after having fought about a family matter, like disciplining the kids or something. All of a sudden we have to put that aside and be professional. But we use that energy when the session starts." He adds: "It's nice that we love each other and can still get the job done."
Getting the job done—and done well—is something that Kreviazuk and Maida have clearly mastered. Even more impressive is that they've managed to pull this off while balancing the demands of active parenthood and a happy marriage. Their secret? "Quite simply," says Kreviazuk, "we're right for each other."
FYI

Chantal Kreviazuk
Publisher: Neverwouldathot Music/Sony/ATV Music Publishing Canada (SOCAN)
Selected Discography: Under These Rocks and Stones (1996)
Colour Moving and Still (1999)
What If It All Means Something (2002)
Ghost Stories (2006)
Website: www.chantalkreviazuk.com

Raine Maida
Publisher: Under Zenith Music Inc./Sony/ATV Music Publishing Canada (SOCAN)
Selected Discography: The Hunter's Lullaby
Website: www.rainemaida.net

Nicholas Jennings is a Toronto-based music journalist who balances his career and marriage while putting two sons through university.
Spring 2009