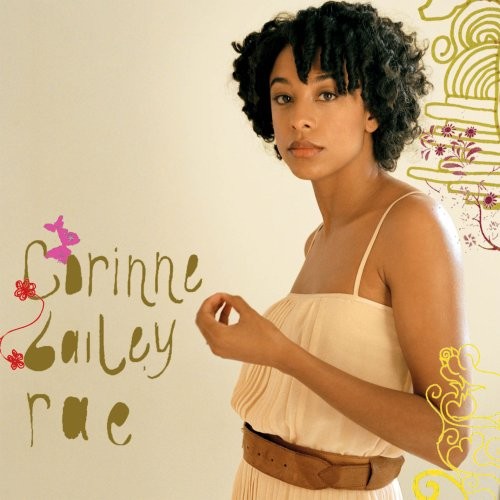 The Old Sod has a way of turning up surprisingly soulful female singers. First it was Joss Stone, a blonde, teenage schoolgirl from England's Devon region, who burst on to the scene with a robust, older-than-her-years voice that drew comparisons to Aretha Franklin. Now comes Corinne Bailey Rae, a twentysomething singer blessed with a smoky, intimate vocal style that has caused British critics to breathlessly describe her as a young Billie Holiday. But, like EMI label mate Stone, Bailey Rae didn't emerge from the highly cosmopolitan capital of London. Rather, the daughter of a mixed-race marriage hails from the northern city of Leeds. "My dad's from the Caribbean and my mum's English," explains Bailey Rae in her thick Yorkshire accent, sounding like a character on the popular Brit soap opera Coronation Street. "The part of Leeds I'm from is not hugely multicultural, but I absorbed a lot of musical styles—especially jazz and soul."
Sultry soul is the predominant sound of Bailey Rae's instantly likeable, self-titled debut, which gets its North American release this month. From the laid-back breakbeat of "Like a Star" and the slow-burner "Till It Happens to You" to the sensual ache of "Enchantment" and the warm glow of "Butterfly," the album is a sun-kissed, emotionally rich exploration of personal and romantic challenges. There's also Macy Gray-style, uptempo funk workouts like "Put Your Records" and the sexy "I'd Like To," which suggest there's a party girl lurking inside her chilled-out persona. If there's a trace of jazz, it's can be found in the feel and phrasing of the songs à la Norah Jones.
More accurately, it's acid jazz and trip hop influences that stand out. Bailey Rae, who graduated with a degree in English literature before embarking on a music career, spent her youth hanging out in nightclubs. "I was listening to everything from Veruca Salt to Portishead and Jamiroquai," she recalls, "and finding my own identity through music." After forming an indie band with some girlfriends and her drummer boyfriend, Bailey Rae began writing and singing her own songs. The turning point came when she began working in a club and was asked to step up to the microphone by whatever band was passing through. "I was doing my indie gigs in the night and in the daytimes I was singing with all these different jazz and soul bands," recalled Bailey Rae. "Sometimes, they'd ask me to sing bossa nova or jazz ballads. But getting to sing Marvin Gaye and Stevie Wonder numbers, for me, was always the best."
The summertime vibe of "Put Your Records On," which also includes a hint of Bob Marley influence, reflects Bailey Rae's message of being oneself and not following fashions. "Maybe sometimes, we feel afraid, but it's alright," she sings. "The more you stay the same, the more they seem to change." Meanwhile, the album's most autobiographical song is the ballad "Butterfly," which tells of the role her mother has played in her life. "The song's really about how my mum raised me," she says, "how she coaxed me and brought me out of myself and made me a more confident person."
That confidence shines throughout the album. Recently, she performed on BBC Television's Later …with Jools Holland, sharing a bill with America's Pearl Jam. After the show, Bailey Rae, a huge fan of the band, had a close encounter with vocalist Eddie Vedder. "He told me that he could tell that I really believed in what I was singing," she recalled. That conviction is what belies the Billie Holiday comparison. She's got her own voice, which is why the Yorkshire songbird seems destined to win as many converts here as at home.