It's mid-morning in a quiet hotel restaurant and Diana Krall is having a love affair with an artichoke. One by one, she peels off the leaves and dips them into a small bowl of balsamic vinegar before gently lifting them to her mouth and slowly pulling the tender flesh off with her teeth. It's a ritual she clearly relishes, washing down each morsel with a sip of chardonnay. But for Krall, this is also lunch. Having already done a photo shoot, and with an in-store appearance scheduled for noon, the Canadian jazz star is taking her meal while she can—even if it means being interviewed at the same time. Briefly distracted as she finally reaches the artichoke's prized heart ("Pardon me," she says, "this is the delicate part"), Krall admits that her fondness for the vegetable verges on a fetish. "I once went on a date with a guy and taught him how to eat these things," she recalls with a grin. "He said it was one of the most erotic things in the world."
The same is being said about Krall. Sexy, sultry, seductive-the singer-pianist attracts the sort of steamy adjectives usually reserved for Hollywood starlets. Except Krall doesn't rely on her looks alone. Instead, she does it with her low purring voice, teasing risqué nuances out of jazz standards once crooned by the likes of Frank Sinatra and Nat King Cole. Krall may be an "errand girl for rhythm," as she sings in one of her tunes, but she is also a glamour girl for jazz. Already, she has captivated the music world with several top-selling albums, including 1997's Love Scenes, which sold an astonishing 500,000 copies worldwide and became the first-ever jazz record to go platinum in Canada.
Now, she's on the fast track to even wider fame, with TV and movie appearances, sold-out tours and ever bigger record sales. This summer, Krall's U.S.-based record label pressed one million copies of her latest release, When I Look in Your Eyes. And her current North American tour-the Canadian leg opens in Saint John, N.B., on Oct. 5 and doses in her home town of Nanaimo, B.C., on Oct. 30-will put her before her largest audiences to date. "The hottest thing that's happened to jazz in years," gushes the U.S. monthly Jazz Times in its latest issue, while London's Daily Telegraph calls her "a truly great singer, in the idiom of Ella Fitzgerald, Billie Holiday and Peggy Lee."
That's pretty rarefied company for a 34-year-old musician. But Krall, who is outselling every jazz artist from Wynton Marsalis to Harry Connick Jr., has been moving in some stellar circles of late. For her new album, she teamed up with legendary arranger Johnny Mandel, best known for his work with Sinatra, Lee and Barbra Streisand. She collaborated with Rosemary Clooney on a track for the 71-year-old singer's next album and shared a bill with Tony Bennett on a U.S. concert date earlier this month. And among Krall's many mentors is Ray Brown, Fitzgerald's former husband and Oscar Peterson's longtime bassist. Peterson was Canada's first international jazz star and has long been one of Krall's biggest idols. (Coincidentally, she too leads a trio and is signed to Verve, the label for some of Peterson's most popular albums.) Meanwhile, Krall's career has taken her into the film world, and she now counts director Sydney Pollack and actor-director Clint Eastwood, who has featured her music in his last three movies, among her friends.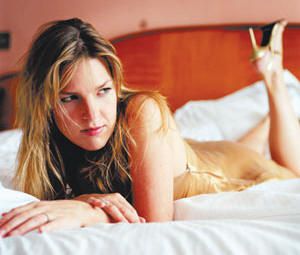 During her encounter with the artichoke, Krall appears almost actress-like herself. Her blond hair, tied in beeswax dreadlocks, hangs in sharp contrast to her black designer outfit. Tall and broad-shouldered, she has the athletic build of the girl who spent summers swimming and winters skiing on Vancouver Island. Verve is taking advantage of the image, with a lavish marketing campaign that includes giant colour posters and life-size cutouts of Krall. Then there's Bruce Weber's provocative shot of her, wrapped only in a white bedsheet, in the July Vanity Fair, and an upcoming spread in Glamour magazine. But Krall doesn't like to discuss the image thing, insisting that it has nothing to do with her music. "If I wore Birkenstocks and didn't shave my armpits I would still sound the same," she says. "I happen to love clothes, but I'm also serious about my art."
Krall's art-combining a deft, minimalist touch on the keyboard and a witty, theatrical way with a lyric-shines through on When I Look in Your Eyes. Over a bed of lush, Mandel-orchestrated strings, Krall tackles such well-worn standards as "Let's Face the Music and Dance." But with her slow, deliberate phrasing and a swaying bossa nova beat, she brings a freshness to the material, making even "I've Got You Under My Skin," a song long associated with Sinatra, her own. One of the CD's highlights is "Popsicle Toes," a playfully suggestive track that echoes her previous novelty songs such as "Frim Fram Sauce" and "Peel Me a Grape." When Krall launched the new album in Toronto earlier this summer, she performed to pin-drop silence for media at the Top o' the Senator club and to enthusiastic cheers from a crowd gathered outside Indigo Books and Music. The fans at Indigo ranged from young music students to grandmothers. "Great mood music," concluded bicycle industry consultant Rob MacNeil, a feeling shared by Xerox administrator Hugh Douglas, who says he loves Krall's music because it's "bedroom jazz." None of which is lost on Krall, who realizes that her material may well make some listeners hot and bothered. "That's the point of a song like 'I've Got You Under My Skin,'" she says with a laugh. "I'm a very passionate person and I often feel quite sensual. I grew up in a very loving, affectionate household. That's where my sister and I both get it from."
That household consisted of her father, Jim, a chartered accountant, her mother, Adella, an elementary school teacher—librarian, and a younger sister, Michelle. She remains close to them all, visiting them regularly in Nanaimo, where they still live, or talking with them by phone. Michelle, 32, used to live in Toronto, where she was a member of the Royal Canadian Mounted Police, but she has since moved back to her home town to become a bylaws officer. "We used to laugh about the two Krall sisters," says Diana. "We'd say, 'One's a cop and the other has a record.' "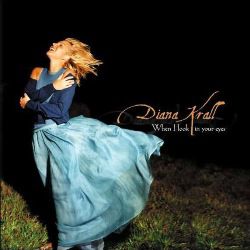 Along with her family, Krall is surrounded by a close coterie of friends. Bassist John Clayton, who Krall has known since she moved to Los Angeles to study in the mid-1980s, has been a member of her trio and remains a friend whose counsel she seeks. "Diana calls me her 911 number," says Clayton. "I still get calls from her, usually in the middle of the night, and get a rundown of whatever challenging thing she's going through at the moment. But Diana's lucky to have such wonderful parents. The apple, as they say, does not fall far from the tree."
Clayton's feelings are echoed by Rosemary Clooney After the two recorded together in May, the veteran singer phoned Krall's parents to tell them what a good job they had done in raising such a sensitive, level-headed daughter. She even sent them a bouquet of assorted flowers. "We're fans of Rosemary's, so we kept the card and left it, conspicuously, on the front hall table in case someone happens to come by and see it," says Adella, 57. "Rosemary and Diana have really become like soul mates, and Diana says the relationship reminds her of the relationship she had with her grandmother."
She is referring to Diana's paternal grandmother, Jean, at whose home the family usually gathered for Sunday night dinners. Often, the get-togethers turned into marathon singalongs. The whole family could play piano (Diana had started taking lessons at age 5), but it was usually Jim, now 63, who played the instrument while Jean, who knew the words to every song from pop standards to show tunes and hymns, led the singing.
At the same time, Diana was receiving more formal training. In addition to her years of classical lessons, in her teens she joined her high-school jazz band, led by instructor Bryan Stovell. She landed her first professional job at the age of 15, playing piano two nights a week in a local restaurant. At 17, she won a scholarship to the renowned Berklee College of Music in Boston, where she studied for 18 months. In 1983, she was back in Nanaimo, where Brown caught her performing in a local dub. He was so impressed that he took her under his wing and suggested that she study with pianist Jimmy Rowles, who once accompanied both Billie Holiday and Peggy Lee, in Los Angeles. It was Rowles, who died in 1996, who first encouraged Krall to make singing a more prominent part of her act.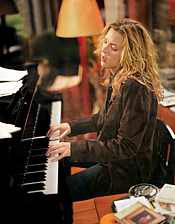 Diana's interpretive skills come from sometimes unexpected sources. "My dad has a bunch of videos of Jack Benny which we always used to watch," says Krall, who includes movies of Buster Keaton and The Marx Brothers among her favourites. "Even though we'd seen them a million times, I'd still laugh like hell whenever I saw them. It's a lesson in timing. Jack Benny's timing was impeccable. It was just a look, but it could be so funny and self-deprecating. You can apply that to anything."
Recently, Krall met Stanley Donen, the director of such classic movie musicals as Singing in the Rain. She recalls that she was able to watch clips of Gene Kelly and Fred Astaire performing and then find out from the director and choreographer how he staged this or that scene. "A lot of what I do is like theatre," says Krall, "interpreting a lyric or conveying something in a minimalist way. Getting to ask Stanley questions was like taking a master class in film, which I can apply in my work." Krall has already performed on screen in two episodes of TV's Melrose Place and in last year's movie At First Sight. And Clint Eastwood directed her new video, "Why Should I Care?" which Krall had contributed to his most recent movie, True Crime.
No one who knows Krall or who has followed her career is surprised by her commitment to her craft. From the beginning, she has shown a deep respect for the roots of jazz and a desire to meet musicians from earlier generations-specially those from the 1940s and '50s-and to learn from them. Jim West, the owner of Montreal's Justin Time Records who signed Krall and released her first three albums, remembers the time he introduced the young pianist to Oscar Peterson. "It was in Toronto in 1997, and both she and Oscar were being honoured at The Jazz Report awards," recalls West. "Diana was extremely nervous about it, but she said she simply had to meet him. So I took her over and they chatted for a while. She's been like that with all her heroes—very respectful and very determined to learn from them."
Peterson himself has nothing but praise for Canada's latest jazz star. "Diana's dedicated and she believes in what she's doing," he says. "She's studied and worked with a lot of well-known players in the jazz world, many of whom I really respect, and that clearly shows in her work. So I respect her." Krall, meanwhile, calls Peterson a "genius."
Clayton, whose family Krall often stays with in Los Angeles, has watched her talent and skill develop. And he is pleased to see that more people are beginning to see that behind Krall's sultry, sweetly seductive voice lies a formidable piano player. "Diana can swing hard, which audiences are finally coming to recognize, but she's also an extremely sensitive and delicate piano player and singer," says Clayton. "People have quite rightly likened her to a young female version of Nat Cole in that she can accompany herself with such agility while singing. That's still a pretty rare thing. She's an honest to goodness jazz player who's doing great things for jazz."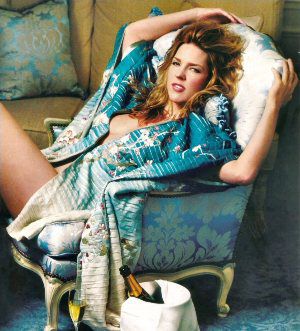 Nevertheless, some jazz aficionados remain unconvinced. Tommy LiPuma, her producer and Verve chairman, has heard whispers alleging her success is due more to her image than her talent. Such charges leave LiPuma mystified. "There are purists out there who still don't take her seriously," he says. "Maybe it's because she doesn't write her own songs, even though Frank Sinatra didn't either. Or maybe it's just jealousy over her success." Adds LiPuma, who also produced Natalie Cole's best-selling album, 1991's Unforgettable: "Right now, Diana is selling like a pop artist in Canada, Japan and France. I expect she'll soon be doing that in America too."
When she's not performing, rehearsing, promoting or doing photo shoots, Krall can often be found in clubs listening to some of her contemporaries. These include singers Cassandra Wilson and Dianne Reeves, as well as pianist Renee Rosnes and trumpeter Ingrid Jensen, who came through the same high-school music program in Nanaimo with Stovell. Otherwise, Krall shops for clothes by her favourite designers (Donna Karan, Prada), cookbooks (even though she eats her artichokes straight up) and fragrant oils, body lotions and the softest, most luxurious bath towels. When she's in California, she goes horseback riding on the beach in Carmel (the location of much of the outdoor photography on the booklet to her latest CD) with Elsie Eastwood, daughter of jazz-lover Clint-with whom she enjoys the occasional piano jam.
Although love songs are her specialty, until recently Krall has claimed she was too busy for a romance of her own. But during a recent phone interview with Maclean's, Krall confided that she is now seeing Larry Klein, 44, a Los Angeles-based producer-musician who also happens to be Joni Mitchell's ex-husband. "I met him at the Grammys a year ago, then he came to my Hollywood Bowl gig in July and we've been together ever since." Krall sounds giddy. She is also excited about having just found her "dream apartment," and will soon be moving from New York City's Union Square to Greenwich Village.
Above all, Krall remains a family girl. Her closeness with her parents has grown deeper since her mother was diagnosed in 1996 with multiple myeloma. Fortunately, a bone marrow transplant at the Vancouver General Hospital was successful and her mother has fully recovered from the cancer. To show their appreciation, the two women helped to organize a benefit concert featuring Diana in February, 1998, that raised more than $60,000 for the transplant program. And she will play at a second benefit concert scheduled for Oct. 25 in Vancouver. Earlier this year, Diana met up with her parents in Paris when she was there on a promotional tour. Sitting on the balcony of her hotel room, the three of them opened a bottle of French champagne and toasted their good fortune—both Adella's recovery and Diana's success. "We looked at each other and couldn't believe we were there," recalls Krall, beaming. "I know I'm incredibly lucky. I've got a great family and some amazing friends. On top of that, I get to play jazz." She adds: "I don't believe you have to claw or scrape your way anywhere. Sure, you may have to struggle. But mostly, you just have to be really passionate about what you're doing." Passionate and sensuous. No wonder Diana Krall has set the jazz world on fire.
Maclean's September 13 1999