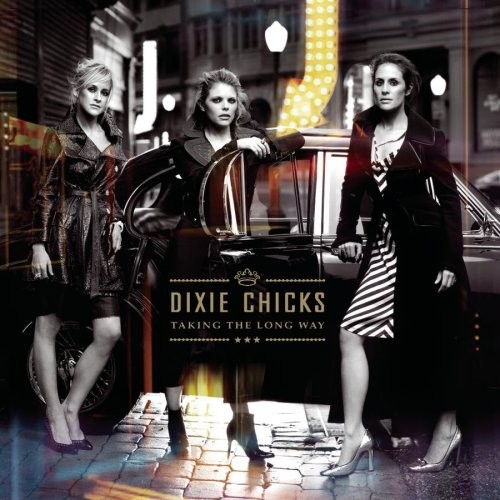 Lubbock, Texas is famous as the birthplace of Buddy Holly, the pioneering rocker who inspired The Beatles. It's also the birthplace of the Dixie Chicks' Natalie Maines, who sings about her hometown on "Lubbock or Leave It," a roadhouse rocker from the group's latest album that conjures up images of both Holly and an unwelcoming redneck town. "Dust bowl, Bible belt, got more churches than trees/Raise me, praise me, couldn't save me, couldn't keep me on my knees," Maines warbles. "Oh boy, rave on down loop 289/That'll be the day you see me back in this fool's paradise."
Although the song was triggered by a documentary about a Lubbock teenage girl who tried, unsuccessfully, to have sex education taught in the city's schools, it could just as easily apply to Maines. The forthright Chick sparked a right-wing firestorm when she dared to utter the following words from a London stage on the eve of the Iraq invasion: "Just so you know, we're ashamed the President of the United States is from Texas." The resulting backlash was swift and ugly, with the Chicks getting labeled traitors and called everything from "Dixie Sluts" to "Saddam's Angels." Worse, the group received hate mail and a death threat. There were also anti-Dixie Chicks demonstrations reminiscent of the fallout after John Lennon made his "bigger than Jesus" comment and the Ku Klux Klan and a Texas radio station staged public burnings of Beatle records.
Don't mess with Texas, the bumpersticker goes. But Maines and her fellow Chicks, sisters Martie Maguire and Emily Robison, have learned to ignore bumperstickers, including the unflattering one aimed at them that reads: "F.U.D.C." Rather than back down from their critics, the top-selling country-music trio has tackled them head on with its fourth major-label release, Taking the Long Way. Along with "Lubbock or Leave It," the album features such defiant numbers as "I Hope," with its anti-war lyrics "I don't wanna hear nothin' else about killin' and that it's God's will." But the song that has made the biggest noise is "Not Ready to Make Nice," which responds directly to the chilling death threat with the question "how in the world can the words I said send somebody over the edge?"
Maguire and Robison, in separate interviews, spoke at length about the death threat—although the group's publicist tried her best to steer the discussion on to other topics. "One of our goals, definitely, was to write a song in response to the 'incident,' as we now call it," says Maguire. "We hadn't said anything for three years, because we were off having babies and trying to let it go away." Was letting it go away really possible? "Oh my god, I'll never forget it" she replied. "A letter was sent to a Lubbock TV news station where Natalie's aunt worked," recalled Maguire, "and it basically said that Natalie Maines will be shot dead on July 6th in Dallas, and we had a show scheduled in Dallas on that day. The FBI treated it very seriously and urged us not to do the concert" (in the end the show did go on, but with heavy police protection).
Robison believes that responding to the death threat on Taking the Long Way was unavoidable. "It would've been bizarre to come out with an album with all these songs and not address it," says Robison. "It would've been like having an elephant in the room with nobody talking about it." She added that the composition itself was a major challenge. "We tried to write that song probably five times before we felt that we got it right," Robison explained. " It was so important to us to get the emotion down and capture every aspect of what we went through. Ultimately, it's equal parts vulnerability and being mad." She added: "It's taken me a long time to be able to listen to that song without having a physical emotional reaction to it."
Country radio stations, which abandoned the Chicks' music after the "incident," have largely shunned "Not Ready to Make Nice." But the trio has long moved away from its country and bluegrass origins, which date back to its formation in Dallas in 1989 with a name inspired by the Little Feat song "Dixie Chickens," into the pop mainstream. In 2002, the superstar group joined Céline Dion, Cher, Shakira and Mary J. Blige in the VH1 Divas Show in Las Vegas. For Taking the Long Way, the Chicks turned to producer Rick Rubin who, apart from Johnny Cash, hasn't worked with country artists. "Rick's better known for producing rap and rock acts like Run-DMC and Red Hot Chili Peppers," Maguire admits. "But it turned out he's a fan of ours and he really wanted to help us make a record that drew on influences like Tom Petty, The Eagles and The Mamas and the Papas, which is a nice change for us."
Rubin brought in an impressive stable of rock musicians, including Chili Pepper drummer Chad Smith and two members of Petty's Heartbreakers, guitarist Mike Campbell and keyboardist Benmont Tench. Meanwhile, the Chicks' labelmate John Mayer added guitar solos to "Baby Hold On" and "I Hope," co-written with blues artist Keb' Mo'. Robison says that Rubin instilled the recording sessions with a warm, cohesive feel. "He's very much about getting a vibe in the studio," she explains, "and drawing out the best performances from the musicians." Adds Maguire: "Rick knew how to let Natalie's voice, which has been known to break microphones in the studio, have its rawness and intensity without blowing you over. He really helped us capture a live sound in the studio."
Now, as the Chicks prepare to hit the summer tour circuit, that sound will soon be heard on concert stages around the world (with multiple Canadian dates in the fall). For Maines, Maguire and Robison, the biggest challenge of the tour will be accommodating their growing families (they now have seven children between them) and the accompanying nannies—that, and figuring out whether to include Lubbock in their itinerary. Maines knows there'll likely be ramifications from "Lubbock or Leave It." "I do feel bad for my family who's still there and has to defend me," she says, "after everything they already went through, to have to do it again." But, clearly, the outspoken Chick felt she had no choice but to speak out again.