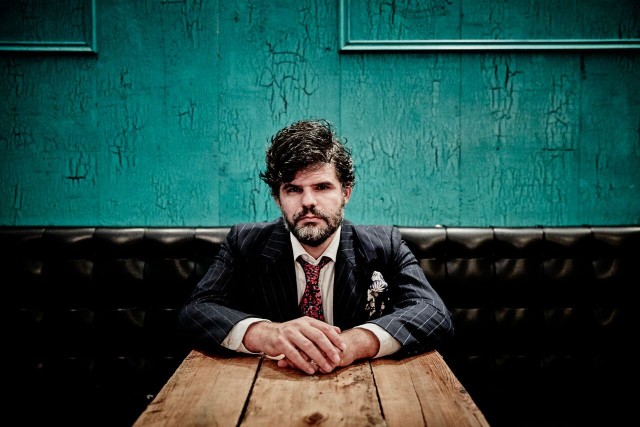 On a wintery night at Toronto's plush Koerner Hall, inside the city's stately Royal Conservatory of Music, two generations of calypso stars are busy heating up the audience. Onstage in the foreground is the reigning queen, Trinidad & Tobago's Calypso Rose. Just behind her is the crown prince, Drew Gonsalves, whose Canadian band Kobo Town has opened the show and is now backing the headliner. As the cheeky Rose sings and shimmies through her set to the crowd's delight, the bearded, bespectacled, guitar-strumming Gonsalves is visibly beaming: he co-wrote and arranged many of the songs Rose is performing, all taken from her award-winning comeback album, Far From Home. And now he and the septuagenarian legend are riding high on calypso's latest resurgence.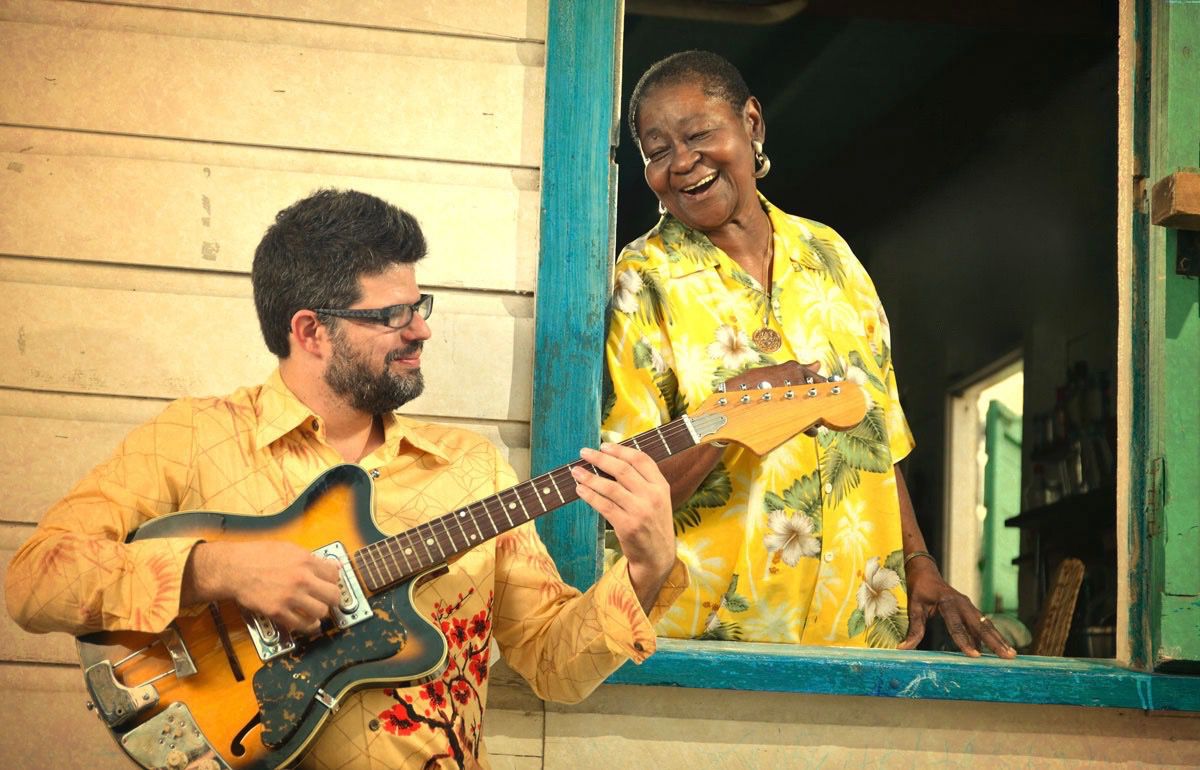 It's been a long time since the music's last hurrah in the 1990s, when labels like Mango, Rounder and Eddy Grant's Ice Records flooded the market with vintage tracks by such pioneering giants as Roaring Lion, Lord Kitchener, the Mighty Sparrow and Calypso Rose herself. But every genre needs a figurehead to take the music further, as Bob Marley did with reggae. And, sadly, calypso hasn't had a charismatic force since at least the '70s, when Sparrow toured the planet, taunted tyrants like Idi Amin and the Shah of Iran and recorded for Warner Bros. with revered producer Van Dyke Parks. Then synthesized soca, all jump-up rhythms and wind-your-waist exhortations, became the Caribbean party music of choice. Calypso, subtler and subversive, was left in its dust.
Gonsalves may be no Marley, but the highly literate frontman, who cites writers V.S. Naipaul, Derek Walcott and Kamau Brathwaite as influences, certainly has the lyrical smarts and musical chops to carry calypso forward. Since forming Kobo Town in 2004 (the band takes its name from a Port of Spain neighbourhood that first gave rise to calypso), he's been reviving the witty wordplay of early practitioners like Houdini and Atilla the Hun while injecting infectious elements of roots reggae, dub and rapso, Trinidad's politically charged street poetry.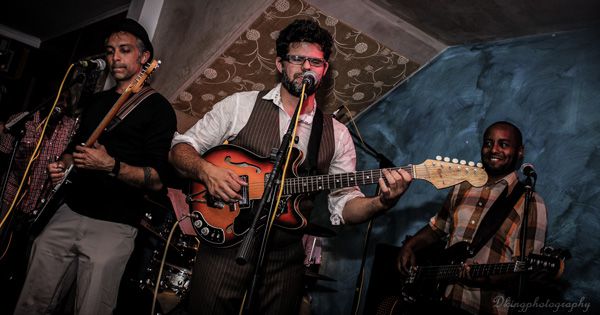 On Kobo Town's 2007 debut album, Independence, flute and one-drop rhythms helped deliver messages of hope and revolt on "Across the Dark Waters" and "Blood and Fire," while fiddle and African percussion carried a tale of war on "Higher Than Mercy." The band's originality got a big thumbs up from world music aficionados like Charlie Gillett, the late respected BBC Radio host, who sang Kobo Town's praises on his show. And the group showcased at WOMEX in Copenhagen in 2011 and has performed regularly in Europe ever since.
Kobo Town's 2013 sophomore album, Jumbie in the Jukebox, pushed Gonsalves and his bandmates even further on to the international stage. A collaboration with Belizean producer Ivan Duran, of Garifuna singer Andy Palacio and Wátina fame, Jumbie featured songs that ping-ponged between tradition and innovation with thrilling results. "Kaiso Newscast" hailed calypso's historic function as the 'people's newspaper,' punctuated by cheeky trombone and Gonsalves' acerbic lyrics about "a rat livin' large in the White House."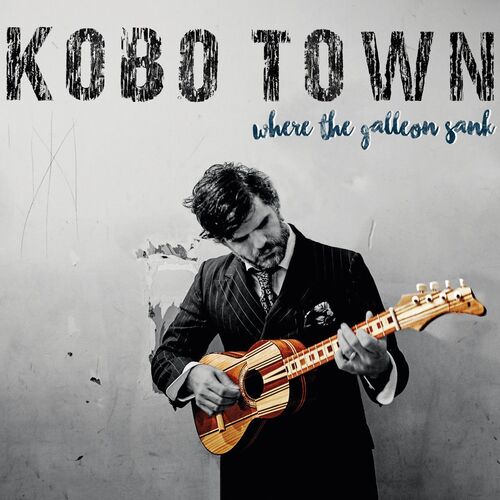 "The Trial of Henry Marshall," meanwhile, turned the sobering subject of the death penalty imposed on a fictitious character into something strangely joyful, thanks to some boisterous call-and-response vocals from his band, which to this day still includes Canadian drummer Robert Milicevic, Guyanese trumpeter Jan Morgan and Trini percussionist Derek Thorne, all original members; Guyanese trombonist Terence Woode, Grenadian bassist Don Stewart and Canadian guitarist Patrick Gentle now round out the multinational group. Some critics likened Kobo Town to the Specials and Gonsalves to the English ska band's inventive founder Jerry Dammers. It was a comparison initially lost on Gonsalves, but the cool references followed the band to music festivals on both sides of the Atlantic.
Ska is a dominant sound on Kobo Town's latest recording, Where the Galleon Sank, and Gonsalves has embraced the two-tone energy. He's also incorporated more of the phrasing of some of his favourite Jamaican DJs like Eek-a-Mouse (Gonsalves is also an ardent fan of Jamaican mento, Barbadian tuk, Guadeloupean gwo ka and Cuban son muntano). But his approach to updating calypso's roots, its rhythms and its journalistic role, remains central to the new album, produced once again by Duran, who also helmed Far From Home. Punchier and more personal than Kobo Town's previous records yet still astutely political, Galleon is a masterstroke that seems guaranteed to broaden the audience for the band and for calypso. Last year, the album earned Kobo Town the World Group of the Year award at the Canadian Folk Music Awards. Now it's out in France and will be available throughout Europe and the UK in June.
Sitting in the café of the historic Gladstone Hotel in Toronto's west end, not far from the home he shares with his wife, Sophia, and their four young children, the amiable Gonsalves, 43, reflects on how he became calypso's new champion. Although born in Trinidad of Portuguese heritage on his father's side, he moved to Canada in 1989 with his mother and siblings after his parents split. At 13, he had no interest in the music of his homeland, preferring rock and dancehall. After taking his culture for granted, the pangs of homesickness began eating away at him. Says Gonsalves, in his melodic Trini accent: "It was only in leaving that I became aware of what it means to be a Trinidadian. Growing up, calypso was always in the air, but it wasn't until I came here that I discovered, through CD reissues, a lot of golden-era calypso. And nothing captures the flavor and history of Trinidad like those songs."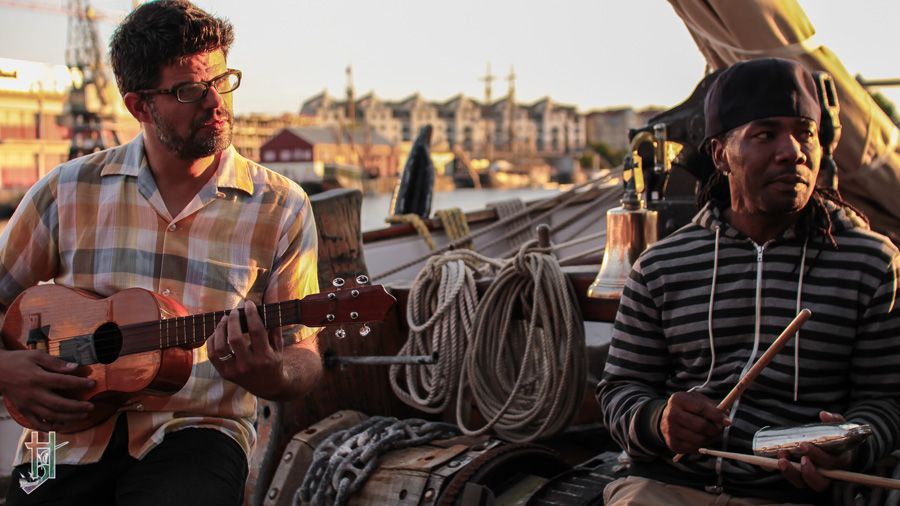 Gonsalves started visiting his father back home every summer. The year he turned 18, his dad took him to the Carnival tents, where he got to meet Lord Kitchener backstage. "Kitchener actually lived down the street from our family home in Diego Martin, outside Port-au-Spain," says Gonsalves, "but he was so reclusive we never saw him much growing up. I got to experience what it was like to be in a real calypso tent—the heckling, the cleverness, the very topical nature of the music. It was so inspiring."
Back in Canada, Gonsalves pursued his growing passions. While completing his Master's degree in history and politics at Ottawa's Carleton University, he wrote a thesis titled "Scandal, Satire and Social Change: A History of the Early Years of Calypso." The music, he explains, "emerged out of kalenda, call-and-response stick fighting chants that were taunting and boastful—much like what the early rap battles of hip hop. Later, calypsonians would go at each other in the tents, improvising and hurling insults and bragging about themselves." He continues: "As the style grew, it became more politically tinged and narrative in form."
If Gonsalves sounds professorial, that's because when he isn't performing he actually teaches history part time to high school students (his wife is also a teacher). He's also delivered talks on calypso history, at WOMEX in Seville in 2008 and at Berlin's House of Culture the following year, when Kobo Town was there performing on a double bill with Sparrow. But Gonsalves is never pedantic when performing, and his knowledge of calypso's roots lends Kobo Town's music depth and authenticity while he brilliantly updates the form. Producer Duran and Gonsalves met over a shared frustration with the state of recorded Caribbean music and decided to do something about it. "Calypso was thought to be dead," says Duran, "but Drew began tapping into its observational qualities with his lyrics and the music's irrepressible energy. He's making calypso fun and thoughtful again."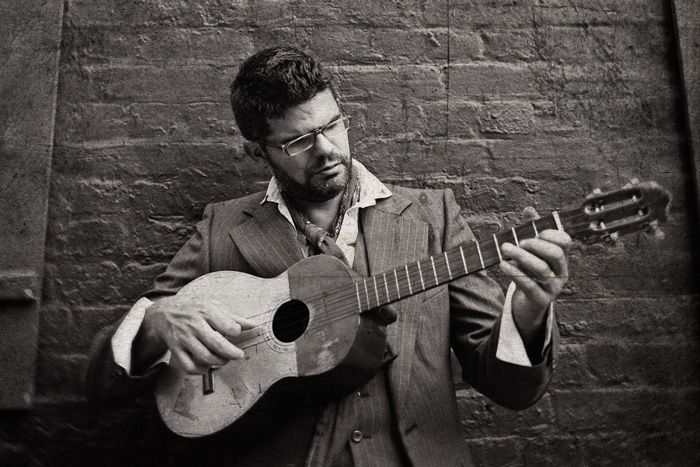 "Karachi Burning" is one of Galleon's most infectious—and best calypso-as-journalism—tunes, full of crashing percussion, robust horns and zippy zouk guitar lines as Gonsalves recounts the time he arrived in the Pakistani city just as riots filled the streets following the assassination of Prime Minister Benazir Bhutto. "I'm describing the sights and sounds I witnessed and heard in the streets," explains Gonsalves. "Calypso has always straddled the hazy line between journalism and gossip. A lot of tunes have that 'hey, did you hear what so and so did?' aspect to them." In "King Sugar," his love of Jamaican rhythms and sing-jay vocal stylings colour his tale of the demise of the once-mighty sugar industry. As Gonsalves writes in the liner notes: "Nothing is permanent…what seems immovable today is gone tomorrow."
Themes of cultural impermanence and the importance of memory run all through Galleon, on songs like "World is Turning" and "What the Sea Remembers." But Gonsalves also brings things closer to home with "As They Sleep," a lullaby for his children, "Before the Day Star," a spiritual number written the night his father died, and "Scarborough Girl," about a hard-working single mother much like his own. Calypso Rose joins him on the latter song, returning the favour for all of Gonsalves' hard work on her album (the two will team up again with Duran and global music superstar Manu Chao, as all four did on Far From Home, for Rose's next album).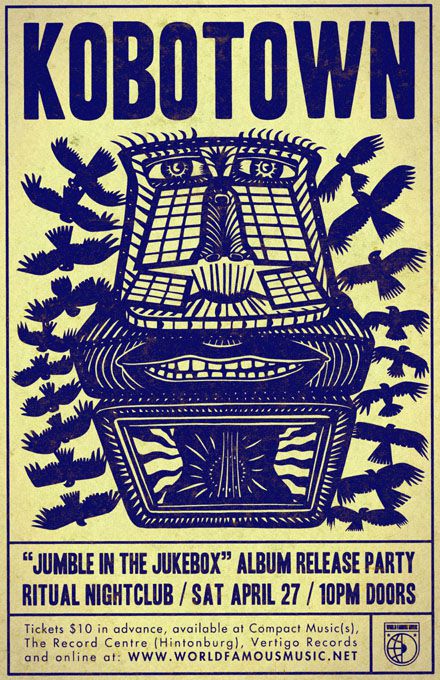 This summer, after Kobo Town completes its seventh tour of the UK and ninth tour of Europe, including some dates with the indefatigable Rose, Gonsalves plans to set aside time to collaborate with Duran on an acoustic album, something near and dear to the man who loves to play his cuatro, a four-string Latin American ukulele. "It'll include old-time calypsos and Caribbean folk songs," says the man who has covered Mighty Growler's "In the Dew and the Rain" and Small Island Pride's "Carnival Celebration" in concert.
"I love the power of those old songs," Gonsalves continues, "because they really had something to say. What made reggae a lasting influence is that people engaged in the message of it. Bob Marley's voice resonated because of what he said." One classic calypso that still impresses him mightily is Growling Tiger's "Money is King," a song that Pete Seeger later covered. "It's a scathing look at a society in which money determines someone's worth," says Gonsalves, "where money opens doors and the lack of it slams it in your face." He adds with a grin: "That's something you could sing at any time and any place and it would still be true."
Songlines April 2018