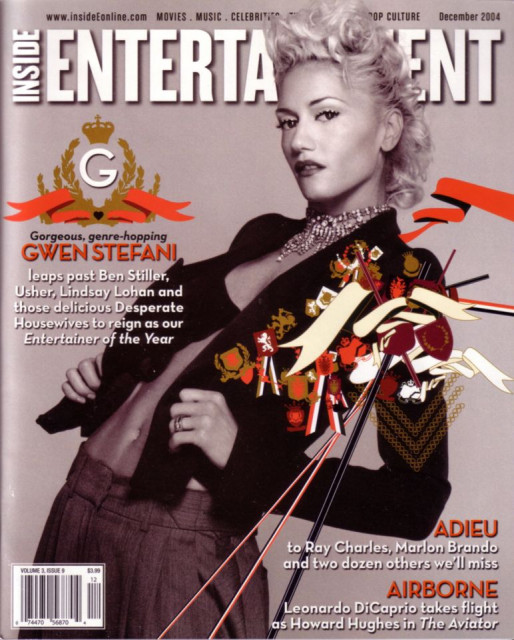 Gwen Stefani is sitting in her 1920s mansion, east of Hollywood, waxing breathlessly about her solo debut album, Love Angel Music Baby. "Dude, the record is so frickin' good," she gushes, "not in a braggy way—I'm not the only one who worked on it—but I feel like every track could be a single." Stefani's enthusiasm is understandable; the singer has just finished work on her much-awaited "dance record" which, by her own admission, had a difficult genesis. "I got to work with so many talented people," she continues, referring to collaborations with such heavyweights as songwriter Linda Perry and producers like Dr. Dre and Outkast's Andre 3000, "that I'd sometimes feel that I was drowning in their creativity. I'd cry and tell myself that I suck and can't write. It was an incredibly challenging time." Suddenly, Stefani excuses herself. She's getting a trim and needs to tell her hairdresser not to go too short. Just as quickly, she's back. "Pardon my multi-tasking," she says, "it's just a really busy time."
Stefani is about to get much busier. Besides launching Love Angel Music Baby, Stefani now oversees her own flourishing fashion line, L.A.M.B., which includes bikini tops, Rasta-inspired colors, low-slung pants, bum flaps, handbags and accessories. And this month, she's stepping out on the big screen, co-starring with Leonardo DiCaprio as 1940s movie starlet Jean Harlow in Martin Scorsese's Howard Hughes biopic, The Aviator. Although it's just a cameo appearance, Stefani's presence is luminous and seems certain to land her much bigger parts. After 17 years as frontwoman for ska-pop pioneers No Doubt, where she became one of rock's most visually arresting artists, Stefani is now ready for her close-up and poised to become pop's most glamorous icon—dethroning longtime idol Madonna in the process. Fans would say it's way overdue, and the 35-year-old Stefani seems to agree. "Take a chance you stupid ho," she tells herself on the album's first single, the club-thumping "What You Waiting For?" "Look at your watch now/You're still a super-hot female/You got your million-dollar contract/And they're all waiting for your hot track."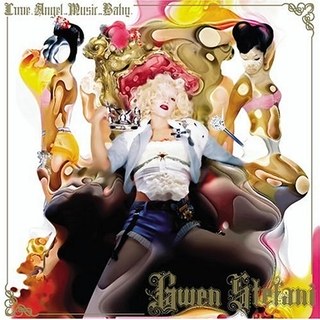 Solo jitters or not, Stefani began laying the groundwork for her coming-out party back in 2001, when she appeared on electronica star Moby's "South Side" remix and on rapper Eve's "Let Me Blow Ya Mind." Although she says that those collaborations began to make her feel like the "side sausage at dinner," they also primed her for Love Angel Music Baby. The Eve track, produced by Dr. Dre, led to "Rich Girl," a bumping update of "If I Were a Rich Man" from the musical Fiddler on the Roof, with Dre's production and Eve's guest rap. One of the new album's other highlights also stems from a previous association with a hip-hop producer. The Neptunes' Pharrell Williams and Chad Hugo had produced "Hella Good" on No Doubt's Rock Steady album. Here, they provide a street vibe to Stefani's tub-thumping "Hollaback Girl," which serves as a playful update of No Doubt's female empowerment anthem "Just a Girl." Yet another hip-hop connection comes in Andre 3000's production on "Bubble Pop Electric," a wacky confection that captures the super-charged excitement of teenage romance.
But Love Angel Music Baby is far more '80s-style new wave and disco than anything resembling hip-hop. "The Real Thing" boasts a synth edge and contributions from members of New Order and Wendy and Lisa, from Prince's former band, and owes a debt to Madonna's "Holiday." Similarly, the seductive "Luxurious," produced by Soul II Soul's Nellee Hooper, is awash in Prince-like grooves. "I always intended to do a Club Nouveau meets Lisa Lisa Cult Jam meets Prince and the Time kind of record," says Stefani. "The idea was to write songs about going dancing and having fun and getting that feeling of those early Madonna records or early Prince records, even Cyndi Lauper—all of which really defined my youth and high school days." Adds the native of Orange County, California: "In a funny sort of way, this album is less of me than the music I've done with No Doubt. With the band, I do all of the melodies and lyrics. It's such a part of me, such a diary." When Dre approached her about reworking the Fiddler on the Roof song for "Rich Girl," Stefani admits that she had to struggle to find her way into the song. "It didn't seem to fit," she recalls. "Then Dre said, 'C'mon Gwen, you've gotta just play a character.'"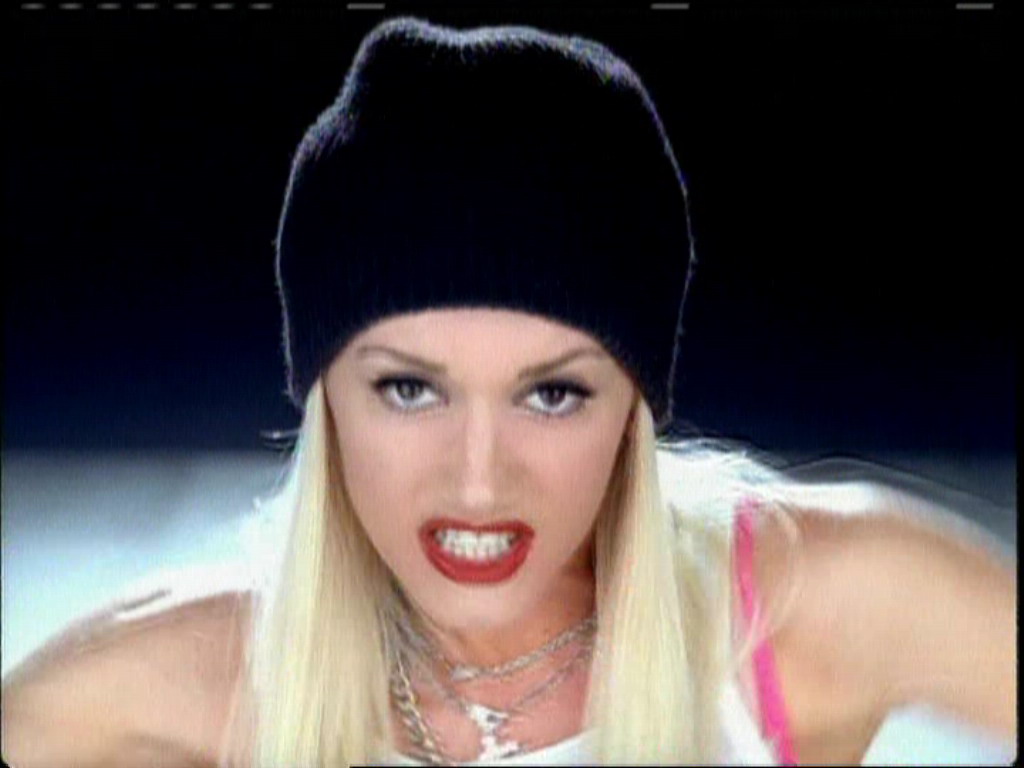 Playing characters is something Stefani has mastered in No Doubt videos at least, from athletic skater chick and kung-fu fighting rock babe to stylish raver and glamorous debutante. Now, with The Aviator, Stefani is getting to play a role close to her heart: a Hollywood starlet, which she previously portrayed in videos for "It's My Life" and "Excuse Me Mr." As Harlow, she seems tailor-made for the part, with her trademark platinum blonde hair, alabaster skin and ruby-red lips. "I've been a very big fan of early Hollywood starlets and musicals for as long as I can remember," says Stefani, who knows a thing or two about make believe, having grown up in the shadow of Disney's Magic Kingdom (No Doubt's second album was cheekily titled Tragic Kingdom). "As soon as I knew about it, I was down at the store buying Jean Harlow and Marilyn Monroe posters. One day, my bedroom had nothing on the walls. The next, it was all covered in posters of all these actresses—real geek central." Shooting scenes as Harlow had her pinching herself. "It was really surreal to be in Mann's Chinese Theatre," recalls Stefani, "dressed in a million and a half dollars worth of diamonds, standing in the exact place where Harlow actually stood when she went with Hughes to her premiere of Hell's Angels." And making her screen debut on the arm of DiCaprio? "I know, how great is that?" she replies rhetorically.
Stefani found the blue-eyed heartthrob "helpful," even generous in providing acting tips. But she did have at least one odd experience with Leo during the shoot. "At one point," Stefani recalls, "he and I were sitting in the back of a limo, waiting for our scene. There were no cameras on us yet. We weren't acting. There was no 'action.' But there he was, in full-bloom character (as Howard Hughes). No one had told me he'd be like that. It was really trippy and a bit awkward." Did this force her to go into character too? "I just played off it," she says. "I was like 'okay, we're playing house, here we go.' I know how to play house."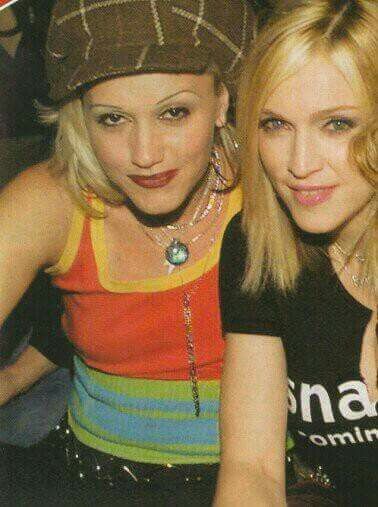 Indeed, she does. Married to a heartthrob of her own, Gavin Rossdale, formerly of the band Bush, Stefani has sung about her devotion to the British rocker in such No Doubt songs as the sexy reggae number "Underneath it All." Meanwhile, much of Love Angel Music Baby seems directed at her husband, from the sweet ballad "Cool" ("Now I found the love of my life") and "Luxurious" ("You're my Mr., I'm your Miss/Gonna be until we're old") to the electro-pop number "Crash" ("You got me so addicted just like a free baser/I want you all over me like L.A.M.B," one of several references to her clothing line on the album). Although she is reportedly "shocked and hurt" about the recent revelation that Rossdale had fathered a girl, now 15, when he himself was a teenager in London, Stefani has made no secret of her wish to start a family with him. "I have this crazy list of things that I need to do in my life," she told Inside E, "and one of them is having a baby. I know from people around me who are having families (Stefani and Rossdale are friends with Madonna and her husband, Guy Ritchie, and have dined at their home with the Ciccone-Ritchie children, Lourdes and Rocco) that it's the greatest thing you'll ever do and the most fulfilling, so I'm really looking forward to it."
Before she becomes a mum, Stefani will have to contend with all the hoopla surrounding her new star turn as a dance diva, something her o Doubt fans will undoubtedly have to get used to. Of her new sound, she says: "I was trying to go for something completely different from No Doubt. That was the point, to try on a different dress for a minute." Still, fans of the Grammy-winning band, which is on an indefinite hiatus, will appreciate that No Doubt's bassist Tony Kanal, her ex-boyfriend (their breakup was famously documented in the band's hit "Don't Speak"), co-wrote and produced three of her album tracks. "The album," Stefani says, "is everything that I wanted it to be. It's a blend of so many different energies and vibes. It won't let you down, let's put it that way." Then she adds, returning to her earlier unrestrained enthusiasm: "Dude, I just know people are going to love it. Even if you hate me, I promise to be your guilty pleasure." How can you lose with a promise like that?
Inside Entertainment December 2004