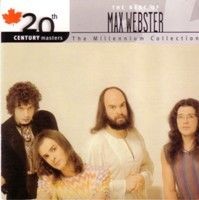 Max Webster, in its heyday during the mid-to-late 1970s, was a sight to behold. The wildly attired foursome led by singer-guitarist Kim Mitchell, a hyperactive beanpole who regularly drew comparisons to crazed animals and aliens, looked more like a futuristic circus act than a rock band. Merry minstrels with a mutant twist.
The sound of the band was equally impressive. An anarchic blend of heavy metal and progressive rock, featuring both piercing guitar solos and dreamy keyboard sequences, it was party music for thinking people. Rather than clichés for drunks, the band's lyrics—written by the group's offstage conceptualist, Pye Dubois—dealt with themes of tortured anxiety and sensual escape.
Small wonder that Max Webster enjoyed a massive cult following. Over the course of six studio albums and one live recording, Max—as the group was affectionately known—dominated the Canrock landscape along with Rush, their label mates at Anthem Records, with whom they often toured. Mention the band's name to any Canadian rock fan over the age of 35 and, chances are, you'll get a silly, wistful grin as memories of cruising with Max cranked on the tape deck come flooding back.
Formed in Sarnia, Ont. by childhood friends, Max Webster moved to Toronto in 1972 to shake up the music scene with outrageous theatricality and formidable musicianship. The band's 1976 self-titled debut album reflected the group's dues-paying club work, but it was the following year's High Class in Borrowed Shoes that fast-tracked Max to stardom. Featuring Mitchell's aggressive attack on the title track and Terry Watkinson's melodic keyboards on the rock suite "Gravity," which contained the rallying cry "get a little savagery in your life," it became an instant classic.
Mutiny Up My Sleeve, released in 1978, stuck with the same formula: piledriving rock numbers mixed with Frank Zappa-inspired insanity. "Waterline," about a "hard-headed man looking for a heart," had a tough, blues-rock sound, while "The Party," with Mitchell promising "We're all here to be reckless, all sleazy and easy-to-please dreamers and schemers on the loose," was among the band's best-loved anthems.
Max's next album, 1979's A Million Vacations, proved a turning point. "You can only drive down Main Street so many times," Mitchell observed on the party-hearty title track, a line that seemed to reflect both the frustrations of small-town fans and the group's own need for change. Much of the album featured a more polished, accessible sound, particularly on Watkinson's "Let Go the Line," which reached # 1 on the RPM Top 40, and "Paradise Skies," which cracked the U.K. Top 50.
The group's quest for a U.S. breakthrough led to 1980's Universal Juveniles. Featuring "Check" and "Blue River Liquor Shine," the album got a boost from the unmistakable wail of Rush's Geddy Lee on the heavy-rock epic "Battle Scar." Max Webster's final album, 1981's Diamonds, Diamonds, was considerably lighter, from the dreamy title track to the good-time sound of "Blowing the Blues Away." But Mitchell quit shortly after its release and the band split.
Like the Tragically Hip, Max Webster was quintessentially Canadian, a bunch of loveable weirdos that reflected the observant, anxious personality that comes from growing up in the shadow of the giant. And like the Hip, Max was huge at home but miniscule south of the border. The very qualities that made them heroes here seemed to mystify audiences there. Happily, we had them all to ourselves.
Nicholas Jennings
20th Century Masters - CD release 2001