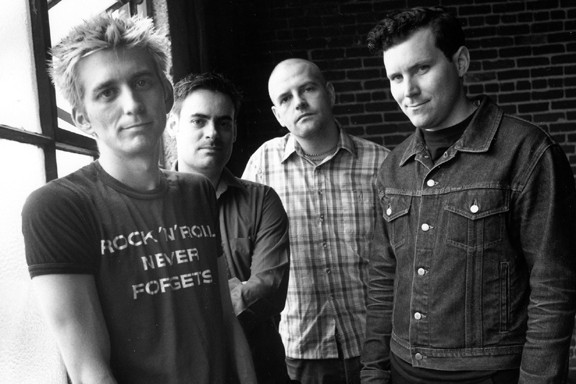 The crowded riders' restlessness enunciates that
the Guess Who suck, the Jets were lousy anyway…
our Golden Business Boy will watch the North End die,
and sing "I love this town," then let his arcing wrecking ball proclaim,
"I hate Winnipeg."
"One Great City!"
Lyrics by John K. Samson
Music by the Weakerthans

An alienation ballad? A protest song about duplicitous urban redevelopment? A poison-pen letter to Winnipeg's tourism office? The Weakerthans' "One Great City!" is all that and more. Taken from the Winnipeg band's third album, Reconstruction Site, the folky number—with its references to gray, bitterly cold winter days and stalled cars in turning lanes—is set in the group's hometown and yet is broad enough to be meaningful to most Canadians and even Americans living in the northern United States. Says the Weakerthans' John K. Samson: "As a lyricist, I love the idea that the specifics about a place are, ironically, the most universal thing you can write about."
Writing songs that reflect where they come from is something that lead singer Samson and the Weakerthans—guitarist-keyboardist Stephen Carroll, bassist John P. Sutton and drummer Jason Tait—have been doing successfully for seven years. The group's debut album, 1998's Fallow, with mentions of Winnipeg's Disraeli Bridge and North Kildonan neighborhood, became a favorite at CBC and Canadian college radio. The followup, 2000's Left and Leaving, which cited the city's Albert Street and how "the Mayor's out killing kids to keep taxes down," earned a Juno Award nomination for Best Alternative Album and made many Canadian critics' Top 10 lists. Now the equally Winnipeg-centric Reconstruction Site promises to reach the Weakerthans' widest audience yet, with U.S. distribution on the respected punk label Epitaph Records.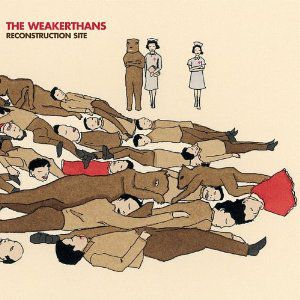 Although the band has its origins in Winnipeg's punk-rock scene (Sutton and Tait were part of the group Red Fisher, while Samson was a member of political punkers Propagandhi), the Weakerthans' music is more difficult to categorize, spanning folk, rock and alt-country. Reconstruction Site's opening song "(Manifest)" uses martial rhythms and a trumpet fanfare, while the experimental "(Hospital Vespers)" delves into delicate piano and backwards tape loops. But the album also features some of the Weakerthans' most accessible numbers yet, including the Tragically Hip-like rocker "The Reasons" and the pedal-steel-drenched "A New Name for Everything."
The latter song, a complex tale of hope and healing, had a particularly long gestation. "The music was done and I had the first line written, but it took me two and a half years to finish," admits Samson. "Songs like that become really special for me because I live with them for so long. I keep picking at them and become frustrated with them. I'll be walking the dog or sitting on the bus and they're something to occupy my mind, like a crossword puzzle." Composition, for Samson, is all about revision. "If I don't spend time with a piece of writing," he adds, "it's like meeting someone for coffee and then never seeing them again."
Getting signed to Epitaph, founded by Brett Gurewitz of punk veterans Bad Religion, means greater exposure for the Weakerthans and a certain amount of prestige, being on the same label as such critical darlings as Nick Cave and Tom Waits. According to Samson, it also represents coming full circle for he and Carroll. "When Stephen and I were 16 and in our first band together," he says, "one of the first songs we ever played was a Bad Religion song. Fourteen years later, we're working with the man who wrote that song." Not to mention partying at Gurewitz' house in the Hollywood Hills. "Yeah," laughs Samson, "it's pretty cool. He's a lovely man, really generous, very honorable and so committed to music."
It's not likely that the Weakerthans are going to get starry-eyed and swayed by a little glitz and glamour. Passionate leftists (their band name comes from a line in the union anthem "Solidarity Forever") and staunchly independent, the four musicians released their first two albums on Winnipeg's G7 Welcoming Committee Records, a label whose motto reads "producing domestic terrorist threats and agitating Homeland Security since 1997." Each member of the band has outside interests: Carroll produces other artists in Winnipeg, while Sutton and Tait, who moved to Toronto following the release of Left and Leaving, do session work. For his part, Samson has a parallel career as a book publisher, having formed Winnipeg's Arbeiter Ring Publishing roughly the same time as the Weakerthans came into being. To date, Arbeiter Ring has published dozens books of leftist fiction, non-fiction and cultural studies, including an award-winning biography of Winnipeg film-maker Guy Maddin.
"As a writer," says Samson, "I needed something else that I should be doing in order to motivate myself with the music. Editing and publishing other writers has helped me hone my skills as a writer myself." Not surprisingly, given his literary bent, Samson often quotes his literary heroes on the Weakerthans' CD booklets, including poets Alden Nowlan and W.H. Auden and authors Martin Amis and John Berger, and his own writing relies heavily on metaphor and has even used such devices as iambic pentameter and the Shakespearean sonnet form. And although he often writes in the first person, Samson's lyrics are invariably written from other characters' points of view, including an aging explorer, a child at a grown-up party and a cat who admonishes its slacker owner on Reconstruction Site.
"Auden once wrote that when Bach wanted to praise the world, he wrote a sonata," Samson observes, "but when a modern writer wants to do so, they have to employ indirect speech. A lot of pressing political things are almost impossible to address head on—especially these days in a sped-up, media-fed culture where it's really hard to get a grasp on any one issue or any one access point into politics because they're all treated so tritely in such a fetishized, consumer fashion." Adds Samson: "I've had to step back and take things to a cellular level that I can grasp. I also think writing in voices that aren't usually heard in the mainstream, or are often misrepresented, is political."
Still, the Weakerthans' gentle, thoughtful narratives are a far cry from the fierce, political rhetoric of Propagandhi, which released songs with titles like "The Only Good Fascist is a Very Dead Fascist" (the band continued after Samson's departure and original members Chris Hannah and Jord Samolesky went on to form the G7 label). Samson's more explicit politics can be found in such Arbeiter titles as How to Tax a Billionaire and Another World Is Possible: Globalization and Anti-Capitalism.
Taking a page from punk's do-it-yourself ethic, Samson says he went into book publishing with no experience and "no real business know how." Only in Winnipeg, he adds, would such a thing be possible. "Physically, artistically and intellectually, Winnipeg is marginalized," says Samson, "so it has to create its own culture." That's why, he says, the city has such a tightly knit arts community. Musically, Winnipeg has a long and rich tradition, dating back to Neil Young's Squires and the Guess Who in the 1960s through to Crash Test Dummies, the Watchmen and Chantal Kreviazuk in the '90s. Today, Samson points to acts like singer-songwriters Christine Fellows and Greg MacPherson and such bands as Novelero and the Paperbacks, all of whom have shared bills with the Weakerthans.
"There's a real tradition in Winnipeg of live shows in basements," says Samson. "And there are still live shows at the community centres, which is where Neil Young and Randy Bachman got their starts. That still happens, with someone renting a hall and putting on a show. We did that early on. It's a punk-rock staple. Someone rents a P.A. on sticks and puts on a punk show." Samson adds that he first witnessed the tradition in Winnipeg during the 1980s: "There was a big punk scene then which was great, with bands like Personality Crisis and the Raggedly Anns. They were really influential."
For all his obvious pride in his hometown's musical history, Samson is wary of anything that smacks of boosterism, which helps to explain the Weakerthans' "One Great City!" But he does believe there are inherent qualities that set Winnipeg apart from other regions, just as there are factors that separate Canada from the United States. "I'm editing a book right now on the history of Canadian horror movies," says Samson, "and the premise is that American horror movies have always been about the threat from outside forces—typical Cold War stuff, while Canadian films in that genre have always tended to look inward and be more focused on the demons within. I think that's a profound cultural difference."
Musically, Samson says, Winnipeg is a product of its geographic isolation. "I grew up in the 1980s listening to the Minneapolis Sound, with the Replacements, Soul Asylum and Hüsker Dü," he recalls. "I have a real affinity for that city and feel more comfortable there than I do in, say, Vancouver. It's weird, but I have this sense that it has something to do with the geography of the place." Adds Samson: "We're not fully aware of how it happens, and maybe we never can fully understand it, but landscape does seem to somehow shape who we are."
Certainly Winnipeg, the rock music capital of Canada and the birthplace of Canadian socialism, seems to have shaped Samson and the Weakerthans." Yeah," Samson admits, "it's still a hotbed for activism and a hotbed for rock 'n' roll. So I guess you can say that Winnipeg's in my blood."

Nicholas Jennings, a Toronto-based music writer who once traveled to Winnipeg to interview and write about the legendary Guess Who, begrudgingly acknowledges the frigid city's formidable Canrock legacy.