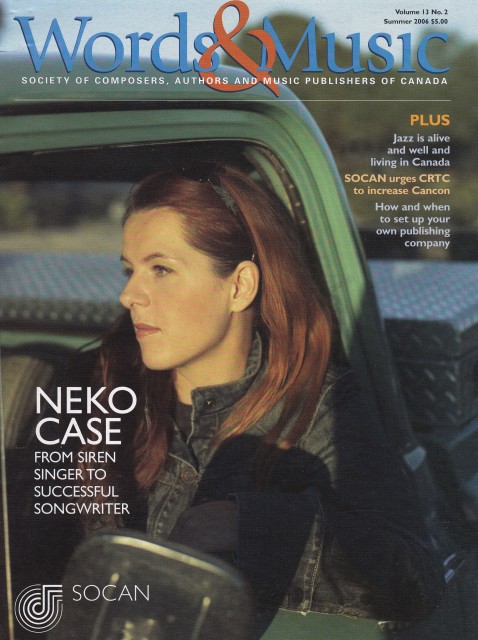 For years, Neko Case has been hailed as a siren, a honky-tonk angel with a stunning contralto described variously as "eerie," "luscious," "transcendent" and "the purest voice to emerge from the independent music scene in more than a decade." But with her fourth studio album, Fox Confessor Brings the Flood, Case has been winning high praise for another talent: songwriting. And the accolades for her songs are every bit as wide-ranging as those for her vocals. One critic even used four very different adjectives in a single sentence—"uplifting," "melancholic," "rollicking" and "ominous"—to describe them. Let's just say that Case has never been easy to categorize.
American born and Canadian bred, musically at least, Case has embraced sounds as diverse as punk, pop, rock, folk, gospel and country over the course of her acclaimed career, both as a solo artist and as a member of revered Vancouver power-pop band The New Pornographers. Fox Confessor contains elements of all of those styles and, lyrically, adds vibrant animal images drawn from Ukrainian fables to the mix. "I tried to make North American fairy tales with animal imagery, which I like," explains the Chicago-based Case, whose tour this summer takes her to Vancouver's Centre for the Performing Arts and the Winnipeg Folk Festival. "I thought it blended with the culture here because it's similar to Native American folklore, which is also very animal heavy." Besides the fox of the title track, wolves, lions, sparrows, eagles and hawks all figure in the songs. Her recent live album, meanwhile, was titled The Tigers Have Spoken.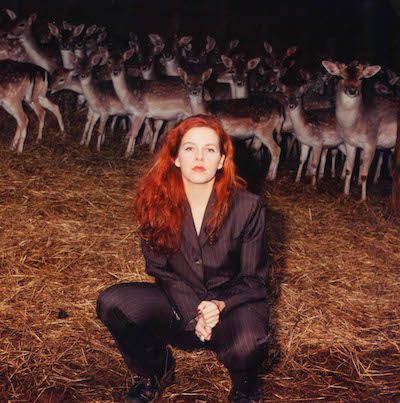 "Yeah, I'm pretty crazy about animals," Case admits. "I feel a kinship because I spent my whole childhood around horses, cows, chickens, goats—you name it. My Ukrainian grandparents were dairy farmers and my family moved around a lot and we often lived in the country." Many of the songs on her latest album seem like cautionary tales, so do the animals have symbolic significance? "There's a huge chasm between the natural world and the human world, people separate themselves from nature," she says. "It's sad and doesn't really make sense."
Sadness pervades much of Fox Confessor, from the lost love and regret of "The Needle Has Landed" to woefully tragic "Maybe Sparrow." Strangely, though, a kind of hopefulness prevails. Case has explained that "losing your faith" is the main theme of the album, which is understandable, given the singer-songwriter's opposition to the current U.S. administration. Before Bush's re-election in 2004, Case on her website urged her fans to protest the government's plan to turn 30 per cent of America's national forests over to logging, mining and oil drilling pursuits. "Tell your friends and family how important this is," she wrote. "You'll be glad you did, and so will spotted owls and timber wolves and black bears."
Case admits that "Hold On, Hold On," a haunting, gothic-twang number, is an autobiographical song about the absence of romance. The dreamy ballad "That Teenage Feeling" also deals with jaded love, while the chilling "Dirty Knife" is a macabre tale based on a story that her grandmother told her about a family's descent into madness in the wilderness. But otherwise, Case is reluctant to reveal the specific meaning of her compositions.
"As a songwriter, you want your audience to decide what your songs mean," she says. "I've often been disappointed when I've heard what an artist's intention was, when I thought I was so clever in figuring it out and having a bond with a song that made some sense to me, only to find out that it's not like that at all." Case cites "Strange Fruit," the famous 1939 ballad about racial lynching sung by Billie Holiday, as an example. "I always thought it was her song and found it very empowering," she says. "Then I read about how it was actually written by a white guy and that originally she didn't want to sing it. Sometimes the myths of things are very important, and you don't want your relationship with a song to be so complicated." She continues: "Growing up, hearing that voice in the dark was such an important point of reference. Say you don't get along with your family, or nobody listens to you, music might be the one thing that gets you through really hard times."
It was for Case. Her family was poor and moved all over Washington State, from Bellingham to the Colville Reservation, before settling in the mid-size city of Tacoma, where Case's relationship with her parents grew increasingly turbulent. After one particular blowout, she left home, at 15, for good. Music proved to be her savior. After playing drums for several bands in the Northwest punk scene, Case moved to Canada in 1994 to attend Vancouver's Emily Carr Institute of Art and Design. At the same time, she joined local all-girl punk band Maow and began writing her first songs. But her compositions leaned more to traditional country than punk rock (Loretta Lynn and an obscure spiritual album by Bessie Griffin & Her Gospel Pearls were strong, early influences), so Case eventually formed her own backing band, the Boyfriends, and released her solo debut, The Virginian.
Reflecting her eclectic musical tastes, Case also teamed up with Carolyn Mark as old-timey duo The Corn Sisters and joined Carl Newman, Dan Bejar and others in The New Pornographers as the group's star vocalist. And even when she moved back to Washington in 1998, after completing her studies and seeing her student visa expire, Case maintained her Canadian ties. Her critically acclaimed follow-up album, Furnace Room Lullaby, was recorded with such northern friends as The Sadies, Ron Sexsmith, Kevin Kane and Linda McRae. Relocating to Chicago, Case recorded Canadian Amp, a home-recorded EP that featured covers of songs by such Canadian composers as Neil Young, Sook-Yin Lee and Mike O'Neil.
Her love affair with the Great White North carried over to her excellent Blacklisted, which again featured The Sadies and a guest appearance by cult singer Mary Margaret O'Hara. Not only did The Sadies serve as her backing band for The Tigers Have Landed, but the album was partially recorded at Lee's Palace and The Matador club in Toronto and featured Case's cover of Buffy Sainte-Marie's "Soulful Shade of Blue." "She's one of the first recording artists I ever remember hearing," Case recalls. "I loved her so much that I named my first dog after her. Plus," she adds, "Buffy's a Canadian, which seemed appropriate for the project."

The Canuck connection continues with Fox Confessor, which features her frequent musical foils The Sadies (together, they co-wrote "Hold On, Hold On" and "The Needle Has Landed") and London, Ont.-born Garth Hudson, legendary organist of The Band. And while most of the album was recorded at Tucson, Ariz.'s Wavelabel Studio, the intro to the stirring traditional gospel hymn "John Saw that Number" was captured in the back stairwell of Toronto's Horseshoe Tavern and Case's stark ballad "At Last" done at Toronto's Iguana studio. Mixing for all of her albums is done in Toronto. Clearly, the land above the 49th parallel remains near and dear to her. "It's where I learned about being in a band," she has said. "I never make a record where half of it isn't made in Canada. I'm not superstitious about it, as much as I am sentimental about it."
There's nothing soft or sentimental about Case's latest compositions. Richly detailed and full of striking images, songs like "Margaret vs. Pauline," which paints contrasting portraits of two women from opposite sides of the track, and "Star Witness," in which a woman loses her lover in a dramatic car crash, are two standout numbers. The former tells of Pauline's hair of "cinnamon waves" and Margaret's "parking lot eyes," while the latter offers this memorable narrative: "My true love drowned in a dirty old pan/of oil that did run from the block/of a Falcon sedan 1969/The paper said '75."
Often, these songs contain disparate lyrical elements that, when stitched together, form vivid, surreal, e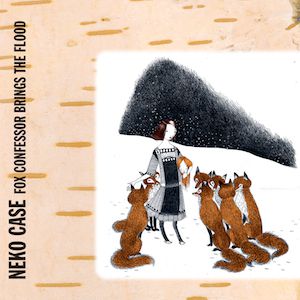 ven cinematic story-songs (Case, a serious movie buff, cites filmmaker David Lynch as a particular favorite). "The way I write songs is in weird little pieces, at different times from each other," says Case. "It's almost like a collage style, where I'll find something I've written down in one notebook and then realize there's a chorus in another notebook that goes with it." She adds: "I don't know why
I thought I had to strive so hard for verse-chorus-verse-chorus-bridge out. On this record, I realized that I'm learning what my writing style is, which is more linear than cyclical."
Case, who produces all of her albums with Darryl Neudorf, has confidently stepped forward as an exceptional songwriter. It used to be all about her voice, a sublime instrument that one admirer, John Doe of Los Angeles punk band X, once described as having "a lot of heartache, a lot of longing" in it. "It's an old-sounding voice," Doe said, "like something out of the past." Now, with Fox Confessor Brings the Flood, it's about the singer and the song. And Case, who remains fiercely independent and fully in control of her burgeoning career, has succeeded in merging both of her formidable talents into one powerful whole.
Publisher: Neko Case 2005 (SOCAN)
Selected Discography:
The Tigers Have Spoken
(2004)
Blacklisted
(2002)
Furnace Room Lullaby
(2000)
The Virginian
(1997)
Website:
www.nekocase.com
Nicholas Jennings is a Toronto-based music journalist who is now searching for a copy of that influential Bessie Griffin & Her Gospel Pearls album.