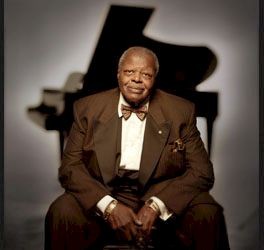 Oscar Peterson peers up through the glass ceiling of his sunroom and apologizes for the faint noise coming from a distant jet passing overhead. "We're right in their flight path," explains Peterson, whose split-level house in Mississauga, Ont., sits due west of Toronto's Pearson International Airport. Happily, the spacious home he shares with his fourth wife, Kelly, and their seven-year-old daughter, Celine, is also smack in the middle of the flight path of many migrating birds. Peterson loves birds. His sunroom is filled with artists' renderings of them—some cast in bronze, others shaped in shards of brightly coloured glass. "My favourite is the loon," says Peterson. "I've always loved its call."
That Canada's jazz icon should have an affinity for the country's national bird is almost too perfect. Both share a distinctive sound: the loon's haunting cry is symbolic of the Canadian North, while Peterson's lyrical piano has become synonymous with modern jazz. The loon's image may be etched on every Canadian dollar, but Peterson has graced a U.S. postage stamp, performed on stages across five continents and recorded more than 200 albums over the course of six decades. During that time, the Montreal-born musician has received 12 honorary degrees, been appointed to the Order of Canada and won dozens of awards, including eight Grammys, a Juno and an induction into the Canadian Music Hall of Fame alongside the likes of Glenn Gould and Joni Mitchell. "Quite simply, the man is a legend," says Bill King, publisher of The Jazz Report, a Canadian magazine that chronicles the international scene. "If Diana Krall is the future queen of jazz, then Oscar's the reigning king."
One of the last surviving giants of the jazz age, Peterson—who just turned 74—shows no signs of letting up. Although arthritis and a stroke six years ago have slowed him down, he continues to record, perform and earn international acclaim. This year, the pianist released A Summer Night in Munich, an elegant live recording of old and new material. He has also just completed an instructional CD-ROM, featuring performances and illustrations on how he played the music. And next spring, Peterson and his quartet are scheduled to premiere a new work—a piece the Canadian government has commissioned for Canada Music 2000, its millennium project—at Toronto's Roy Thomson Hall. (He recently cancelled out of this month's proposed Swing Magic Tour with a big band on the grounds that the issue of artistic control had not been resolved with the show's producers.) In October, he flies to Japan to receive the prestigious Praemium Imperiale award, which recognizes achievements in art forms not addressed by the Nobel Prize.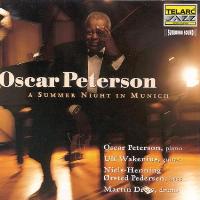 The reminders of Peterson's pre-eminence come at a time when the music world has embraced swing as both a dance craze and a fashion trend. But Peterson dismisses the music's current proponents as pop pretenders. "They figure that putting on a porkpie hat and a double-breasted suit and holding a tenor saxophone makes them a swing group, which it doesn't," he says with a smile. What does make a swing group? "Honesty," says Peterson succinctly. Asked to elaborate, he adds: "I think you should have some kind of history behind you, some sort of pedigree."
The man knows of what he speaks. Peterson entered the jazz world during the 1940s—the so-called Swing Era, when big bands led by Duke Ellington and Benny Goodman flourished. And swing, the rhythmic propulsion and flowing beat that distinguishes a lively jazz performance, has been an inherent part of his piano style from the beginning. "Most pianists don't swing because they don't believe the instrument can be swung that hard," Peterson told author Gene Lees in his 1988 biography, The Will to Swing. He still stands by that comment. "The piano is a very introspective instrument, but it can also be very aggressive," Peterson says. "If you don't believe what the instrument can do, what you impart to the audience is that disbelief. Erroll Garner swung hard, so did Teddy Wilson, Nat Cole and on and on down the line. It's an attitude you have to take on."
Peterson acquired that confidence at an early age. Blessed with perfect pitch, he began learning to play classical piano from his older sister, Daisy (who also taught Montreal pianist Oliver Jones), and later from noted Hungarian pianist Paul de Marky. At 14, he won a CBC national radio competition and soon began making regular appearances on the airwaves. After performing with the Johnny Holmes Orchestra, Peterson formed his own trio, and by the mid-1940s, landed a recording contract with RCA Victor Canada. But it was his father, Daniel, a porter for the Canadian Pacific Railway, whom Peterson credits with instilling in him the will to succeed. Recalls Peterson: "He told me, 'If you're going to go out there and be a piano player, don't just be another one. Be the best.' He always had the belief in me, for which I'm grateful." But his father was also a strict disciplinarian, who never let his son's talent go to his head. Once, when it did, he played him a record by jazz pianist Art Tatum and Oscar became so discouraged that he quit piano for two months.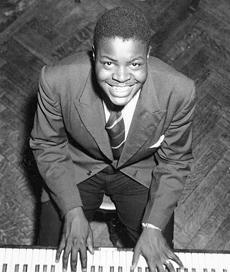 Adopting Tatum as his idol, Peterson excelled as he mastered a fluid keyboard style and developed a fluency in his solos that soon became the talk of the jazz world. Those who came to hear him with his trio at Montreal's Alberta Lounge included the likes of Count Basie, Ella Fitzgerald and, on one fateful night in 1949, an American jazz impresario named Norman Granz. He was so impressed with Peterson's talent that he promptly took the young pianist to New York City as a surprise guest on his Jazz at the Philharmonic program at Carnegie Hall. Although the show featured Charlie Parker, Lester Young and Coleman Hawkins, the 24-year-old Peterson "stopped the concert dead cold in its tracks," reported Down Beat magazine, with the pianist displaying "a flashy right hand, a load of bop and a good sense of harmonic development." Peterson's international career was assured from that moment on.
In June, Peterson returned to Carnegie Hall with his current quartet, which includes guitarist Ulf Wakenius, bassist Niels-Henning Orsted Pedersen and drummer Martin Drew, as part of the JVC Jazz Festival, one of the summer's biggest annual jazz events. Although the stroke he suffered in 1993 meant that his left hand could no longer "conjure the rumbling musical earthquakes of old," as The New York Times described his performance, his right hand more than compensated with a dazzling dexterity that brought the audience to its feet for several standing ovations. Peterson recalls that it was only after the concert that the significance of the event struck him: it had been 50 years since he had made his debut on that stage. "It took me right back to when Norman first told me he wanted me to play Carnegie," says Peterson. "I remember being uneasy about it, but Norman said, 'One thing's for sure, Oscar, you'll know if you have what it takes. If you go down and do what you do and they love it, then you know you've made it.'"
As he puts the finishing touches on the "Trail of Dreams Suite," the work he will unveil next April, Peterson finds himself contemplating his future as a concert pianist. He knows the day will come when he'll make his final performance. "When that happens, there's going to be no fanfare," he insists. "I'm just going to get up from the piano, take my bows, thank my group and say, 'This is it.' Then, I'll close the piano and that will be the last time I play publicly." In the meantime, Oscar Peterson will continue doing what he's done for nearly 60 years: showing the world what it really means to swing.
Maclean's September 13 1999