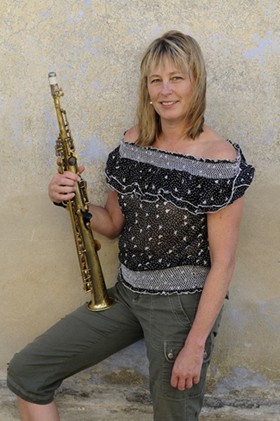 She's been called "Havana Jane," and Canada's Jane Bunnett has certainly earned the title. The celebrated jazz flutist and soprano saxophonist has been a familiar face around the Cuban capital for years. Long before Ry Cooder made the Buena Vista Social Club a household name, Bunnett was sharing her passion for Latin music with North American audiences, taking Cuban artists on tour and featuring them on acclaimed albums of her own.
But it wasn't until last November that the Toronto musician discovered the extent of her reputation as Canada's unofficial cultural ambassador. Bunnett had travelled back to Havana with her husband, trumpeter Larry Cramer, and a National Film Board crew, to realize her long-standing dream of making a documentary on the island's musical legacy. A recording date had been scheduled in the state-owned Egrem Studios, with about 40 of the city's established musicians. But when Bunnett and Cramer arrived at Egrem, they found more than 100 would-be stars. Recalls Bunnett: "All of them showed up, dressed in their best clothes and gold chains, telling the NFB people, 'Jane invited me.' When the producer asked us who this or that person was, we didn't have a clue."
Party-crashers aside, Bunnett, 43, has remained an ardent supporter of Cuban music. The NFB documentary, set to première in the fall, will showcase artists from across the Caribbean island. Four years ago, Bunnett also formed the charity Spirit of Music to raise money to purchase and repair instruments for Cuban schools -- so far it has provided more than $30,000. Meanwhile, Bunnett's latest album, Ritmo + Soul, is her sixth to put Cuban musicians in the spotlight. Her first, the groundbreaking Spirits of Havana, earned a 1992 Juno Award and was named one of the top 300 jazz discs of all time by the U.S.-based All Music Guide. But Ritmo + Soul (Blue Note/EMI) may be Bunnett's most accomplished work to date, seamlessly blending fiery Afro-Cuban rhythms with the musician's own joyful compositions. Now on a tour of jazz festivals across Canada with her seven-piece band, Bunnett is clearly riding a new career high.
Prior to a recent week-long engagement at a Toronto club, Bunnett and Cramer recalled how they were initially bitten by the Cuban bug. It began in 1982, when the couple first vacationed in Cuba and heard a local group featuring eight drummers. "There's a real power to the music there," says Bunnett. "I've seen it lift people's spirits in the poorest sections of the cities. Whether it's religious, folkloric or carnival music, it all has a purity and strength." "Plus," adds Cramer, "there are so many gifted musicians that it makes for some fantastic collaborations." On Ritmo + Soul, Cubans Hilario Durán (piano), Pancho Quinto (percussion), Dafnis Prieto (drums) and Ernesto Gatell (vocals) mix it up with Bunnett, Cramer, bassist Roberto Occhipinti, singer Dean Bowmen and Cameroon thumb piano player Njacko Backo to create an original hybrid connecting African and Cuban music with jazz, blues and gospel.
Adventurous tastes have been apparent in Bunnett ever since the classically trained musician abandoned piano for flute and then soprano saxophone and began exploring the world of jazz. After recording her 1988 debut album, In Dew Time, Bunnett began getting attention from the jazz establishment. On one of their return trips to Cuba, Bunnett and Cramer met up with legendary singer Merceditas Valdes and her husband, percussionist Guillermo Barreto, both now deceased. A close friendship was formed that deepened the Canadians' connection to Cuba.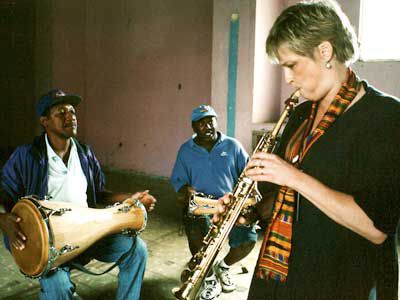 Valdes appeared on both Spirits of Havana and the follow-up, Chamalongo. And the singer clearly inspired Bunnett in her quest to expose Cuban music to the world -- even when it jeopardized her career. In 1996, Bunnett ran afoul of Washington's Helms-Burton bill seeking to penalize any company that broke the U.S. trade blockade of Cuba. She believes the fear-mongering led to a cancelled recording contract, as well as a loss of $40,000 in American concert dates. She did, however, persevere with what she called the "Come Helms or High Water" tour.
Now riding the wave of Cuban music's continuing popularity, Bunnett insists she will never grow tired of the island's sounds. "Every time we go, we discover something new and exciting," says Bunnett, "whether it's a 10-piece a cappella Creole group from Camaguey or a 38-piece conga band from Santiago. It's really kind of magical."
Maclean's June 26th 2000