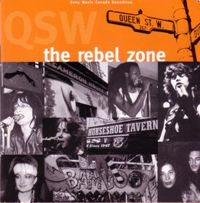 Toronto's Queen Street, the portion running west from stately University to cosmopolitan Spadina, was originally a jumble of greasy spoons, barbershops and clothing stores. Owners lived above their shops, while children played on sidewalks. There were even a couple of watering holes that supplied the mostly Irish, Jewish and Eastern European locals with cold, cheap draft beer. By the late 1970s, those bars had become part of a fertile breeding ground, a creative hothouse of forceful protest, stylish adventure and uninhibited experimentation that produced an explosion of musical talent. In many ways, it paralleled the city's fabled Yorkville scene of the previous decade, with a tight concentration of clubs that served as a launching pad for a generation of future stars.
The catalyst for change was the nearby Ontario College of Art. Drawn by the lure of affordable housing and restaurants serving inexpensive meals, students from the college began moving into the area, rubbing shoulders with the district's working-class denizens. Soon, artist-run galleries, theatres and other performance spaces sprang up, while music quickly took over the taverns and the illegal, after-hours clubs that surreptitiously opened
throughout the neighborhood. It began with the raw anarchy of punk, shifted into the sharp, angular sounds of new wave and exploded into an 8-track of styles ranging from blues, jazz and country to reggae, worldbeat and electropop.
Some of the best known artists are featured here, from pioneering punks The Diodes and brave new wavers Martha & the Muffins to the politically charged Parachute Club and the wondrously eccentric Mary Margaret O'Hara. Between 1975 and 1985, Toronto grew to become one of the musical capitals of the world. If Yorkville was the birth and adolescence of Canadian pop, then Queen Street was its teenage years—full of raging hormones, righteous indignation and wide-eyed rebellion.

* * * * *

Musically, there was much to rebel against in the mid-1970s. The bloated sounds of aging prog-rockers or else the mindless tinsel of disco dominated the airwaves. Paul Robinson, an art history student from the Ontario College of Art, took action one night during the fall of '76. Bored by a lackluster party, he hijacked the tape deck and bombarded the crowd with music played at ear-splitting volume. Fellow OCA students John Catto and Ian MacKay took notice of this audio terrorist. A kindred spirit. Almost instantly, a decision was made to form a band. By January, The Diodes were performing at OCA, opening for New York's Talking Heads. They impressed as many as they offended with their mandate to play louder, faster and harder than anyone else. It was the beginning of the punk scene in Toronto.
A pipeline connected NYC with OCA. "Every year, the college would send students down to New York City," Ralph Alphonso, The Diodes' manager, recounted, "and they'd bring back stories with them about what was happening at places like CBGB's." It was the genesis of a new music scene south of the border, with bold acts like Patti Smith and The Ramones. Within several weeks of the Talking Heads gig, The Diodes returned to the OCA stage to star in the "3-D" concert with The Dishes and The Doncasters.
Less than five months later, there were 17 punk bands playing around Toronto, including Michaele Jordana and the Poles, who actually recorded an album in New York with producer John Cale, of Velvet Underground fame, although it was never released. The Viletones, led by Steven Leckie, were simply a bunch of poser punks until they were challenged by another band, Zoom, to get up and play at the Underground beneath the Colonial on Yonge Street, a club known previously for only jazz, blues and r&b. The Viletones quickly rose to the challenge with an incendiary set, and Leckie (alias Nazi Dog) gained instant cult-status after slashing himself in a ritual bloodletting.
Then, in the summer of '77, The Diodes opened the Crash 'n' Burn, Canada's first full-fledged punk club. Located south of Queen on Duncan Street, the Crash 'n' Burn was originally a theatre space operated by CEAC (the Centre for Experimental Art and Communication) in a building shared by the Liberal Party. During that summer, the club became home to Toronto's burgeoning punk community. Although its decor may have been rudimentary (no chairs or tables, just benches, a bar made from a bunch of doors nailed together, with beer kept in a bathtub full of ice), there was nothing ordinary about the energy that arose from that white sweatbox. Every Friday and Saturday night, bands performed riotous sets on a plywood stage supported by cinderblocks. Toronto had never seen such raw action.
During one memorable gig at the Crash 'n' Burn, The Diodes, The Viletones, The Curse and Teenage Head all played for an audience that included members of The Ramones and The Dead Boys. It was a remarkable night. The Diodes nearly brought the house down with brisk, helter-skelter songs like "Red Rubber Ball, "Time Damage" and "Tired of Waking Up Tired." All of the bands played until dawn.
Living up to its name, the Crash 'n' Burn went down in flames when The Diodes were evicted from the space due to noise complaints from the building's well-heeled tenants, the Liberal Party. The Queen Street punk scene smoldered for another year, ending—at least symbolically—with the staging of "The Last Pogo" at the Horseshoe Tavern on December 2, 1978. Inspired by The Band's The Last Waltz, the now-legendary event featured performances by such bands as The Viletones, Teenage Head, The Secrets, The Ugly and The Mods.
During its brief existence, Toronto punk enjoyed an illustrious history. The Diodes were the most commercially successful band, releasing two albums of trenchant songs about suburban horrors; The Viletones were simply the most notorious, as much for provocative songs like "Screaming Fist" as their controversial stance. Overall, Queen Street produced a unique sound, a hybrid of American and British punk, made possible by Toronto being smack dab in the middle of both scenes.

* * * * *
The new wave sprang directly from punk's ashes, adopting punk's high energy and do-it-yourself attitude while adding musical and visual sophistication. Much of Toronto's new wave also shared punk's rebellious spirit. The first such band, Rough Trade, came up from the underground with a wildly unconventional image. Fronted by provocative singer Carole Pope, the group brazenly flaunted the twin taboos of sex and violence, right down to Pope's pronounced bisexuality and apparent taste for whips. Along with guitarist Kevan Staples, Pope's flamboyant partner, Rough Trade used style as a political weapon. Not surprisingly, the band soon aligned itself (as did The Dishes) with the avant-garde visual artists' group General Idea.
The origins of Staples' and Pope's partnership in crime could be traced back to the late 1960s in Yorkville, where the two formed a band called O and later performed as the Bullwhip Brothers. By 1974, they called themselves Rough Trade and played their first gig at the Roxy Theatre. Two years later, the band performed at the Art Gallery of Ontario for the opening of a General Idea exhibit. Rough Trade became renowned for recordings of salacious songs like "Birds of a Feather," "Lipstick on Your Dipstick" and the radio-censored "High School Confidential," in which Pope sang of a "cool, blonde, scheming bitch" who made her "cream [her] jeans." Meanwhile, the group's visual performances, dubbed a "leather-and-lust freak show" by one critic, became legendary, influential events.
Bands sharing Rough Trade's theatricality began appearing on Queen Street--often with a politically conscious, female perspective. The Time Twins, made up of Timeless Torcher and Tempus Fugit (real names: Sheila McDonald and Elizabeth Kiddell), declared themselves "beyond gender," dressed like androgynous aliens, wore identical hairstyles and makeup and sang surreal songs like "Wabooba" and "Bitch Silk." Similarly, The Hummer Sisters and The Clichettes married music and theatre to often devastating effect. The Hummers, the talented trio of Deanne Taylor, Janet Burke and Jennifer Dean, used fast-paced song and repartee with quick costume changes and multiple video screens to create satire in the best cabaret tradition.
The Government—video artists Andy Paterson and Robert Stewart and, later, drummer Billy Bryans, often backed the Hummers for Video Cabaret, a collective of performance artists. Much admired by local punks as an experimental band with songs about the effects of technology and mind control, The Government played what some fans called "smart rock." Mixing black music with eccentric rock elements, the group created a cutting-edge sound that could be heard in singles such as "Hemingway Hated Disco," "How Many Fingers" and "Zippers of Fire."
Meanwhile, the after-hours clubs around Queen Street, popular booze cans like the Paper Door and the Dream Factory, were bringing experimental artists together for the first time. It was at the Paper Door one night in 1979 that Bryans met Lorraine Segato. Bryans was an experienced drummer who'd played with the Downchild and Cameo blues bands before The Government. Segato, a film school graduate, had recently joined a band with a group of women activists. But they needed a drummer. Would Bryans be interested in jumping into bed with a bunch of radical feminists?
With a lineup that eventually included Laurie Conger, Linda Robitaille, Jacqui Snedker, Susan Sturman, Segato and Bryans on drums, Mama Quilla II became Canada's first feminist rock band. With forceful numbers like "Angry Young Woman" and the anti-racist "KKK," the group inspired and gave rise to bands like No Frills , featuring Susan G. Cole, Cathie MacKay and Sherry Shute, and Fifth Column, a "no-boy" collective that recorded albums with titles like To Sir With Hate and performed with male go-go dancers. Bryans had no trouble fitting in, having already played with the gender-bending Time Twins. "Mama Quilla had incredible energy," Bryans recalls. "It was exciting to play with women who had something to say politically. Plus, we had Lorraine out front performing the horniest versions of cover songs that drove our lesbian fans absolutely crazy." The pairing of Bryans and Segato was the start of a partnership that would shape the Queen Street sound for years to come.
Bryans may have been the token male in Mama Quilla, but he was the ubiquitous drummer on Queen Street. On most afternoons, Bryans could be seen wheeling his drum kit along the street from club to club. One night he would be at the Cabana Room with Mama Quilla, the next he'd have moved to the Cameron House to drum for The Government. On yet another evening, he'd be over at the Rivoli, performing with The CeeDees, a group that included Curtis Driedger and Doug Cameron.
"There were no musical barriers," Bryans recalled. "It was a very multi-dimensional arts scene, with musicians, video artists, theatre directors, poets and painters all working together." Bryans was also playing a pivotal role connecting Queen Street with Daniel Lanois' Grant Avenue Studio in Hamilton. Lanois, who would become one of the world's top producers (Bob Dylan, U2), agreed to engineer early recordings by The Time Twins and Mama Quilla and later produced award-winning albums by two of the biggest stars of Queen Street.
The live music scene around Queen Street continued to flourish. Musicians and club-hoppers, walking west along Queen from University, had their choice of venues, from the Rex and Beverley hotels to the ultra-hip Rivoli and the venerable Horseshoe Tavern. Formerly a country-and-western bar, the Horseshoe was transformed into a punk and new-wave haven by a pair of promoters, Gary Cormier and Gary Topp, known simply as the Garys. The Garys had their ears tuned to the scene in London as well as New York, and booked England's The Police at the Horseshoe for the band's first Canadian gig on night in May 1978. It was an event that lives on in urban mythology: thousands now claim to have heard the band, when in fact it was a slow night and only a handful of regulars showed up.
Although further a field, clubs such as the Edge, Larry's Hideaway, the Turning Point and the Hotel Isabella also began regularly booking new wave bands and reggae groups and were an undeniable part of the scene. On any given night, audiences could see such ground-breaking artists and future rock stars as The Sharks, featuring soon-to-be Juno Award winning singer Sherry Kean, and L'Etranger and Johnny & the G-Rays, fronted by celebrated songwriters Andrew Cash and Johnny McLeod respectively, and The Boys Brigade, who had future producer Malcolm Burn in their midst.
Back at OCA in the fall of '78, a new band made its debut at the school's annual Halloween party. Student Mark Gane, a budding guitarist, teamed up with Martha Johnson, a theatre student at York University who had played an Acetone organ in a group called Oh Those Pants! Before the gig, they searched for a name that would distance them from what Gane called "the cartoon-violent names of the copy-cat punk bands. Settling on Martha & the Muffins, they played the party and performed peppy early songs like "Insect Love" and "Suburban Dream." By the following year, Martha & the Muffins had been discovered by ex-King Crimson guitarist Robert Fripp, signed to Dindisc/Virgin Records and recorded their debut album, Metro Music at the Manor studios in England. The band's organ-driven single "Echo Beach," which went Top 10 around the world, suddenly catapulted the group to stardom, complete with an appearance on the English TV show Top of the Pops.
With the growing popularity of Jamaica's Bob Marley, who played Maple Leaf Gardens in 1978, successive waves of reggae acts began emerging from the city's Caribbean community north of Queen, up around Eglinton Avenue and further north in Malton. Toronto was already home to several prominent, ex-patriot Jamaican musicians, including keyboard genius Jackie Mittoo, Stranger Cole, who ran a record shop in Kensington Market, Willy Williams, whose "Armagideon Time" had just been recorded by The Clash, and, most significantly, Leroy Sibbles, the former leader of The Heptones who moved to Toronto in 1973.
Uptown came downtown the night that Leroy Sibbles played at a new worldbeat club on Queen Street. The Bamboo instantly became the home of reggae music in Toronto. Soon, numerous local reggae bands were appearing there, including Bloodfire, One Love and 20th Century Rebels. One of those groups, Messenjah, later landed a major-label record deal. But none had the vision or the talent of Truths and Rights. A seven-piece collective band fronted by Trinidadian-born singer-guitarist Mojah, Truths and Rights mixed political protest with irresistible one-drop rhythms. Songs like "Acid Rain" and "Metro's Number One Problem" tackled pollution and racial tension with clarity and catchiness. But the band's best songs were those that preached unity and positive vibes like "Time for Us to Unite" and "Live Up."
If Truths and Rights functioned as a democratic musical outfit, then "V" was nothing less than a collective supergroup, made up of musician-activists drawn from Queen Street's best bands. Fronted by Mojah and Lorraine Segato on guitars and vocals, and backed by Billy Bryans on drums and Terry Wilkins (Rough Trade, Canadian Aces) on bass, the band the best one-two punch of any group on the scene. When "V" made its debut at the Cameron in February, 1982, it immediately drew a capacity crowd attracted by the prospect of two sexy, black and white singers—one a captivating Rastaman, the other a female Mick Jagger—performing with a killer rhythm section.
The sound was true rebel music: a compelling mix of rock and reggae, with socially conscious lyrics sung over scratch guitar and dub rhythms. Songs like "Get Rebel," "Jouvert Morning" and "Blood Money," with its inquisitive refrain "are you hungry, are you out on the street," spoke directly to the recessionary conditions of the early '80s. And the very makeup of the group cut across race and gender boundaries. Although "V" never released any recordings, the band's performances, each and every one of them a sold-out affair, remain the stuff of legend in Toronto musical lore.
The offspring of "V" was a chance conception. Segato and Bryans got a phone call from a social organizer at the Toronto Film Festival: could Mama Quilla perform at a festival party? The band, at that point, was in hiatus. What about V? the woman asked. Unfortunately, Mojah was in Jamaica at the time, attending Reggae Sunsplash. Couldn't Bryans and Segato put something together? So begat The Parachute Club. From the beginning, the band represented a fusion of two worlds: feminist ideals and Caribbean rhythms. "The concept for the band," said Bryans, "was to have more women than men and to have lots of funky beats. Lorraine and I wanted a highly danceable sound with a message."
After its debut at a Toronto Film Festival party and several booze-can gigs in the fall of '82, the 'Chutes (Segato, Bryans, Lauri Conger, Steve Webster, Dave Gray, Juli Masi and Margo Davidson) suddenly found themselves with a manager (Gerry Young) and a record and distribution deal (Current/RCA). Only six weeks old, the band headed into Daniel Lanois' Grant Avenue Studio. Many songs were still unfinished. According to Lynne Fernie, a visual artist who co-wrote the group's anthemic hit "Rise Up," it was a frantic time. "They were writing in restaurants," recalled Fernie, "in the car on the way to Hamilton and even in the studio."
Its self-titled debut album quickly established The Parachute Club as the most interesting and important band to emerge from the Queen Street scene. No other group threw itself so fully—or successfully—into the issues of the day, from social displacement ("Alienation") to the patriarchy ("Boy's Club"). The group's often-controversial stance drew as much flak as praise. But, as Fernie noted, "no one could deny the intelligence and danceability of their music." P-Club, like George Clinton's P-Funk, embraced Afro, rock, soul, salsa, calypso and reggae rhythms with the simple aim of creating one united nation under a groove.
Black musical influences also showed up in Alta Moda. Led by singer Molly Johnson and guitarist Norman Orenstein, Alta Moda created a buzz in the music world in the early '80s with their hard-edged punk funk sound. Songs like "Train" and "Julian" put a new wave spin on influences ranging from The Kinks and The Stranglers to Hendrix and Prince. Although the band was seen as the Next Big Thing from Queen Street for many years, it resisted signing with a major label—despite being courted by no fewer than four—until it eventually struck a deal with CBS, resulting in one promising album and a video for "Julian," directed by Molly's actor-director brother Clarke Johnson, a future star of TV's Homicide.
Meanwhile, Molly was living at the Cameron, which doubled as home and workplace for numerous artists (the Hummer's Deanne Taylor still lives there to this day). One of the Cameron's owners, Herb Tookey, created a cultural economy that was unique to Toronto: writers, musicians, painters could live in one of the rooms upstairs in exchange for work around the club, either on stage or behind the bar, where The Government's Andy Paterson was often seen slinging beer. Tookey knew Johnson possessed a strong, bluesy voice and urged her to try her hand at Billie Holiday. Recalled Johnson: "Herbie encouraged me to sing blues as a means of survival. He told me, 'You'll always be able to go sing them in a blues bar and make $100.' And he was right."
Working with pianist Aaron Davis, whose Latin big band Manteca was popular over at the Bamboo, Johnson developed a regular Cameron showcase called Blue Monday, featuring material by Holiday, Gershwin, Ellington and Monk. Blue Monday's popularity grew to the point that the acclaimed act appeared for a week's engagement at the prestigious Imperial Room at the city's Royal York Hotel. And Johnson, who became known as the Diva of Queen Street, paved the way for the countless torch singers, from Holly Cole to Diana Krall.
Queen Street was still wide open to all comers. Long before it was fashionable, before Alberta's k.d. lang blew into town, back in the day when Blue Rodeo's Jim Cuddy and Greg Keelor were playing in a new wave band called The Hi-Fi's, Handsome Ned (born Robin Masyk) brought rockabilly and honky-tonk country to the mohawk and leather-jacket set as early as 1979. His regular Saturday afternoon performances in the back room of the Cameron, where he too lived, became so popular that his 'matinee' eventually shifted to Saturday nights, with 150 people packed into a room with a capacity of 90. Ned, The Globe and Mail's Liam Lacey noted, "has managed to single-handedly give country music a foothold on Queen."
Handsome Ned helped to change the face of the street. "He was a familiar sight," recalled his brother Jim, "his straw Stetson affixed to his head, cowboy boots clicking time, bandanna around his neck and bolo ties jangling in step." Ned recorded several spirited singles, including "Put the Blame on Me," with his rockabilly band The Sidewinders, and "In Spite of the Danger" b/w "Ain't No Room for Cheatin'," with his country group The Handsome Neds. But his greatest legacy was the widespread interest he cultivated in country music—even teaming up with Mojah, yet another Cameron resident, to create a brave new fusion the unlikely pair called "rastabilly."
While Handsome Ned broke down hipper-than-thou walls of resistance to country music, Lillian Allen introduced Queen Street to the staccato sound of dub poetry. The Jamaican-born Allen had already published one book of poetry, Rhythm an' Hardtimes, when she performed dub poetry, using the rhythmic style of Jamaican speech as a medium for political messages. On her first recording, she teamed up with Devon Haughton and Clifton Joseph (the future host of TVOntario's Imprint) for an EP titled De Dub Poets. But her breakthrough came after she brought in The Parachute Club's Billy Bryans and Dave Gray to add a stronger musical element. The resulting album Revolutionary Tea Party won a Juno Award for best reggae/calypso recording. And Allen's follow-up album, Conditions Critical, was even stronger.
Allen wasn't the only local writer setting poetry to music. Robert Priest was part of the Spadina side of Queen, a subset of the scene that included imaginative songwriters like Allan Booth of the band Only Human, Gwen Swick (Hamburger Patti & the Helpers) and Graeme Williamson who performed with guitarists Neil Chapman and Tony Duggan-Smith in The Pukka Orchestra. Priest had several published poetry collections to his credit. But he also recorded eccentric songs like "Congo Toronto," a satirical reggae tribute to his hometown (a "savage land"), with the Pukka's Chapman, and formed a rock-and-roll children's band called The Boinks ("boink is the sound of an idea happening") with Eric Rosser.
For some time, there had been a steady buzz in the air about an amazing new Queen Street artist named Mary Margaret O'Hara. Among her earliest fans was Lorraine Segato, who found the singer "extraordinary because she embodied a spontaneity, a free-form creativity completely outside the confines of pop or any other music." Adds Segato: "That's why she remains everybody's favorite singer, including mine." Another graduate of OCA, O'Hara worked initially in the visual arts field, freelancing as a hand-letterer and illustrator. She also acted with her sister, movie actress Catherine O'Hara, in Second City's touring company.
But it was Mary Margaret's unique singing voice, heard first in the Queen Street band Songship and later in the popular group Go Deo Chorus (Go Deo being the Gaelic for eternal), that she made her mark. Wrote Liam Lacey: "She likes to do tricks with her voice: toasting, rapping, scatting, stuttering consonants, rolling syllables and zipping up and down the scale. What makes it work is not only her warm voice, but her ability to swing." O'Hara's last appearance with Go Deo Chorus took place in July, 1983, opening for The Parachute Club at the Palais Royale ballroom. Immediately after the show, there was a feeding frenzy, as several record company talent scouts descended on O'Hara in an attempt to sign the quirky talent.
Meanwhile, the scene's established stars were enjoying international attention—and acclaim. Through its new bassist, Jocelyn Lanois, Martha & the Muffins were introduced to Jocelyn's brothers, Bob and Daniel, and their Grant Avenue Studios. Daniel produced three albums for the group, including 1981's This Is the Ice Age, which yielded another Top 10 single, "Women Around the World at Work," and the subsequent Mystery Walk, with the horn-drenched dance hit "Black Stations/White Stations," which criticized the musical segregation of radio. "With Daniel," recalled Gane, "we finally found someone who understood and appreciated the more experimental, textural, noisy side of the band."
The Parachute Club also began accentuating dance grooves. New York's Michael Beinhorn and John Oates, of Hall & Oates fame, produced the group's subsequent albums, At the Feet of the Moon and Small Victories respectively. Beinhorn and Oates came from dance or blue-eyed soul backgrounds and brought a more polished sheen to the Chutes' sound. Yet the band never lost its commitment to thoughtful, socially conscious lyrics, as heard in songs like "Sexual Intelligence" and "Love and Compassion."
* * * * *
By 1984, Queen Street had not only attracted international attention as a major music centre, but had sent a series of adventurous artists out into the world, carrying the scene's flagship sound: unbridled experimentalism. Jane Siberry released her debut album that year and its title said it all: No Borders Here. Featuring soon-to-be classics like "The Waitress" and "Mimi on the Beach," the album prompted some to call her songs experimental notes from the underground. Others, like The New York Times, credited the singer-songwriter for "her own kind of eccentricity and deliberately delicate touch." As for Siberry, the former University of Guelph science student claimed she was merely writing to the tune of her inner voice.
That same year, Blue Rodeo made their live debut on Valentine's Day at the Rivoli. Blue Rodeo embodied many of the historical elements of the Queen Street scene: the punk snarl of The Diodes, the new wave sharpness of Martha & the Muffins and the country cool of Handsome Ned. Many other distinctive artists would emerge from those same clubs in the years to come, including Cowboy Junkies and Barenaked Ladies.
But by then, Queen Street was changing. AIDS would soon claim the lives of two members of General Idea. And Handsome Ned, one of the street's most colourful characters, would soon be dead of a heroin overdose. By the time Mary Margaret O'Hara's incomparable album, Miss America, finally emerged in 1987, and was immediately praised worldwide for stunning, impossible-to-categorize songs like "Body's in Trouble," her connection to Queen Street was all but a distant memory. Meanwhile, the chain stores (Le Chateau, the Gap, Club Monaco) had arrived, pushing up rents and pushing out smaller, independent retailers. It was the end of an era—something uncannily foreshadowed by the Hummer Sisters who ran against bland, pro-development Art Eggleton for the mayoralty of Toronto a couple of years earlier (although they lost the campaign, which they cheekily dubbed "Art vs. Art," the Hummers provided a progressive alternative and came in second with an astonishing 10,000 votes).
Like Yorkville in the decade before, Queen Street from 1975-85 was a music lover's dream, a seemingly inexhaustible reservoir of adventurous artists playing diverse musical styles. With so many venues to perform in, musicians, like Billy Bryans with his drum kit on wheels, could play every single night of the week. And like Yorkville, it was a community that fostered artistic collaboration. Above all, Queen Street proved that often the best, most innovative sounds come from a time and a place without borders.
Nicholas Jennings