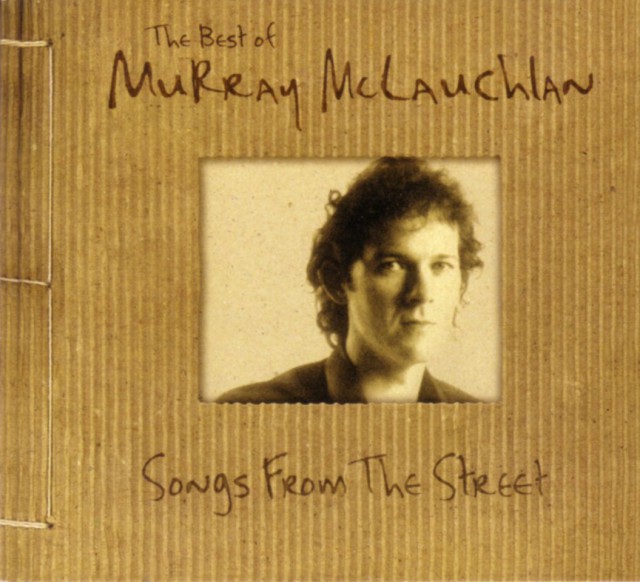 The best songwriters are alchemists, wordsmiths whose magic transforms personal experiences into universal truths. For nearly 40 years, Murray McLauchlan has been performing lyrical sleights of hand, taking insights about himself and observations about the world around him and spinning them into songs that are both meaningful and memorable. His sensitive tales of growing up and growing old, his razor-sharp portraits of the downtown and the downtrodden and his wry depictions of love lost and love found are all gathered here. Taken as a whole, these 36 songs, including three previously unreleased tracks, represent a formidable body of work, one that places McLauchlan firmly in the forefront of Canada's best songwriters.
In 1965, at the age of 17, McLauchlan left his suburban Toronto home and headed for the highway. With guitar in hand, he hitchhiked out to British Columbia, where he worked in sawmills, logging camps, picked fruit and rode freight trains. Upon his return several months later, McLauchlan said goodbye to his parents' house for good. Instead of a farewell letter, he wrote "Child's Song," a coming-of-age number that perfectly captured the mixed emotions of leaving home. The moving ballad also launched his career when American folksinger Tom Rush covered both it and "Old Man's Song," McLauchlan's stark ode to aging, on his critically acclaimed 1970 album.
Living downtown, in Toronto's multicultural Kensington Market neighborhood and later in the city's working-class Cabbagetown district, exposed McLauchlan to people and places that figured prominently in his songs. The son of a trade unionist, McLauchlan crafted portraits of grizzled winos and long-faced street kids in songs like "Honky Red" and "Shoeshine Workin' Song." "Sixteen Lanes of Highway" tackles the loss of his boyhood fields of grass to urban sprawl. These and other streetwise narratives, together with the title of his debut album, Song from the Street, earned McLauchlan an image as an idealistic inner-city poet.
McLauchlan composed "The Farmer's Song," his breakthrough hit, while recording his self-titled second album in New York. "I wrote it because the guys I was hanging out with had never been out of Manhattan in their lives and didn't even know what wheat stock was," he explains. "Meanwhile, the local deli had apples and broccoli imprisoned in plastic and all of it somehow sparked this song." After recording McLauchlan's acoustic guitar and a treadle organ playing oompah-pahs, marijuana-loving producer Ed Freeman had McLauchlan sing into hanging microphones while lying on down on the floor of the studio. "To this day, for the life of me, I still don't know why," laughs McLauchlan. "I think it was just one of his crazy, pot-fuelled ideas."
The song's loping rhythm and simple "thanks for the meal" message clicked with Ted Daigle, a DJ at Ottawa radio station CKBY, who discovered the tune on the B-side of a McLauchlan single. When Daigle aired the song, the country-music station's phones lit up and its popularity quickly spread from station to station, until it crossed over to the pop market and became a national hit. Within a few weeks of its release, "The Farmer's Song" had sold 70,000 copies and eventually earned McLauchlan Juno Awards for composer of the year and top folk and country single. It also took him on a U.S. tour opening for Neil Young. More than 20 years later, Barenaked Ladies' Steven Page acknowledged popularity of "The Farmer's Song" when he quoted part of the lyric in his band's 1996 song "Straw Hat and Old Dirty Hank.

* * * * *

McLauchlan's stature as a songwriter was on the rise. Increasingly, he was hanging out with the likes of Gordon Lightfoot, Kris Kristofferson and Rita Coolidge. When he played the Philadelphia Folk Festival, his hotel room became the scene of illustrious jam sessions, featuring Tom Waits, John Prine, Jim Croce, Steve Goodman and Loudon Wainwright III, all trading stories and swapping songs. Around this time, McLauchlan teamed up with Toronto bass player Dennis Pendrith, who joined him on 1973's Day to Day Dust and became a constant presence on the road and future recordings. The album also featured guitar hero Amos Garrett, famous for his solo in Maria Muldaur's "Midnight at the Oasis," on piano-laced songs like the tear-stained "You Need a New Lover Now."
McLauchlan's next album, Sweeping the Spotlight Away, contained several stellar songs. The plaintive title track, graced by a Bruce Cockburn guitar solo, portrayed a sad-faced clown "with his mouth turned down." "Maybe Tonight," featuring the slide guitar of Toronto blues legend Mike McKenna, depicted a lonely traveling salesman. The sessions also produced the country song "Cross Country," a previously unreleased track now included here. "Do You Dream of Being Somebody," with strings arranged by John Mills-Cockell, of electronic pioneers Syrinx, captured the sometimes dangerous ambitions that drive performers. Ironically, the track features backup vocals from Cathy Smith, the rock-star girlfriend, groupie and drug dealer, who later served time in the California State Prison system in the manslaughter death of John Belushi.
The album's most upbeat number was "Down By the Henry Moore," which unapologetically celebrated life in Toronto, with references to skating at City Hall, shopping in Kensington Market and drinking at the Silver Dollar tavern. "I wrote that song as a sort of travelogue to make people feel good about Toronto," McLauchlan explained. "At the time, it seemed as though a lot of my friends were complaining that there was nothing happening in the city. I believe you can always find something to do if you look for it. So I decided to write a strutting-around-Toronto song to say it's up to you: you can either enjoy yourself or dump on everything."
Canadian roots supergroup Blackie and the Rodeo Kings performed a buoyant version of the civic anthem on the band's Let's Frolic Again album. Blackie's Colin Linden calls "Henry Moore" a "quintessential Toronto song," while the group's Tom Wilson says it proves that McLauchlan was Canada's most "culturally conscious" songwriter during the 1970s. "Canadians were hungry at the time to be acknowledged by our own in art, theatre, film, books and music," says Wilson, "and Murray was one of the first artists to really step up to the plate and do that."
Following the live release of Only the Silence Remains, McLauchlan assembled a full band to record his next album, 1976's Boulevard. The Silver Tractors—bassist Pendrith with guitarist Gene Martynec, mandolinist-fiddler Ben Mink and drummer Jørn Andersen—gave McLauchlan's music a muscular rock sound on songs like "Harder to Get Along," which reflected post-Sixties frustrations in the lines, "They said you could change the world, but they didn't say how." Other songs offered dark, impressionistic views of life, love, war and the workaday world. "On the Boulevard" paid tribute to the working class—several years before Bruce Springsteen made that subject his métier. The song also nailed various economic truths: "Keepin' up the cash flow/Keep the corporate taxes low/They say that Switzerland is where the money goes."
McLauchlan and the Silver Tractors made a dramatic debut at Toronto's Maple Leaf Gardens, as part of Lightfoot's Olympic Benefit concert. "We came on as loud as Mountain," recalls McLauchlan. "Ben was playing psychedelic violin, Gene was roaring away on guitar and I was flailing away on a Gibson Les Paul. I think Gordon was expecting something a little quieter. But the place went nuts and our performance got a lot of press, so it was a great launch for the band." The media continued to embrace McLauchlan's electric sound with Hard Rock Town, which featured a tougher side of McLauchlan and the Silver Tractors. It was voted one of the top 10 rock albums of 1977 by Canadian music critics. And the title track, another blue-collar classic that that took a gritty look at life in a company town like Sudbury, was the first song played on Toronto's new rock-radio station Q-107.

* * * * *

One of McLauchlan's biggest hits appeared on his next album. Musically, Whispering Rain featured guitar wizard David Wilcox alongside such frequent sidemen as Mink, Pendrith, keyboardist Eric Robertson and drummer Barry Keane. The album also boasted lavish strings and backup vocals by country music's legendary Jordanaires, of Elvis Presley fame. The title track, about an epiphany inspired by a stunning Pacific vista, reached #5 on the RPM Top 40 chart. Propelled by that song's success, the album became the biggest-selling recording of McLauchlan's career, after his Greatest Hits collection. The sessions for the latter produced two tracks featured here: the spirited "Little Dreamer" and the previously unreleased "Playin' Your Emotions," about a manipulative Jezebel.
A more soulful side of McLauchlan emerged on 1980's Into a Mystery. Featuring backup vocals by Rough Trade's Carole Pope and a trio of Toronto's finest session singers—Shawn Jackson, Colina Phillips and Sharon Lee Williams—the album also reflected a more female-oriented perspective in songs like "Try Walkin' Away," written for his first wife, Marguerite, and the country-flavored "Don't Put Your Faith in Men," which McLauchlan penned for his daughter Amy. The title track, meanwhile, took a philosophical look at the universe, with references to celestial skies and pondering the existence of other civilizations.
Storm Warning was a distinctly '80s affair. Produced by Bob Ezrin, who had produced extravagant albums for Pink Floyd and Alice Cooper, the recording was a bombastic affair that, by McLauchlan's own admission, failed to reflect him as an artist. Fuelled by cocaine, the sessions, laid down at New York's Record Plant (where "The Farmer's Song" had been recorded) featured an all-star cast that included guest guitarists Cockburn, Domenic Troiano, Greg Godovitz and Zero, from new-wave rockers The Kings. But the only song that received any significant airplay was the feel-good anthem "If the Wind Could Blow My Troubles Away," which was chosen as the worldwide theme song in 1981 for the International Year of Disabled Persons.
After flirting with country songs in the past, McLauchlan fully embraced a honky-tonk sound on his next two albums. Working with bassist Terry Wilkins and drummer Bucky Berger on 1983's Timberline, he recorded rootsy tracks that captured the romance of the railway ("Never Did Like that Train") and the threat of disaster ("Red River Flood"). While such songs were steeped in the Canadian landscape, "Out Past the Timberline" was the album's most unabashedly nationalistic number. Swinging on a Star, featuring the pedal steel guitar-drenched title track and the country-radio hit "Love with a Capital L," struck a resonant chord with critics in 1988. "He's no rhinestone cowboy," wrote Jeff Bateman of Music Express, "just a writer with songs that thrill with the shock of self discovery and a singer who can plumb the emotional depths of his work."
Two of the best songs in McLauchlan's entire catalogue came eight years later on Gulliver's Taxi: the string-laden "Burned Out Car," co-written with Tom Wilson, an emotionally wrenching portrait of a homeless man whose home in an abandoned automobile is "one short step" from a shopping cart, and "No Change in Me," co-written with Newfoundland poet laureate Ron Hynes, is a heartbreaking account of Maritime migration to the mainland.. Wilson sang the former with Sarah McLachlan on the last Junkhouse album and won a Juno Award for Best Video, while the latter was featured in the musical Needfire and has since been covered by John McDermott and The Ennis Sisters.
McLauchlan continues to write, record and perform songs, both as a solo artist and as a member of the songwriter ensemble Lunch at Allen's, with Cindy Church, Marc Jordan and Ian Thomas. It's what he does best and loves most of all. Although he also paints, songwriting remains his primary creative pursuit. After more than 40 years, he's still perfecting the craft. One of his latest songs included here, the exquisite, Tex-Mex flavored "Path of the Moon," proves it. Sung as a gentle lullaby, it conjures up visions of stardust, dancing fireflies and silver sailboats in space. As with all great compositions, it casts a magical spell that only the most gifted songwriter can master.