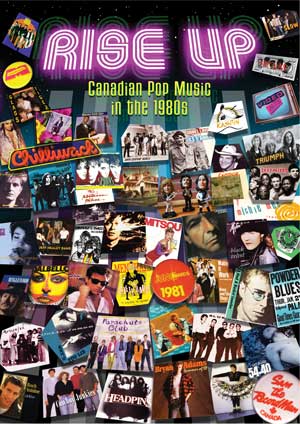 Now available: Rise Up DVD. Rise Up looks at the digital age of Canadian music in the 1980s, a visual era of big hair and shoulder pads, when music videos helped homegrown artists to take off internationally. America's MTV and Canada's MuchMusic provide launching pads for artists as varied as Triumph, Bruce Cockburn, Chilliwack, Jane Siberry, Men Without Hats and Bryan Adams.
Blending illuminating interviews with thrilling concert footage and videos, including Rush's "Tom Sawyer," 54-40's "I Go Blind," Blue Rodeo's "Try" and k.d. lang's "Hanky Panky," Rise Up takes viewers on a thrilling ride into the decade's pop stratosphere. Along with such telegenic performers as Gowan and Dalbello, the hit-filled documentary includes cult favorites like Slow, Handsome Ned and Mary Margaret O'Hara. By the end of the Eighties, Canadian music has exploded—both at home and abroad.
From hip-hop pioneers like Maestro and Michie Mee to such pop superstars as Mitsou and Corey Hart, Rise Up charts the global rise of Canadian music with a treasure trove of classic hits and cult classics.
Bonus DVD segments/artists interviews (not previously aired on TV) with Bruce Cockburn, Tom Cochrane, Gowan, Geddy Lee, Maestro, Mitsou and Robbie Robertson.
A portion of the proceeds from the sales of this DVD will go to support MusiCounts, Canada's music education charity associated with The Canadian Academy of Recording Arts and Sciences, which helps to keep music alive in schools across the country.