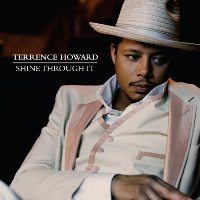 Most people are aware of the musical gifts of Jamie Foxx, who won an Academy Award for his portrayal of Ray Charles in the movie Ray. Fewer will know that actor Terrence Howard is also a talented musician in his own right. Throughout his career, he has played musicians on the screen. His star turn came in 2004, playing the rapper DJay in Hustle & Flow, for which he received an Oscar nomination. Now, Terrence has produced an intriguing showcase for his own music, with the 11 songs he wrote, arranged and produced on Shine Through It, one of 2008's most undeservedly overlooked CDs.
Like Jamie, Terrence was encouraged to pursue music by his grandmother, a musically trained stage actress. Where Jamie's recordings are anchored in r&b and hip hop, Terrence's debut album is far more eclectic. Shine Through It reflects the self-taught singer and guitarist's wide-ranging tastes—everything from James Taylor and Bob Marley to Duke Ellington and the Temptations—and includes largely instrumental tracks like the jazz-flavored "It's All Game" and the flamenco-inspired "Spanish Love Affair."
At times, Terrence is guilty of lyrical verbosity and too much experimenting, especially on confessional songs such as "Plenty" and "No. 1 Fan." But the album's best numbers, including the title track, "Love Makes You Beautiful" and the folk-flavored "Sanctuary," which he wrote after witnessing the close bond between Seal and Heidi Klum, prove that Terrence is truly a double threat: a talented actor and a serious musician to be reckoned with.
January 2009