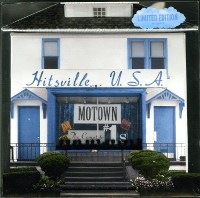 This is a landmark month in African-American history. While Barack Obama is sworn in as the first black U.S. president, Motown celebrates its 50th anniversary. The first record label owned by an American-American to feature black artists who achieved crossover success, Motown changed the look and sound of popular music. Its groundbreaking role is highlighted in a new CD box set, Motown: The Complete No. 1's, which contains every chart-topping single ever issued by the company.
    Berry Gordy, a former auto plant-worker, opened Motown in 1959 in a house at 2648 West Grand Boulevard in downtown Detroit. The following year, the label scored its first chart-topper, "Shop Around" by the Miracles, and its owner raised a sign on the house proclaiming it "Hitsville USA." "Our hits destroyed barriers," recalls Smokey Robinson, who wrote and sang "Shop Around" and is responsible for 19 other tracks in the box set. "From the day Motown started, Berry Gordy said to us, 'We are not going to make black music. We are going to make music for everybody.'"
     The songs on Motown: The Complete No. 1's, a collection of 10 CDs and a photo booklet that come lavishly packaged in a reproduction of the Hitsville house, prove that Berry Gordy was a visionary. Much of the music, by artists like the Supremes, Stevie Wonder, Marvin Gaye, the Four Tops, the Jackson 5 and others, is joyful, soulful and instantly recognizable. In bridging the racial divide, Motown and its hits helped to change the world.
January 2009