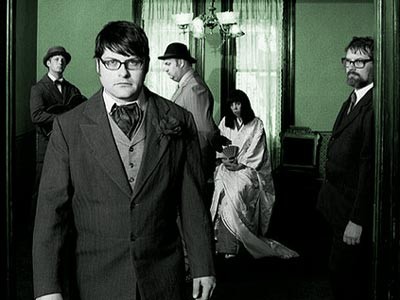 Colin Meloy has always had a vivid imagination. When he was in Grade Two, he wrote a play called The Bloody Knight, about a ghost that haunts a forest by a medieval castle. "It was particularly gruesome," recalls Meloy cheerfully. "The ghost ends up slaughtering all of the knights at the castle." The play was staged at his elementary school in Portland, Oregon for an audience of students and teachers. "Thankfully," adds Meloy, "I had a really supportive teacher who didn't seem too bothered by all the violence. These days, I'm sure that sort of thing would be cause for some concern within the educational system."
Fortunately, Meloy later found another creative outlet for his wild stories: The Decemberists. As the brainchild behind pop's most lyrically inventive band, Meloy has regularly crafted tales of murder, myth and mayhem and employed characters that range from sea captains and chimney sweeps to Spanish gypsies and Turkish prostitutes on critically acclaimed albums like Castaways and Cutouts, Her Majesty and Picaresque, all released on the independent label Kill Rock Stars. Now signed with Capitol-EMI, The Decemberists have just issued a prog-folk masterpiece called The Crane Wife, which amounts to the band's most ambitious album to date.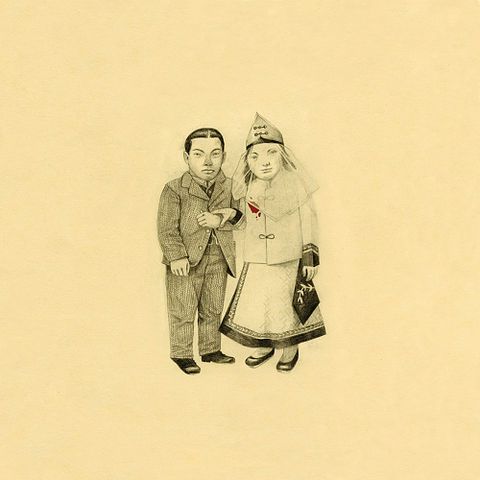 The Crane Wife is inspired by a Japanese folk tale about a peasant and his magical bird, which provides the recording with its central, three-part song cycle. Other compelling songs are connected by a perilous undercurrent. There's a foreboding on tracks like the deceptively breezy "Summerlong," the tragic "O Valencia" and the grisly "Shankhill Butchers," about the notorious Belfast killers of the 1970s who carved their Catholic victims up with cleavers. "Yankee Bayonet" is a Civil War love story involving a ghost. And the epic "Islands," with its Pink Floyd-ish and Fairport Convention-like moments, paints an unsettling, dystopian picture, but the closing "Sons and Daughters" provides a little hope. Despite all the darkness, Meloy leavens his darks vision throughout the album—both lyrically and melodically—with a life-affirming, redemptive quality.
History figures prominently in the music of The Decemberists, who were named for the Russian Decembrist Revolt of 1825. But Meloy, who majored in English and creative writing at the University of Montana, insists he's no amateur historian, preferring colorful stories to dry factual accounts. "I read a lot as a kid," he recalls, not surprisingly, "mostly Tolkien and other fantasy novels. I also started to write short stories at an early age. My parents and my parents' friends called me 'The Underwater Boy,' because I always seemed to be floating around in my own world and headspace." He adds, laughing: "I think I also moved very slowly."
Although seemingly destined for a career as a fiction writer, Meloy got heavily sidetracked by music. "The first record I ever bought was Scritti Politti's Cupid & Psyche 85 and then I got into the electropop of Yas and Depeche Mode while in elementary school," he says. "The real turning point was when my uncle Paul, who was attending college in Eugene, Oregon, starting sending me mixed tapes of music he was discovering. That was my introduction to Hüsker Dü, R.E.M. and The Replacements. That really changed my life. I shelved my Depeche Mode tapes and started by Robyn Hitchcock records. That's when I decided that I wanted to be in a band."
With the new signing, Meloy is painfully aware that some fans might fear a sellout. "Being a music obsessive since I was a kid, I know what it means to take a step from an indie to a major label," he says, adding that he and the band were granted complete creative control by Capitol-EMI. "It was a good risk for us to take. Signing to a major is a very practical thing, because it gives us a stronger budget and more marketing muscle—all the stuff that makes a band work a lot more efficiently." Making The Crane Wife for EMI actually pushed the band further to the left. "We wanted to make sure that we were bringing our fans along with us," says Meloy. "In order to do that, we had to make a more challenging record."